Background
Follistatin is a high-affinity activin-binding protein produced in the pituitary, ovaries, decidual cells of the endometrium, and in some other tissues. Follistatin acts as an activin antagonist whose activity suppresses expression and secretion of the pituitary hormone FSH (follicle stimulating hormone). Follistatin also inhibits the activity of other TGF-β ligands including BMP-2,-4,-6,-7, Myostatin, GDF-11, and TGF-β1.
The mouse Follistatin cDNA encodes a 344 aa precursor protein with a 29 aa signal peptide. Recombinant mouse Follistatin is a nonglycosylated protein, containing 289 amino acids, with a molecular weight of 31.6 kDa.
Biological Activity
The activity is determined by the dose-dependent neutralization of 7.5 ng/mL human Activin A. Complete neutralization is typically reached at less than 0.3 ug/mL.
Quality Control
Quality Control & DataSheet
View current batch:
Purity: ≥90%, by SDS-PAGE and HPLC.
Endotoxin Level:< 0.1 EU/μg
Related Biological Data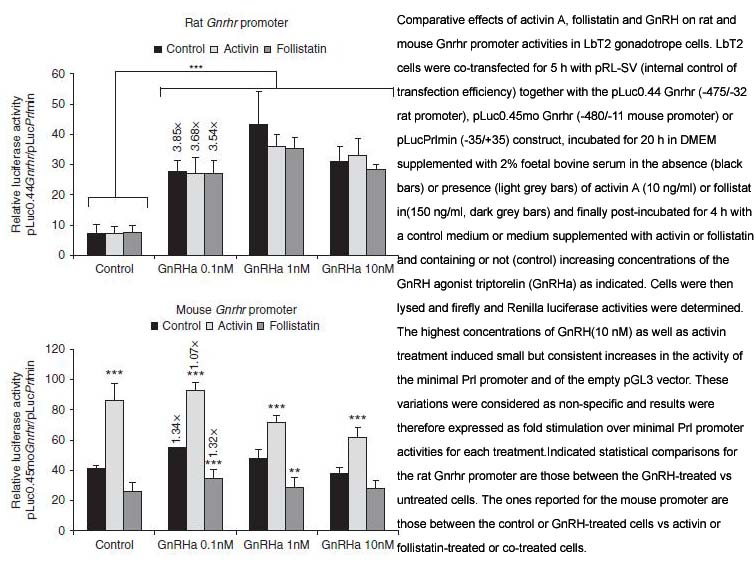 Description
Gene ID:
14313
Accession #:
P47931
Alternate Names:
FS, activin-binding protein, FSH-suppressing protein (FSP).
Source:
Escherichia Coli.
M.Wt:
31.6 kDa
Appearance:
Lyophilized protein
Storage:
Store at -20°C
Formulation:
Lyophilized from 10 mM Na2PO4 + 50 mM NaCl, pH 7.5.
Solubility:
Centrifuge vial before opening. When reconstituting the product, gently pipet and wash down the sides of the vial to ensure full recovery of the protein into solution. It is recommended to reconstitute the lyophilized product with sterile water at a concentration of 0.1 mg/mL. This solution can then be diluted into other aqueous buffers and stored at 4°C for 1 week or -20°C for future use.
Shipping Condition:
Gel pack.
Handling:
Centrifuge the vial prior to opening.
Usage:
For Research Use Only! Not to be used in humans.