Background
Nutlin-3 is a small-molecule inhibitor of MDM2 (mouse double minute 2) with IC50 value of 0.09μM [1].
Nutlin-3 binds MDM2 in the TP53-bindingpocket, thereby interfering with MDM2-directed TP53 degradation. This has been shown to cause cell cycle arrest, growth inhibitionand apoptosis in both solid tumors and lymphoid neoplasms.In mantle cell lymphoma(MCL), it is reported that Nutlin-3 can inhibit cell growth and activate apoptosis in bothwt-TP53(IC50 of 1 to 10μM) and mt-TP53(IC50 of 22.5μM) cells [2].
Nutlin-3 can also effectcell cycle in gastric cancer cell lines. It induces G1 arrest inMKN-45 and SNU-1 cell lines. In vitro assay shows Nutlin-3can enhance the antitumoreffects of conventional chemotherapeutic agents in several gastric cancer cell lines. And in in vivo assay, Nutlin-3 significantly inhibits the growth of xenograft tumors [3].
References:
[1] Lyubomir T.Vassilev et al. In vivo activation of the p53 pathway by small-molecule antagonists of MDM2.Science.2004, 303: 844-848.
[2] Yoko Tabe, Denise Sebasigari, Linhua Jin, et al.MDM2 Antagonist Nutlin-3 Displays Antiproliferative andProapoptotic Activity in Mantle Cell Lymphoma. Clin Cancer Res. 2009, 15:933-942.
[3] Shinji Endo,Kenji Yamato,Sachiko Hirai,Toshikazu Moriwaki,Kuniaki Fukuda,Hideo Suzuki,Masato Abei,Ichiro Nakagawa and IchinosukeHyodo.Potent in vitro and in vivo antitumor effects ofMDM2 inhibitor nutlin-3 in gastric cancer cells.Cancer Science. 2011, 102 (3): 605-613.
Product Citation
Chemical Properties
| | |
| --- | --- |
| Physical Appearance | A solid |
| Storage | Store at -20°C |
| M.Wt | 581.49 |
| Cas No. | 675576-98-4 |
| Formula | C30H30Cl2N4O4 |
| Synonyms | Nutlin-3a;Nutlin 3a |
| Solubility | ≥29.0745 mg/mL in DMSO, ≥104.4 mg/mL in EtOH,insoluble in H2O |
| Chemical Name | 4-[(4S,5R)-4,5-bis(4-chlorophenyl)-2-(4-methoxy-2-propan-2-yloxyphenyl)-4,5-dihydroimidazole-1-carbonyl]piperazin-2-one |
| SDF | Download SDF |
| Canonical SMILES | CC(C)OC1=C(C=CC(=C1)OC)C2=NC(C(N2C(=O)N3CCNC(=O)C3)C4=CC=C(C=C4)Cl)C5=CC=C(C=C5)Cl |
| Shipping Condition | Evaluation sample solution: ship with blue ice. All other available sizes: ship with RT, or blue ice upon request. |
| General tips | For obtaining a higher solubility, please warm the tube at 37°C and shake it in the ultrasonic bath for a while. Stock solution can be stored below -20°C for several months. |
Protocol
Kinase experiment [1]:

Biacore studies

Competition assays were performed on a Biacore S51. A Series S Sensor chip CM5 was derivatized for immobilization of a PentaHis antibody for capture of the His-tagged p53. The level of capture was ~ 200 response units (1 response unit corresponds to 1 pg of protein per mm2). The concentration of MDM2 protein was kept constant at 300 nM. Nutlin-3a was dissolved in DMSO at 10 mM and further diluted to make a concentration series of Nutlin-3a in each MDM2 test sample. The assays were run at 25°C in running buffer (10 mM Hepes, 0.15 M NaCl, 2% DMSO). MDM2-p53 binding in the presence of Nutlin-3a was calculated as a percentage of binding in the absence of Nutlin-3a and IC50 was calculated using Microsoft Excel.

Cell experiment [1]:

Cell lines

HCT116 and SW480 cells

Preparation method

The solubility of this compound in DMSO is >10 mM. General tips for obtaining a higher concentration: Please warm the tube at 37℃ for 10 minutes and/or shake it in the ultrasonic bath for a while. Stock solution can be stored below -20℃ for several months.

Reaction Conditions

1, 2, 4, 8 and 16 μM; 8 hrs

Applications

Nutlin-3a increased the cellular levels of p53, MDM2 and p21Waf1/Cip1 in HCT116 cells whilst SW480 cells exposed to the same conditions showed high basal levels of p53 but no detectable MDM2 or p21.

Animal experiment [1]:

Animal models

Nude mice bearing subcutaneous human cancer xenografts (SJSA-1)

Dosage form

200 mg/kg; p.o.; b.i.d., for 20 days

Applications

Nutlin-3a inhibited tumor growth by 90%. The mice did not lose significant weight and did not show any gross abnormalities upon necropsy at the end of the treatment.

Other notes

Please test the solubility of all compounds indoor, and the actual solubility may slightly differ with the theoretical value. This is caused by an experimental system error and it is normal.

References:

[1]. Vassilev LT, Vu BT, Graves B, et al. In vivo activation of the p53 pathway by small-molecule antagonists of MDM2. Science, 2004, 303(5659): 844-848.
Biological Activity
Description
Nutlin-3 is a small-molecule inhibitor of mouse double minute 2 (MDM2) with IC50 value of 0.09 μM.
Targets
MDM2
IC50
0.09 μM
Quality Control
Quality Control & MSDS
View current batch:
Chemical structure
Related Biological Data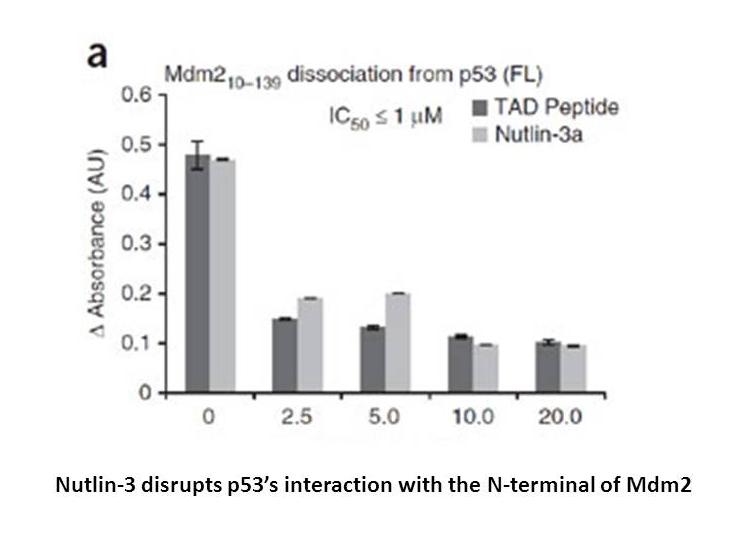 Related Biological Data
Related Biological Data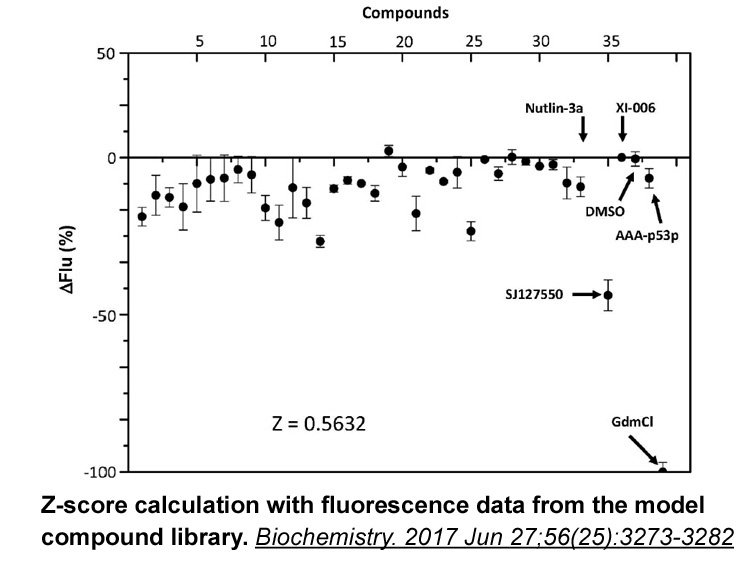 Related Biological Data