Protease Inhibitor Cocktail (EDTA-Free, 100X in DMSO)
Equivalent to Sigma P8849, for use in purification of Histidine-tagged proteins to increase protein stability.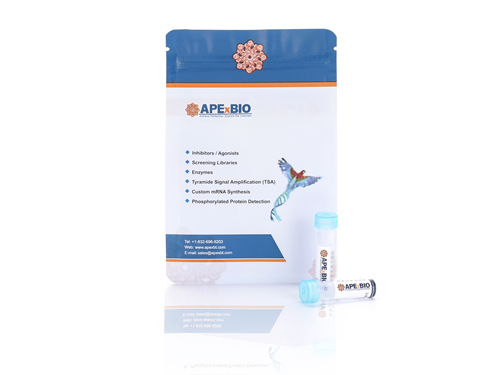 Quality Control
Quality Control & DataSheet
View current batch:
Protocol
Thaw at room temperature, add at 1:100 (v/v) dilution to solution samples (such as cell lysates) before assaying.
Applications: WB, Co-IP, pull-down, IF, IHC, kinase assay and etc.
Components and storage
Catalog No.
Product Name
Summary
Targets
CAS Number
Smiles
A2573
AEBSF.HCl
Serine protease inhibitor
Proteases|Serine Protease
30827-99-7
C1=CC(=CC=C1CCN)S(=O)(=O)F.Cl
A2575
Bestatin
Aminopeptidase inhibitor
Proteases|Aminopeptidase
58970-76-6
CC(C)CC(C(=O)O)NC(=O)C(C(CC1=CC=CC=C1)N)O
A2576
E-64
Cysteine protease inhibitor,irriversible
Proteases|Cathepsin
66701-25-5
CC(C)CC(C(=O)NCCCCN=C(N)N)NC(=O)C1C(O1)C(=O)O
A2571
Pepstatin A
Aspartic proteinases inhibitor
Proteases|Other Proteases
26305-03-3
CC(C)CC(C(CC(=O)O)O)NC(=O)C(C)NC(=O)CC(C(CC(C)C)NC(=O)C(C(C)C)NC(=O)C(C(C)C)NC(=O)CC(C)C)O
B4790
Phosphoramidon Disodium Salt
metalloproteinase inhibitor
164204-38-0
CC(C[C@@](NP(O)(O[C@@]1([H])[C@@](O)([H])[C@@](O)([H])[C@](O)([H])[C@](O1)([H])C)=O)([H])/C([O-])=N/[C@@](C([O-])=O)([H])CC2=CNC3=CC=CC=C23)C.[Na+].[Na+]
Stored at -20°C, and stable for at least 12 months.
Description
Endogenous proteins are produced and degraded in a balanced state, so their cellular levels are stable under stable environmental conditions. Crude cell extracts contain a number of endogenous enzymes, such as phosphatases and proteases, which are capable of degrading proteins in the extracts. Protein production is greatly halted and degradation is increased when proteins are extracted from cells and tissues in vitro. The best way to increase the yield of intact proteins is to add inhibitors of those enzymes known to be present.
Protease inhibitor cocktail is used in purification of Histidine-tagged proteins to increase protein stability. The cocktail functions to inhibit proteases that would degrade either non-phosphorylated or phosphorylated protein substrates.
This protease inhibitor cocktail contains individual components, including AEBSF, Bestatin, E-64, Phosphoramidon and Pepstatin A with a broad specificity for cysteine, serine, aspartic, and thermolysin-like proteases, and aminopeptidases. This protease inhibitor cocktail has been optimized and tested for purification of histidine-tagged proteins. This protease inhibitor cocktail is supplied as a ready-to-use solution in DMSO.