Aspartic proteinases inhibitor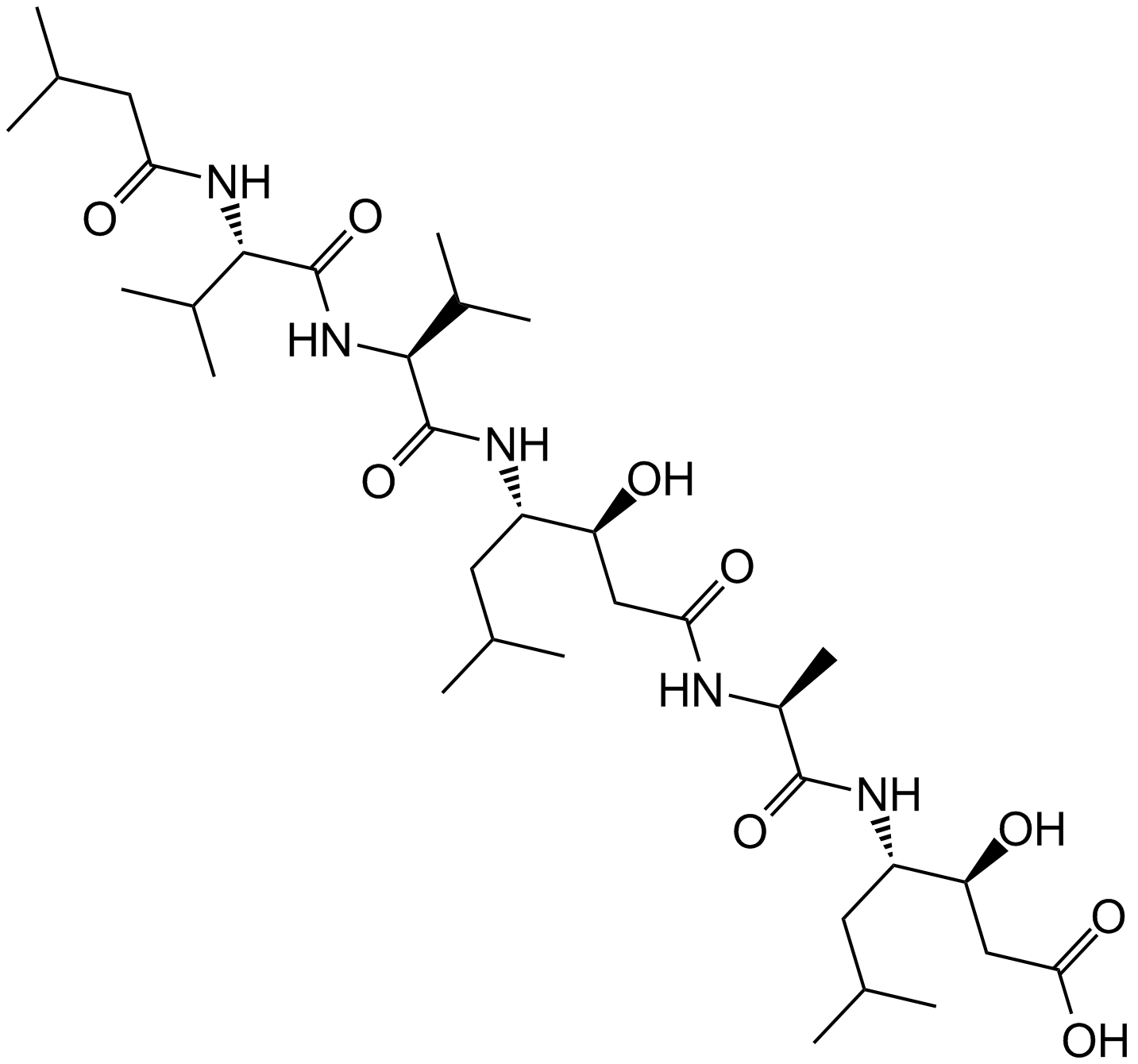 Pepstatin A is a well-known inhibitor of aspartic proteinases with IC50 values of 15 μM, 2 μM, < 5 nM and < 40 nM for human renin, HIV protease, pepsin and cathepsin D, respectively [1, 2].
Pepstatin A is a pentapeptide. It was originally isolated from the microbe. As a most potent renin inhibitor, pepstatinA inhibited porcine renin and human renin at weak acid pH value with IC50 values of 0.32 and 15 μM, respectively. The disadvantage is that, pepstatin Ais hydrophobic. To couple the charged hydrophilic residues to the C-terminal of pepstatinA can increase its solubility. Besides the renin, pepstatin A was also reported to have inhibitory effects on HIV protease and subsequently suppressed the virus replication. In cultured H9 cells, pepstatinA treatment blocked the proteolytic processing of the virus gag precursor and inhibited the production of infectious HIV. Moreover, pepstatin A was found to inhibit osteoclast differentiation due to its inhibitory efficacy of cathepsin D and E [1, 3 and 4].
References:
1. Eid M, Evin G, Castro B, et al.New renin inhibitors homologous with pepstatin.Biochem. J, 1981, 197: 465-471.
2. Sarubbi E, Seneci P F, Angelastro M R, et al. Peptide aldehydes as inhibitors of HIV protease. FEBS letters, 1993, 319(3): 253-256.
3. von der Helm K, Gürtler L, Eberle J, et al. Inhibition of HIV replication in cell culture by the specific aspartic protease inhibitor pepstatin A. FEBS letters, 1989, 247(2): 349-352.
4. Yoshida H, Okamoto K, Iwamoto T, et al. Pepstatin A, an aspartic proteinase inhibitor, suppresses RANKL-induced osteoclast differentiation. Journal of biochemistry, 2006, 139(3): 583-590.>
Product Citation
Chemical Properties
| | |
| --- | --- |
| Physical Appearance | A solid |
| Storage | Store at -20°C |
| M.Wt | 685.9 |
| Cas No. | 26305-03-3 |
| Formula | C34H63N5O9 |
| Synonyms | Pepstatin A,NSC272671,Isoval-Val-Val-Sta-Ala-Sta |
| Solubility | ≥34.3mg/mL in DMSO |
| Chemical Name | 3-hydroxy-4-[2-[[3-hydroxy-6-methyl-4-[[3-methyl-2-[[3-methyl-2-(3-methylbutanoylamino)butanoyl]amino]butanoyl]amino]heptanoyl]amino]propanoylamino]-6-methylheptanoic acid |
| SDF | Download SDF |
| Canonical SMILES | CC(C)CC(C(CC(=O)O)O)NC(=O)C(C)NC(=O)CC(C(CC(C)C)NC(=O)C(C(C)C)NC(=O)C(C(C)C)NC(=O)CC(C)C)O |
| Shipping Condition | Evaluation sample solution : ship with blue ice.All other available size: ship with RT , or blue ice upon request |
| General tips | For obtaining a higher solubility , please warm the tube at 37 ℃ and shake it in the ultrasonic bath for a while.Stock solution can be stored below -20℃ for several months. |
Protocol
Kinase experiment [1]:

Binding assays

The inhibition of HIV protease, pepsin and cathepsin D activities was assayed using the solid-phase immunoassay at pH 5.6. After induction and harvesting, cells (50 g) were resuspended in 100 ml of 10 mM Tris-HCl buffer, pH 7.5, 1 mM EDTA, 1 mM DTT, 1 mM PMSF and 0.05% Triton X-100, sonicated and centrifuged at 10000g for 20 min, HIV-I protease activity in E. coli extracts was assayed by cleavage of a synthetic heptapeptide substrate and HPLC analysis of proctucts.

Cell experiment [2, 3]:

Cell lines

H9 cells, Bone marrow cells

Preparation method

The solubility of this compound in DMSO is >34.3mg/mL. General tips for obtaining a higher concentration: Please warm the tube at 37 ℃ for 10 minutes and/or shake it in the ultrasonic bath for a while. Stock solution can be stored below -20℃ for several months.

Reacting condition

0.1 mM for 2, 4, or 11 days, 37 ℃

Applications

Pepstatin A inhibited the proteolytic processing of the HIV gag precursor in H9 cells. Pepstatin A inhibited the production of infectious HIV in H9 cell cultures. Pepstatin A (15–120 μM) dose-dependently suppressed the formation of TRAP-positive multinuclear cells. Pepstatin A dose-dependently suppressed the RANKL-induced osteoclastogenesis from stromal cell–deprived bone marrow cells in the co-culture system and bone marrow culture. Pepstatin A (15 μM) substantially inhibited the aspartic proteinase activity in bone marrow cells, while complete inhibition was seen at 90 μM.

Other notes

Please test the solubility of all compounds indoor, and the actual solubility may slightly differ with the theoretical value. This is caused by an experimental system error and it is normal.

References:

[1]. Sarubbi E, Seneci P F, Angelastro M R, et al. Peptide aldehydes as inhibitors of HIV protease. FEBS letters, 1993, 319(3): 253-256.

[2]. von der Helm K, Gürtler L, Eberle J, et al. Inhibition of HIV replication in cell culture by the specific aspartic protease inhibitor pepstatin A. FEBS letters, 1989, 247(2): 349-352.

[3] Yoshida H, Okamoto K, Iwamoto T, et al. Pepstatin A, an aspartic proteinase inhibitor, suppresses RANKL-induced osteoclast differentiation. Journal of biochemistry, 2006, 139(3): 583-590. >
Quality Control
Quality Control & MSDS
View current batch:
Chemical structure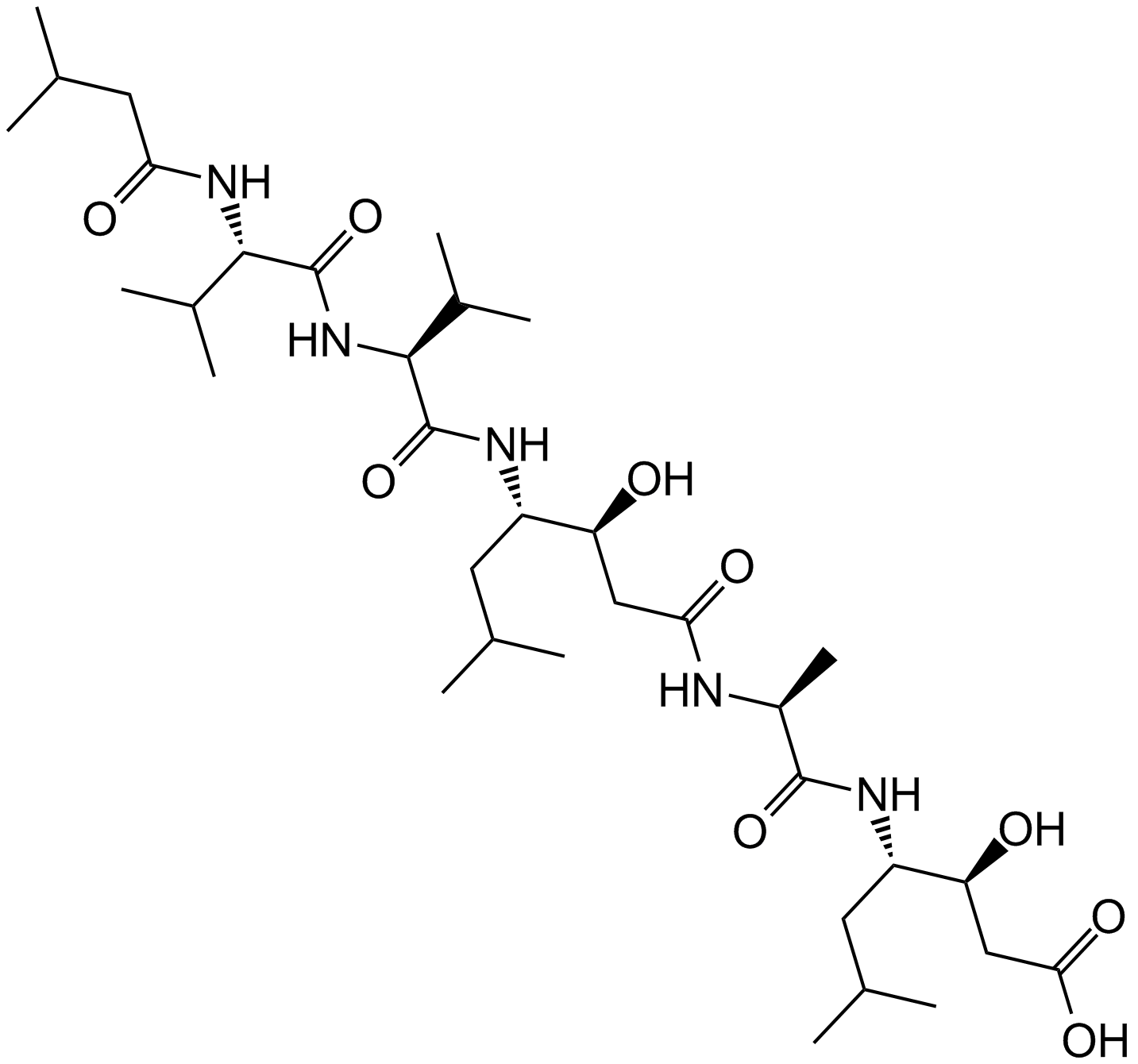 Related Biological Data