Background
A new class of compounds that show promise of acting as class-specific inhibitors for the cysteine proteinases are the L-trans-epoxysuccinylpeptides related to the compound E-64 [L-trans-epoxysuccinyl-L-leucylamido (4-guanidino)] butanel , isolated from cultures of Aspergillus. E-64 was shown to inhibit papain, ficin and the fruit and stem bromelains, with disappearance of the thiol group of papain [1].
 E-64 has been reported to inhibit two other mammalian cysteine proteinases: cathepsin L [3] and a proteinase from human breast-tumour tissue [4] and the calcium-dependent proteinase, calpain, from chicken muscle [5]. All of these characteristics suggested that E-64 might be a valuable inhibitor for the study of cysteine proteinases.
Lineweaver-Burk plots of inhibition data show that the action of E-64 was not competitive with substrate [1]. Moreover, the optical isomerism of the epoxysuccinyl moiety seemed to have no effect on the activity of E-64 as an inhibitor of papain [6,7]. If E-64 were indeed acting by covalent reaction at the active site, its rate of reaction would be decreased by the presence of leupeptin, a tight-binding reversible inhibitor [8].
E-64 inhibits only cysteine proteinases. Papain showed a particularly high reactivity with E-64, and good rates were also obtained with the other plant enzymes and the lysosomal cysteine proteinases. There is structural evidence that these enzymes form a homologous group [9], and they resemble each other in having Mr about 25 000, no (detected) zymogens and no distinct requirement for calcium. Chicken skeletal-muscle calpain is reported to be inhibited by E-64, but the rate constant has not been determined [5].
The most obvious practical application of E-64 is in the active-site titration of the papain-related cysteine proteinases. Active-site titration as a method of determining enzyme concentration has the advantage over rate assays of being insensitive to reaction conditions, and giving a result in active-site molarity [10].
References:
1. A. J. BARRETT, A. A. KEMBHAVI, L-trans-Epoxysuccinyl-leucylamido(4-guanidino)butane (E-64) and its analogues as inhibitors of cysteine proteinases including cathepsins B, H and L. Biochem. J. (1982) 201, 189-198
2. Hanada, K., Tamai, M., Yamagishi, M., Ohmura, S., Sawada, J. & Tanaka, I. (1978c) Agric. Biol. Chem. 42, 523-528
3. Towatari, T., Tanaka, K., Yoshikawa, D. & Katunuma, N. (1978).J. Biochem. (Tokyo) 84, 659-671.
4. Mort, J. S., Recklies, A. D. & Poole, A. R. (1980) Biochim. Biophys. Acta 614, 134-143.
5. Sugita, H., Ishiura, S., Suzuki, K. & Imahori, K. (1980) J. Biochem. (Tokyo) 87, 339-341
6. Hanada, K., Tamai, M., Morimoto, S., Adachi, T.,Ohmura, S., Sawada, J. & Tanaka, I. (1978a) Agric. Biol. Chem. 42, 537-541.
7. Hanada, K., Tamai, M., Ohmura, S., Sawada, J., Seki, T.& Tanaka, I. (1978b)Agric. Biol. Chem. 42, 529-536
8. Knight, C. G. (1980) Biochem. J. 189,447-453
9. Takio, K., Towatari, T., Katunuma, N. & Titani, K.(1980) Biochem. Biophys. Res. Commun. 97, 340-346
10. Bender, M. L., Begue-Canton, M. L., Blakeley, R. L.,Brubacher, L. J., Feder, J., Gunter, C. R., Kezdy, F. J.,Killheffer, J. V., Marshall, T. H., Miller, C. G., Roeske,R. W. & Stoops, J. K. (1966) J. Am. Chem. Soc. 88,5890-5913
Product Citation
Chemical Properties
| | |
| --- | --- |
| Physical Appearance | A solid |
| Storage | Store at 2-8°C |
| M.Wt | 357.41 |
| Cas No. | 66701-25-5 |
| Formula | C15H27N5O5 |
| Solubility | ≥49.1 mg/mL in H2O; ≥53.6 mg/mL in DMSO; ≥55.2 mg/mL in EtOH |
| Chemical Name | (2S,3S)-3-[[(2S)-1-[4-(diaminomethylideneamino)butylamino]-4-methyl-1-oxopentan-2-yl]carbamoyl]oxirane-2-carboxylic acid |
| SDF | Download SDF |
| Canonical SMILES | CC(C)CC(C(=O)NCCCCN=C(N)N)NC(=O)C1C(O1)C(=O)O |
| Shipping Condition | Ship with blue ice, or upon other requests. |
| General tips | For obtaining a higher solubility, please warm the tube at 37°C and shake it in the ultrasonic bath for a while. We do not recommend long-term storage for the solution, please use it up soon. |
Protocol
Cell experiment: [1]

Cell lines

H-59 and M-27 cells

Preparation method

The solubility of this compound in DMSO is ≥53.6 mg/mL. General tips for obtaining a higher concentration: Please warm the tube at 37°C for 10 minutes and/or shake it in the ultrasonic bath for a while. Stock solution can be stored below -20°C for several months.

Reaction Conditions

10 μg/mL, 48 hours

Applications

E-64 inhibited H-59 invasion in a dose-dependent manner with a maximal inhibition of 97% at a concentration of 10 μg/mLwhich was non-toxic. Cell migration as measured with filters coated with 7.5 μg/filter type IV collagen was reduced by only 25% suggesting that the cysteine proteinases played a more minor role in cell migration in the absence of a basement membrane barrier. On the other hand M-27 invasion was not significantly affected by treatment with E-64 even at concentrations as high as 100 μg/mL.

Animal experiment: [2]

Animal models

Wistar strain rats

Dosage form

Intraperitoneal injection, 1 mg/100 g body weight

Applications

The animals were killed 1 h after the injection and the cathepsin B and cathepsin L activities in the lysosomal were assayed. The inhibition caused by E-64 was already detectable 1 hour after its injection.

Other notes

Please test the solubility of all compounds indoor, and the actual solubility may slightly differ with the theoretical value. This is caused by an experimental system error and it is normal.

References:

[1] Navab R, Mort J S, Brodt P. Inhibition of carcinoma cell invasion and liver metastases formation by the cysteine proteinase inhibitor E-64. Clinical & experimental metastasis, 1997, 15(2): 121-129.

[2] Hashida S, TOWATARI T, KOMINAMI E, et al. Inhibitions by E-64 derivatives of rat liver cathepsin B and cathepsin L in vitro and in vivo. Journal of biochemistry, 1980, 88(6): 1805-1811.
Biological Activity
E-64 is a natural, potent, and irreversible inhibitor of cysteine proteases.Its IC50 values for inhibiting cathepsins K, S, and L, in vitro, are 1.4, 4.1, and 2.5 nM, respectively.
Targets
cathepsins K
cathepsins S
cathepsins L
IC50
1.4 nM
4.1 nM
2.5 nM
Quality Control
Quality Control & MSDS
View current batch:
Chemical structure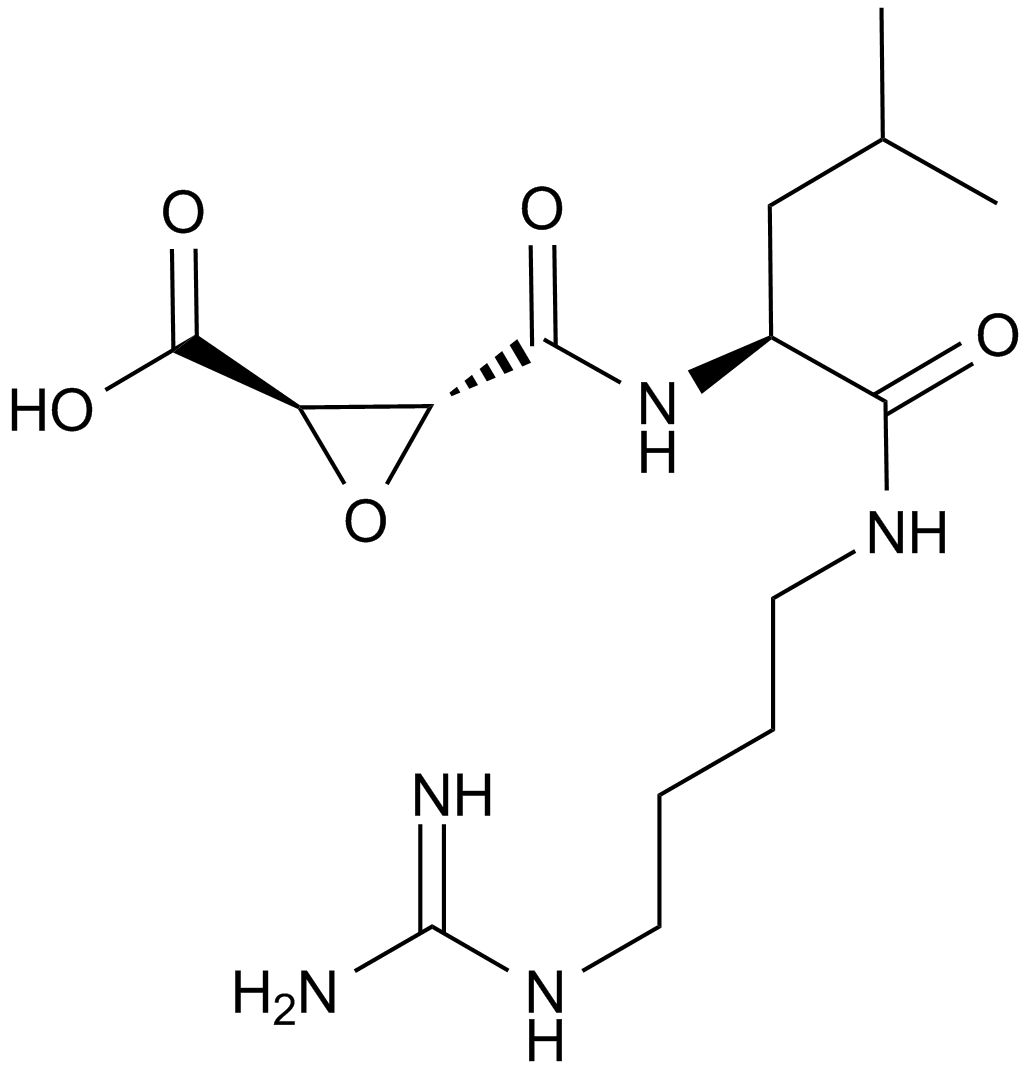 Related Biological Data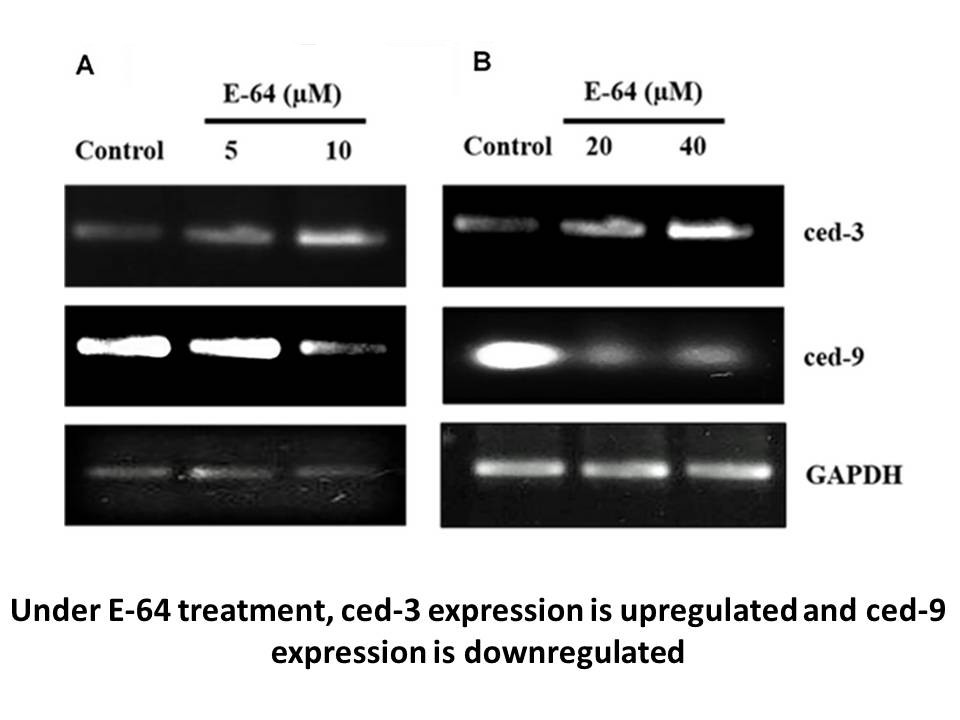 Related Biological Data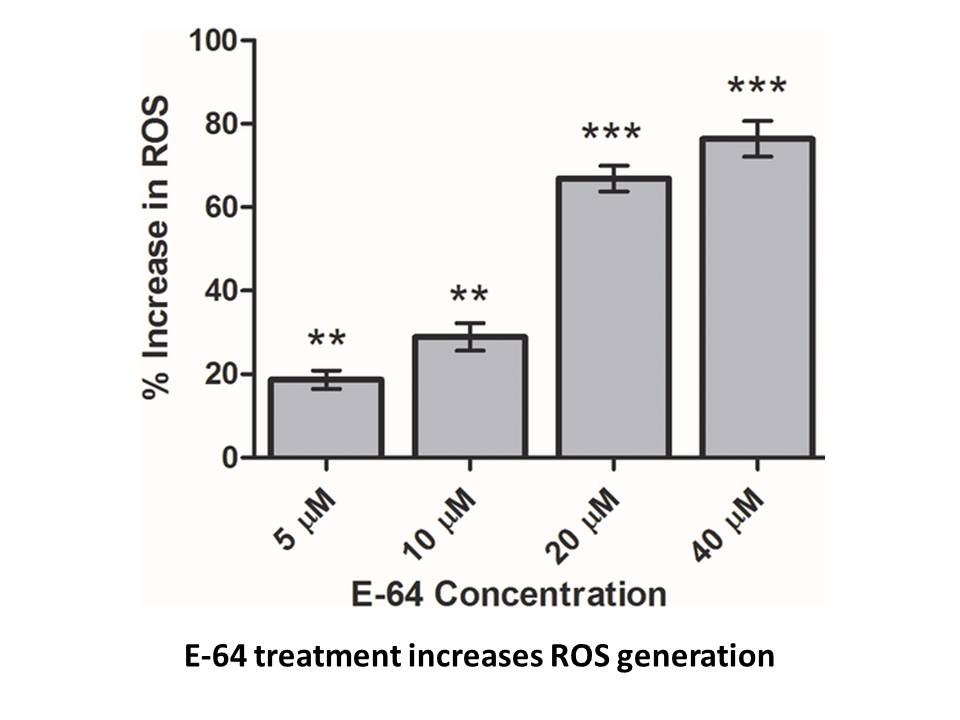 Related Biological Data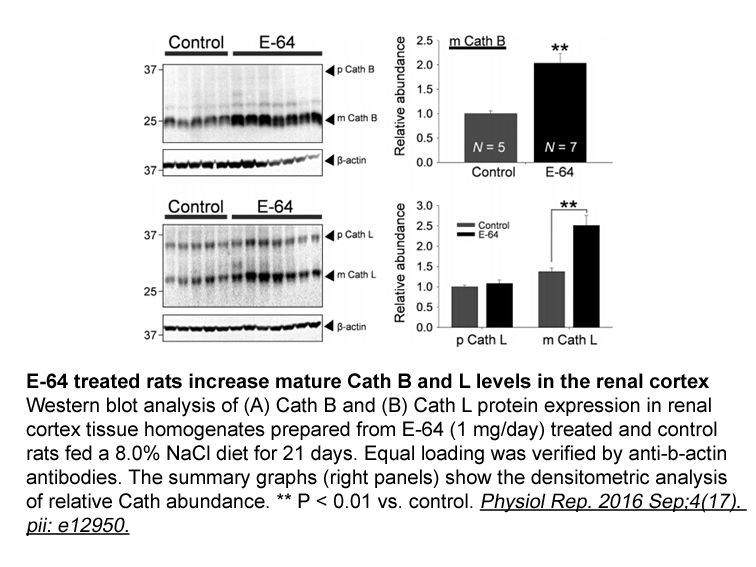 Related Biological Data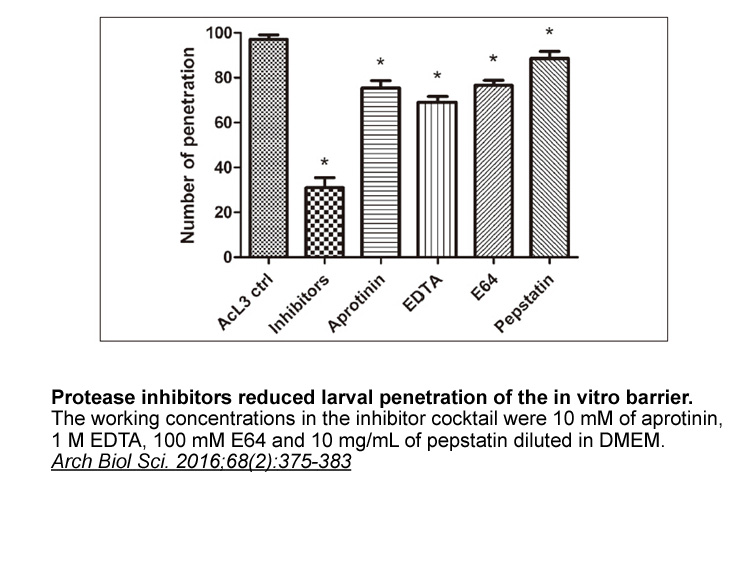 Related Biological Data