Sotrastaurin (AEB071)
PKC inhibitor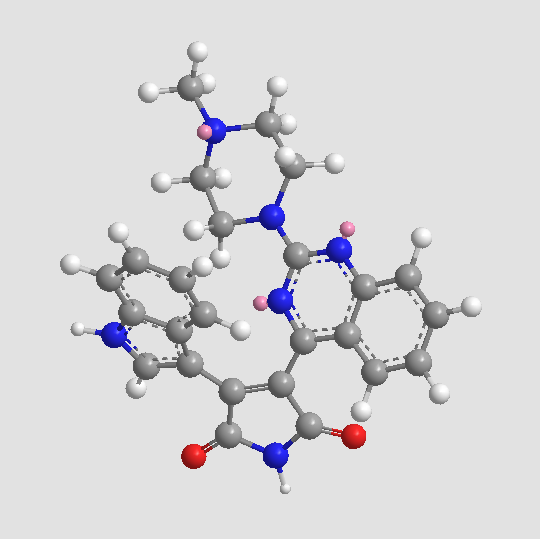 Sample solution is provided at 25 µL, 10mM.
Publications citing ApexBio Products
Related Compound Libraries
Quality Control
Quality Control & MSDS
View current batch:
Chemical structure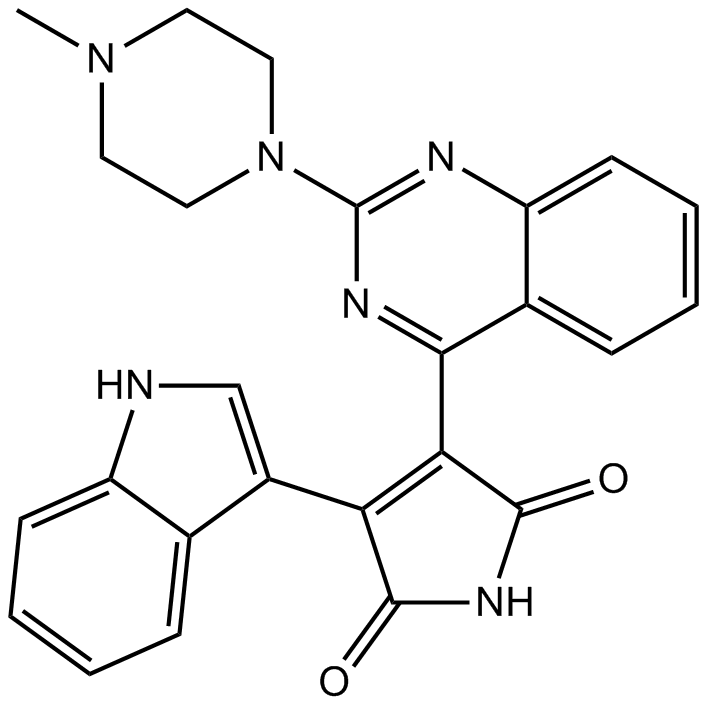 Biological Activity
Description
Sotrastaurin is a potent and selective small-molecule inhibitor of protein kinase C (PKC) with Ki value of 0.22 nM for PKCθ.
Targets
PKCθ
IC50
0.22 nM
Chemical Properties
Cas No.
425637-18-9
SDF
Download SDF
Synonyms
AEB 071;AEB-071
Chemical Name
3-(1H-indol-3-yl)-4-[2-(4-methylpiperazin-1-yl)quinazolin-4-yl]pyrrole-2,5-dione
Canonical SMILES
CN1CCN(CC1)C2=NC3=CC=CC=C3C(=N2)C4=C(C(=O)NC4=O)C5=CNC6=CC=CC=C65
Formula
C25H22N6O2
M.Wt

438.48

Solubility
>21.9mg/mL in DMSO
Storage
Store at -20°C
General tips
N/A
Shipping Condition
N/A
Background
AEB071 is an inhibitor of protein kinase C (PKC). The PKC inhibitor which can block the T-cell activation has the ability of immune suppression [1].
The protein kinase C (PKC) isoforms is very important in cell signaling, proliferation, differentiation, migration, survival, and death. PKC family has many isoforms. Among the PKC isoforms, PKC isoforms have basal effect on the T cells' activation and other immune cell functions [2,3].
ABE071 is a potent inhibitor of novel and classical PKC isoforms. Through the inhibition of PKC, AEB071 can depress the activation and proliferation of T-cell and decrease the production of cytokine.ABE071 can also suppress the NK cell activity. Ex vivo stimulation of lymphocytes from subjects exposed to single doses of AEB071 resulted in a dose-dependent inhibition of both lymphocyte proliferation and IL2 mRNA expression
AEB071 is an effective treatment strategy for the cure of autoimmune diseases. According to the Psoriasis Area Severity Index (PASI) score, after 2 weeks' treatment with 300 mg bid AEB071, Clinical severity of psoriasis was reduced up to 69% compared with baseline[2,3].
References:
[1]. Weckbecker G1, Pally C, Beerli C, et al. Effects of the novel protein kinase C inhibitor AEB071 (Sotrastaurin) on rat cardiac allograft survival using single agent treatment or combination therapy with cyclosporine, everolimus or FTY720. Transpl Int. 2010 May 1;23(5):543-52
[2]. Skvara H1, Dawid M, Kleyn E, Wolff B, et al. The PKC inhibitor AEB071 may be a therapeutic option for psoriasis. J Clin Invest. 2008 Sep;118(9):3151-9.
[3]. Matz M1, Weber U, Mashreghi MF, et al. Effects of the new immunosuppressive agent AEB071 on human immune cells. Nephrol Dial Transplant. 2010 Jul;25(7):2159-67