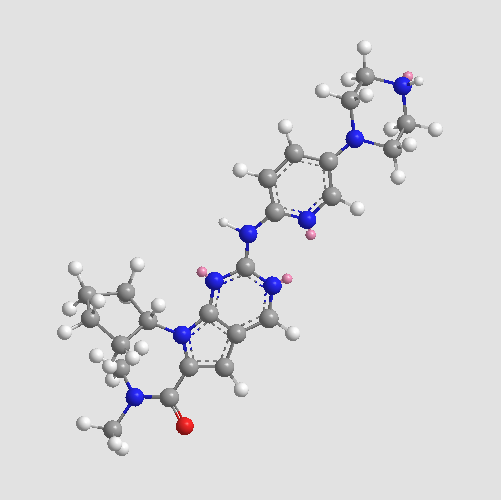 Sample solution is provided at 25 µL, 10mM.
Publications citing ApexBio Products
Related Compound Libraries
Quality Control
Quality Control & MSDS
View current batch:
Chemical structure
Biological Activity
Description
LEE011 is an orally available and highly specific inhibitor of CDK4/6.
Targets
CDK4
CDK6
IC50
Chemical Properties
Cas No.
1211441-98-3
SDF
Download SDF
Chemical Name
7-cyclopentyl-N,N-dimethyl-2-[(5-piperazin-1-ylpyridin-2-yl)amino]pyrrolo[2,3-d]pyrimidine-6-carboxamide
Canonical SMILES
CN(C)C(=O)C1=CC2=CN=C(N=C2N1C3CCCC3)NC4=NC=C(C=C4)N5CCNCC5
Formula
C23H30N8O
M.Wt

434.54

Solubility
>10.9mg/mL in DMSO
Storage
Store at -20°C
General tips
N/A
Shipping Condition
N/A
Background
LEE011 (NVP-LEE011) is a highly specific inhibitor of CDK4/CDK6 and functions via decreasing in phosphorylated RB and FOXM1 [1]. When tested with 17 human neuroblastoma cell lines, 12 of them were sensitive to LEE011 treatment with mean IC50=306±68 nM [2].
CDK4/6 could increase G1-S phase cell cycle progression and ultimately cellular proliferation via phosphorylating tumor suppressor protein RB. CDK4/6 signaling also could senescence suppression by regulating FOXM1 transcription[3]. Numerous studies have shown that over-expression of CDK4/CDK6 correlated with tumorigenesis and disease progression [4].
LEE011 is a novel inhibitor for CDK4/CDK6. When subjected to human liposarcoma cell lines, treated with LEE011 could dramatically decrease cell growth via arresting cell cycle G0-G1 [1]. In 12 of 17 human neuroblastoma-derived cell lines, treatment with LEE011 could significantly reduce cell proliferation [2].
In a mouse model with human liposarcoma xerography, continued treating the mouse with LEE011 orally could inhibit tumor growth or induce regression without detrimental effects on mouse weight [1]. In mice xerography with neuroblastoma cells, treated with LEE011 could inhibit the tumor growth [2].
References:
1.Zhang, Y.X., et al., Antiproliferative effects of CDK4/6 inhibition in CDK4-amplified human liposarcoma in vitro and in vivo. Mol Cancer Ther, 2014. 13(9): p. 2184-93.
2.Rader, J., et al., Dual CDK4/CDK6 inhibition induces cell-cycle arrest and senescence in neuroblastoma. Clin Cancer Res, 2013. 19(22): p. 6173-82.
3.Paternot, S., et al., The CDK4/CDK6 inhibitor PD0332991 paradoxically stabilizes activated cyclin D3-CDK4/6 complexes. Cell Cycle, 2014. 13(18): p. 2879-88.
4.Dickson, M.A., Molecular pathways: CDK4 inhibitors for cancer therapy. Clin Cancer Res, 2014. 20(13): p. 3379-83.