Background
Internucleosomal DNA fragmentation is a sign of apoptosis in mammalian cells. The ApoDIRECT DNA Fragmentation Assay Kit provides a simple and convenient way for detection of DNA fragmentation in biological samples based on fluorescence microscopy or flow cytometry method. The kit provides complete components including positive and negative control cells. The TUNEL-based assay uses terminal deoxynucleotidyl transferase (TdT) to catalyze fluorescein-12-dUTP incorporate into the free 3'-hydroxyl ends of DNA fragmentation. The fluorescein-labeled DNA can then be easily analyzed by flow cytometry or observed by fluorescence microscopy.
Features & Properties
| | |
| --- | --- |
| Features | Fast and convenient Simple procedure; takes 1 hour The assay is sensitive and stable. The assay offers an one-step labeling of apoptotic cells. |
| Shipping | Gel pack |
| Storage Conditions | Store at -20°C. |
Quality Control
Quality Control & DataSheet
View current batch:
Related Biological Data
Related Biological Data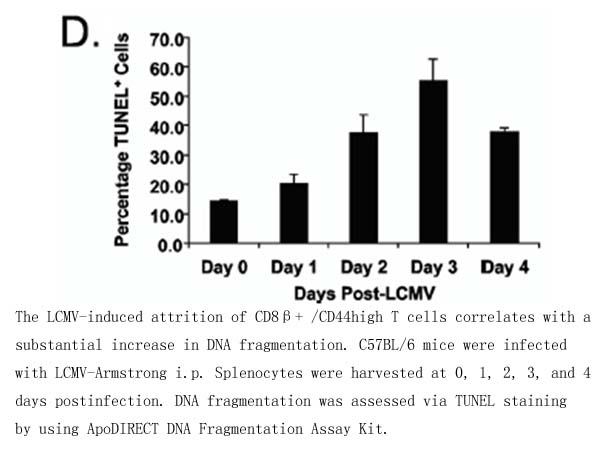 Related Biological Data
Storage
Store at -20°C.
Overview
| | |
| --- | --- |
| Kit components | Positive Control Cells Negative Control Cells Wash Buffer Reaction Buffer TdT Enzymes FITC-dUTP Rinse Buffer PI/RNase Staining Buffer |