Background
Obatoclax mesylate, also known as GX15-070, is a hydrophobic small molecule that potently inhibits BCL-2 family by binding to the BH3-binding site of BCL-2 and other related BCL-2 family members (including BCL-XL, MCL-1, A1, and BCL-B). As a pan-BCL-2 inhibitor being investigated for the treatment of refractory malignancies, obatoclax mesylate directly induce apoptosis in cultured acute myeloid leukemia (AML) cells as well as primary patient samples and exhibits antitumor activity in mouse xengografts of solid tumor and myeloma cell lines. Study results have shown that obatoclax mesylate inhibited clonogenic growth of primary AML samples (IC50 < nmol/L) and dissociated Bak and Bim from MCL-1 in cultured AML cells.
Reference
Aaron D. Schimmer, Susan O'Brien, Hagop Kantarjian, Joseph Brandwein, Bruce D. Cheson, Mark D. Minden, Karen Yee, Farhad Ravandi, Francis Giles, Andre Schuh, Vikas Gupta, Michael Andreeff, Charles Koller, Hong Chang, Suzanne Kamel-Reid, Mark Berger, Jean Viallet, and Gautam Borthakur. A phase I study of the Pan BCL-2 family inhibitor obatoclax mesylate in patients with advanced hematologic malignancies. Clin Cancer Res 2008; 14:8295-8301
Product Citation
Chemical Properties
| | |
| --- | --- |
| Physical Appearance | A solid |
| Storage | Store at -20°C |
| M.Wt | 413.5 |
| Cas No. | 803712-79-0 |
| Formula | C20H19N3O·CH4O3S |
| Solubility | insoluble in H2O; ≥20.7 mg/mL in DMSO; ≥3.15 mg/mL in EtOH with gentle warming and ultrasonic |
| Chemical Name | (2Z)-2-[(5Z)-5-[(3,5-dimethyl-1H-pyrrol-2-yl)methylidene]-4-methoxypyrrol-2-ylidene]indole;methanesulfonic acid |
| SDF | Download SDF |
| Canonical SMILES | CC1=CC(=C(N1)C=C2C(=CC(=C3C=C4C=CC=CC4=N3)N2)OC)C.CS(=O)(=O)O |
| Shipping Condition | Ship with blue ice, or upon other requests. |
| General tips | For obtaining a higher solubility, please warm the tube at 37°C and shake it in the ultrasonic bath for a while. We do not recommend long-term storage for the solution, please use it up soon. |
Protocol
Cell experiment: [1]

Cell lines

UMSCC-22A cells stably expressing GFP-LC3

Preparation method

The solubility of this compound in DMSO is >10 mM. General tips for obtaining a higher concentration: Please warm the tube at 37 °C for 10 minutes and/or shake it in the ultrasonic bath for a while.Stock solution can be stored below -20°C for several months.

Reaction Conditions

200 nM, 48 hours

Applications

After the treatment, cells were fixed in 4% paraformaldehyde and then stained with Hoechst 33258. A confocal microscope was used to visualize GFP-LC3 punctate dots. Treatment of these cells for 24 or 48 h with obatoclax (100 or 200 nM) resulted in relocalization of the GFP-LC3 protein to punctate cytoplasmic dots, an indicator of autophagosome formation. Treatment with obatoclax resulted in an approximately 10-fold increase in the average number of puncta per cell at 48 h as well as 24 h.

nimal experiment: [2]

Animal models

Beige-nude-XID mice injected with SUDHL4 cells

Dosage form

Intraperitoneal injection, 3.0 mg/kg

Applications

Obatoclax (3.0 mg/kg) had little effect on tumor growth while carfilzomib (2.0 mg/kg) by itself significantly reduced tumor size. Combined treatment resulted in minimal tumor growth, an effect significantly greater than that observed with either agent alone. IVIS imaging of luciferase-expressing tumor cells confirmed the marked reduction in tumor growth with combined therapy. Kaplan-Meier analysis also demonstrated that that carfilzomib significantly increased the survival of obatoclax-treated mice.

Other notes

Please test the solubility of all compounds indoor, and the actual solubility may slightly differ with the theoretical value. This is caused by an experimental system error and it is normal.

References:

[1] Yazbeck VY, Li C, Grandis JR, Zang Y, Johnson DE. Single-agent obatoclax (GX15-070) potently induces apoptosis and pro-survival autophagy in head and neck squamous cell carcinoma cells. Oral Oncol. 2014 Feb;50(2):120-7.

[2] Dasmahapatra G, Lembersky D, Son MP, Patel H, Peterson D, Attkisson E, Fisher RI, Friedberg JW, Dent P, Grant S. Obatoclax interacts synergistically with the irreversible proteasome inhibitor carfilzomib in GC- and ABC-DLBCL cells in vitro and in vivo. Mol Cancer Ther. 2012 May;11(5):1122-32.
Biological Activity
Obatoclax (GX15-070) is an antagonist of Bcl-2 with Ki of 0.22 μM, can assist in overcoming MCL-1 mediated resistance to apoptosis.
Targets
Bcl-2
IC50
0.22 μM (Ki)
Quality Control
Quality Control & MSDS
View current batch:
Chemical structure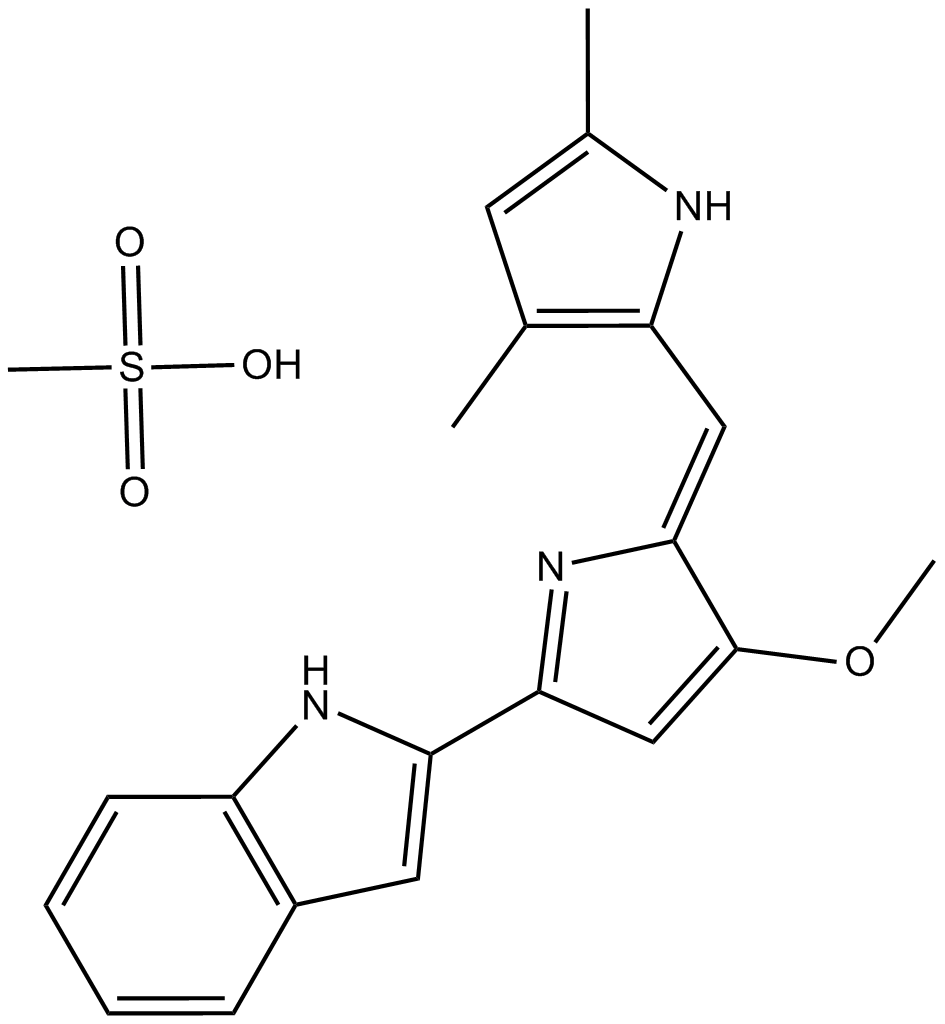 Related Biological Data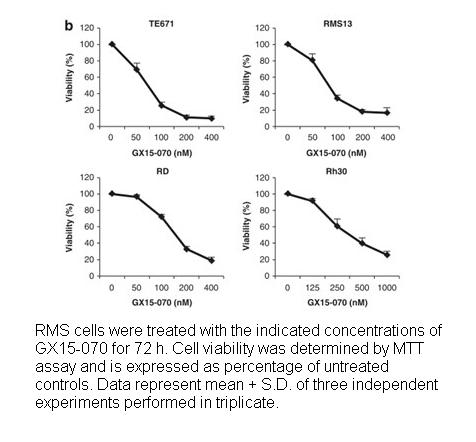 Related Biological Data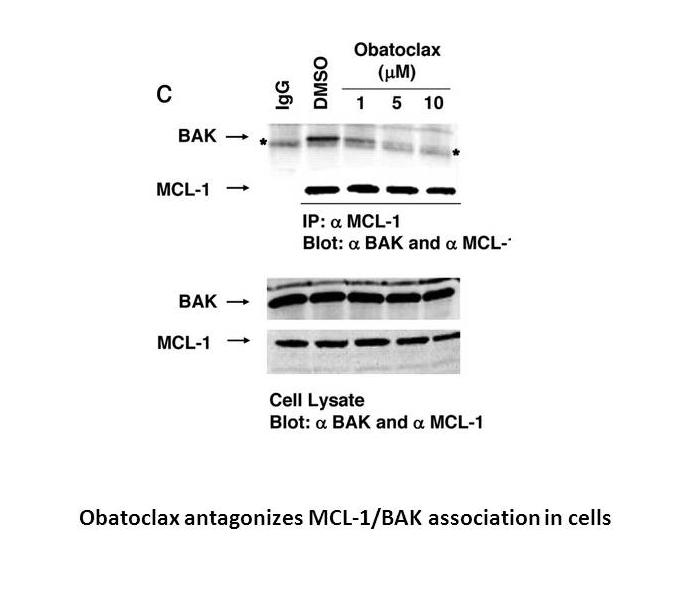 Related Biological Data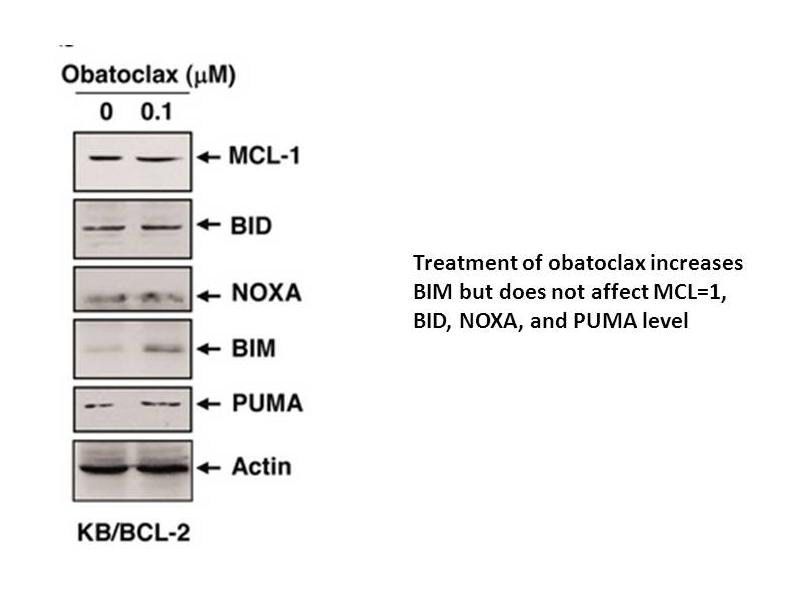 Related Biological Data