eukaryotic translation initiation factor 3
Eukaryotic translation initiator
Sample solution is provided at 25 µL, 10mM.
Publications citing ApexBio Products
Quality Control
Quality Control & MSDS
View current batch:
Chemical structure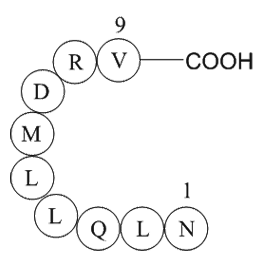 Chemical Properties
Cas No.
SDF
Download SDF
Synonyms
H2N-Asn-Leu-Gln-Leu-Leu-Met-Asp-Arg-Val-OH
Canonical SMILES
NC(CC(N)=O)C(NC(CC(C)C)C(NC(CCC(N)=O)C(NC(CC(C)C)C(NC(CC(C)C)C(NC(CCSC)C(NC(CC(O)=O)C(NC(CCCNC(N)=N)C(NC(C(C)C)C(O)=O)=O)=O)=O)=O)=O)=O)=O)=O
Formula
C47H84N14O14S
M.Wt

1101.32

Solubility
≥110.1mg/mL in DMSO
Storage
Store at -20°C
Shipping Condition
Evaluation sample solution : ship with blue ice.All other available size: ship with RT , or blue ice upon request
General tips
For obtaining a higher solubility , please warm the tube at 37 ℃ and shake it in the ultrasonic bath for a while.Stock solution can be stored below -20℃ for several months.
Background
Molecular : C47H84N14O14S
Eukaryotic initiation factors (eIF) are proteins involved in the initiation phase of eukaryotic translation. eIF3 binds to the ribosome subunit-mRNA complex. It has been implicated in preventing the large ribosomal subunit from binding the small subunit before it is ready to commence elongation. In mammals, eIF3 is the largest scaffolding initiation factor, made up of 13 subunits (a-m). It is roughly ~750 kDa and it controls the assembly of40S ribosomal subunit on mRNA that have a 5' cap or an IRES (Internal Ribosomal Entry Site). eIF3 uses the eIF4F complex or IRES from viruses to position the mRNA strand near the exit site of the 40S ribosome subunit, thus promoting the assembly of the pre-initiation complex.[1]
PTK2 and EIF3S3 genes may be amplification targets at 8q23-q24 and are associated with large hepatocellular carcinomas. [2]. Amplification of EIF3S3 gene is common in late-stage prostate cancersuggesting that it may be functionally involved in the progression of the disease [3]. Recent study shows that eukaryotic translation initiation factor 3 subunit 3 does not seem to be overrepresentedindependent of c-myc in prostate cancer [4].
Ref:
1. Umadas Maitra, Jayanta Chaudhuri; Jayanta Chaudhuri, Kausik Si (21). "Function of Eukaryotic Translation Initiation Factor 1A (eIF1A) (Formerly Called eIF-4C) in Initiation of Protein Synthesis". The Journal of BIological Chemistry 272 (12): 7883–7891. doi:10.1074/jbc.272.12.7883. Retrieved 19 February 2012.
2. PTK2 and EIF3S3 genes may be amplification targets at 8q23-q24 and are associated with large hepatocellular carcinomas. Okamoto, H., Yasui, K., Zhao, C., Arii, S., Inazawa, J. Hepatology (2003) [Pubmed]
3. Amplification of EIF3S3 gene is associated with advanced stage in prostate cancer. Saramäki, O., Willi, N., Bratt, O., Gasser, T.C., Koivisto, P., Nupponen, N.N., Bubendorf, L., Visakorpi, T. Am. J. Pathol. (2001) [Pubmed]
4. Mapping and gene expression profile of the minimally overrepresented 8q24 region in prostate cancer. Tsuchiya, N., Kondo, Y., Takahashi, A., Pawar, H., Qian, J., Sato, K., Lieber, M.M., Jenkins, R.B. Am. J. Pathol. (2002) [Pubmed]