AZD1480
JAK2 inhibitor,ATP-competitive and novel
Sample solution is provided at 25 µL, 10mM.
Publications citing ApexBio Products
Quality Control
Quality Control & MSDS
View current batch:
Chemical structure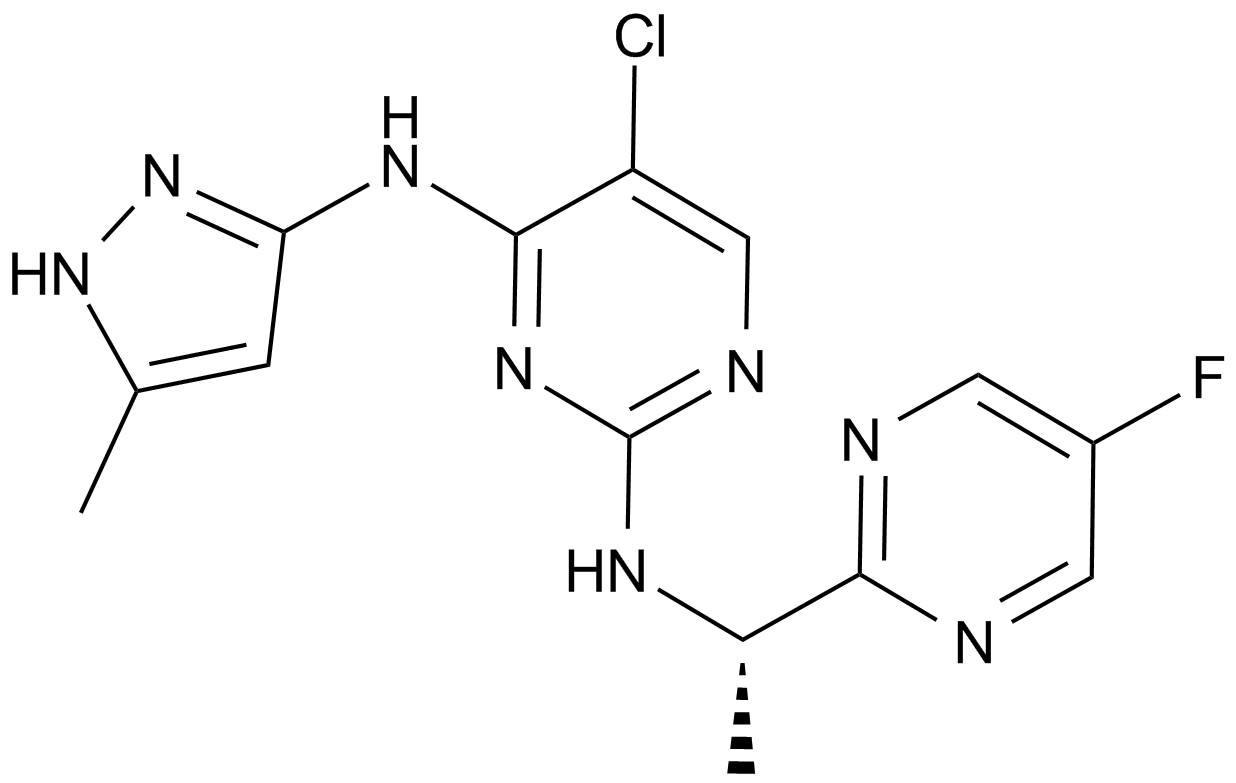 Biological Activity
Description
AZD1480 is an ATP-competitive inhibitor of JAK2 with IC50 value of 0.26 nM.
Targets
JAK2
IC50
0.26 nM
Protocol
Cell experiment: [1]

Cell lines

SKOV3 cells

Preparation method

The solubility of this compound in DMSO is >93.8mg/mL. General tips for obtaining a higher concentration: Please warm the tube at 37 °C for 10 minutes and/or shake it in the ultrasonic bath for a while.Stock solution can be stored below -20°C for several months.

Reaction Conditions

10 μM, 24 hours

Applications

In the AZD1480 combined with cisplatin treatment groups, cisplatin could inhibit the proliferation of SKOV3 cells with dose dependent (P<0.05).There was no significant difference between 1 μmol/L AZD1480 group and control group (P >0.05) butwas statistically significant difference 5 μmol/L and 10 μmol/L AZD148 groups compared with the control group (P<0.05). The Coefficient ofdruginteraction (CDI) values were (0.902, 0.914, 0.95, 0.893, 0.848, 0.974, 0.923,0.767, 0.372) <1, which confirmed that these two drugs were synergistic. CDI value was 0.372 when the concentration was80μg/ml cisplatin + 10 μmol/L AZD1480,which showed that their synergistic effects were very significant.

Animal experiment: [2]

Animal models

SCID/Beige mice injected with TC32 or Rh18 cells

Dosage form

Oral administration, 30 mg/kg, twice a day for 21 days

Applications

The tumor growth in AZD1480-treated group was significantly depressed compared to control in each cell line. Tumors from mice treated with AZD1480 had decreased levels of tyrosine phosphorylated STAT3 as well as of STAT3 downstream targets (CyclinD1,-3, Bcl-2 and Survivin) compared to the levels in tumors from mice receiving vehicle. This shows that AZD1480 treatment induces the inhibition of STAT3 activity and its target gene expression in vivo.

Other notes

Please test the solubility of all compounds indoor, and the actual solubility may slightly differ with the theoretical value. This is caused by an experimental system error and it is normal.

References:

[1] Xin Y L Y, Yang Y, Han P. AZD1480 can inhibit the biological behavior of ovarian cancer SKOV3 cells in vitro. Asian Pacific Journal of Cancer Prevention, 2013, 14(8): 4823-4827.

[2] Yan S, Li Z, Thiele C J. Inhibition of STAT3 with orally active JAK inhibitor, AZD1480, decreases tumor growth in Neuroblastoma and Pediatric Sarcomas In vitro and In vivo. Oncotarget, 2013, 4(3): 433.
Chemical Properties
Cas No.
935666-88-9
SDF
Download SDF
Synonyms
AZD 1480
Chemical Name
5-chloro-2-N-[(1S)-1-(5-fluoropyrimidin-2-yl)ethyl]-4-N-(5-methyl-1H-pyrazol-3-yl)pyrimidine-2,4-diamine
Canonical SMILES
CC1=CC(=NN1)NC2=NC(=NC=C2Cl)NC(C)C3=NC=C(C=N3)F
Formula
C14H14ClFN8
M.Wt

348.77

Solubility
>93.8mg/mL in DMSO
Storage
Store at -20°C
Shipping Condition
Evaluation sample solution : ship with blue ice.All other available size: ship with RT , or blue ice upon request
General tips
For obtaining a higher solubility , please warm the tube at 37 ℃ and shake it in the ultrasonic bath for a while.Stock solution can be stored below -20℃ for several months.
Background
AZD1480 is a novel small-molecule JAK inhibitor. It is able to block cell proliferation and induce apoptosis of myeloma cell lines. It can effectively inhibit tumor angiogenesis and metastasis mediated by STAT3 in stromal cells as well as tumor cells. AZD1480 has broad efficacy on a wider variety of myeloma cells, such as RPMI 8226, OPM-2, NCI-H929, Kms.18, MM1.S and IM-9, as well as primary myeloma cells. AZD1480 induces cell death of Kms.11 cells grown in the presence of HS-5 bone marrow (BM)-derived stromal cells and inhibits tumor growth in a Kms.11 xenograft mouse model, accompanied with inhibition of phospho-FGFR3, phospho-JAK2, phospho-STAT3 and Cyclin D2 levels. AZD1480 also demonstrates important Jak2 selectivity over Jak3, in particular at high ATP concentrations and marginal selectivity over Jak1 at Km ATP.
Reference
A Scuto, P Krejci, L Popplewell, J Wu, Y Wang, M Kujawski, C Kowolik, H Xin, L Chen, Y Wang, L Kretzner, H Yu, W R Wilcox, Y Yen, S Forman and R Jove. The novel JAK inhibitor AZD1480 blocks STAT3 and FGFR3 signaling, resulting in suppression of human myeloma cell growth and survival. Leukemia. 2011 March ; 25(3): 538–550
Michael Hedvat, Dennis Huszar, Andreas Herrmann, Joseph M. Gozgit, Anne Schroeder, Adam Sheehy, Ralf Buettner, David Proia, Claudia M. Kowolik, Hong Xin, Brian Armstrong, Geraldine Bebernitz, Shaobu Weng, Lin Wang, Minwei Ye, Kristen McEachern, Huawei Chen, Deborah Morosini, Kirsten Bell, Marat Alimzhanov, Stephanos Ioannidis, Patricia McCoon, Zhu A. Cao, Hua Yu, Richard Jove, Michael Zinda. The JAK2 Inhibitor AZD1480 Potently Blocks Stat3 Signaling and Oncogenesis in Solid Tumors. Cancer Cell. 2009; 16 (6): 487–497
Hong Xin, Andreas Herrmann, Karen Reckamp, Wang Zhang, Sumanta Pal, Michael Hedvat, Chunyan Zhang, Wei Liang, Anna Scuto, Shaobu Weng, Deborah Morosini, Zhu A. Cao, Michael Zinda, Robert Figlin, Dennis Huszar, Richard Jove, Hua Yu. Antiangiogenic and Antimetastatic Activity of JAK Inhibitor AZD1480. Cancer Research. 2011;71: 6601-6610