alpha-1 antitrypsin fragment
Protease inhibitor
Sample solution is provided at 25 µL, 10mM.
Publications citing ApexBio Products
Quality Control
Quality Control & MSDS
View current batch:
Chemical structure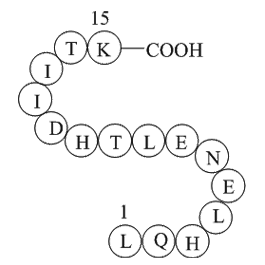 Chemical Properties
Cas No.
N/A
SDF
Download SDF
Synonyms
H2N-Leu-Gln-His-Leu-Glu-Asn-Glu-Leu-Thr-His-Asp-Ile-Ile-Thr-Lys-OH
Chemical Name
N/A
Canonical SMILES
NC(CC(C)C)C(NC(CCC(N)=O)C(NC(CC1=CNC=N1)C(NC(CC(C)C)C(NC(CCC(O)=O)C(NC(CC(N)=O)C(NC(CCC(O)=O)C(NC(CC(C)C)C(NC(C(O)C)C(NC(CC2=CNC=N2)C(NC(CC(O)=O)C(NC(C(C)CC)C(NC(C(C)CC)C(NC(C(C)O)C(NC(C(O)=O)CCCCN)=O)=O)=O)=O)=O)=O)=O)=O)=O)=O)=O)=O)=O)=O
Formula
C79H130N22O26
M.Wt

1804.01

Solubility
≥45.1mg/mL in DMSO with gentle warming
Storage
Store at -20°C
Physical Appearance
A solid
Shipping Condition
Evaluation sample solution : ship with blue ice.All other available size: ship with RT , or blue ice upon request
General tips
For obtaining a higher solubility , please warm the tube at 37 ℃ and shake it in the ultrasonic bath for a while.Stock solution can be stored below -20℃ for several months.
Background
Alpha-1 antitrypsin (A1AT) (H2N-Leu-Gln-His-Leu-Glu-Asn-Glu-Leu-Thr-His-Asp-Ile-Ile-Thr-Lys-OH), which is known as serum trypsin inhibitor, is a protease inhibitor belonging to the serpin superfamily.
A1AT is a single-chain glycoprotein consisting of 394 amino acids in the mature form and exhibits a number of glycoforms. The three N-linked glycosylations sites are mainly equipped with so-called diantennary N-glycans. However, one particular site shows a considerable amount of heterogeneity since tri- and even tetraantennary N-glycans can be attached to the Asparagine 107 (ExPASy amino acid nomenclature).
A1AT is a major inhibitor of human serine proteases in serum, is produced mainly by the liver, but also by extrahepatic cells, including neutrophils and certain cancer cells. [1] AAT is an acute phase protein and its concentration rises up to 3–4-fold above normal during acute inflammation. [2] Several types of cancer, including non-small cell lung adenocarcinoma, have been associated with increased serum levels of AAT. [3] Clinical studies have shown that high circulating levels of AAT directly correlate with tumor progression. Recently it was also found that plasma levels of AAT are significantly elevated in lung cancer patients and, particularly in cases with metastases. [4] Moreover, not only the native, inhibitory form of AAT, but also conformationally modified, non-inhibitory forms are suggested to play a role in modulating tumor growth and invasiveness. For example, Kataoka and co-workers have shown that the C-terminal fragment of AAT can enhance the growth and invasiveness of human pancreas adenocarcinoma cells, in vivo [5].
Fig. 1: Structure of A1AT.
Ref:
1. Paakko P, Kirby M, du Bois RM, Gillissen A, Ferrans VJ, Crystal RG: Activated neutrophils secrete stored alpha 1-antitrypsin. Am J Respir Crit Care Med 1996, 154:1829-1833.
2. Molmenti EP, Ziambaras T, Perlmutter DH: Evidence for an acute phase response in human intestinal epithelial cells. J Biol Chem 1993, 268:14116-14124.
3. Kataoka H, Itoh H, Koono M: Emerging multifunctional aspects of cellular serine proteinase inhibitors in tumor progression and tissue regeneration. Pathol Int 2002, 52:89-102.
4. Zelvyte I, Wallmark A, Piitulainen E, Westin U, Janciauskiene S: Increased Plasma Levels of Serine Proteinase Inhibitors in Lung Cancer Patients. Anticancer Res 2004, in press.
5. Kataoka H, Uchino H, Iwamura T, Seiki M, Nabeshima K, Koono M: Enhanced tumor growth and invasiveness in vivo by a carboxyl-terminal fragment of alpha1-proteinase inhibitor generated by matrix metalloproteinases: a possible modulatory role in natural killer cytotoxicity. Am J Pathol 1999, 154:457-468.