Background
ONX-0914, previously known as PR-975, is a potent inhibitor of immunoproteasome, a form of proteasome generating peptides presented on major histocompatibility complex (MHC) class I molecule to cytotixic T cells, which selectively induces conformational changes in the S1 binding pocket of the immunoproteasome subunit β5i (low molecular mass polypeptide 7/LMP7) rather than the constitutive proteasome subunit β5 in human and mouse cells. ONX-0914 is able to block the production of proinflammatory cytokines from human peripheral blood mononuclear cells (PBMCs), activate mouse splenocytes, inhibit IL-17-producing T cells under TH17-polarizing cytokines in vitro, and attenuate disease progression of diabetes, arthritis, and colitis in mouse models.
Reference
Denise Niewerth, Niels E. Franke, Gerrit Jansen, Yehuda G. Assaraf, Johan van Meerloo, Christopher. Kirk, Jeremiah Degenhardt, Janet Anderl, Aaron D. Schimmer, Sonja Zweegman, Valerie de Haas, Terzah M. Horton, Gertjan J.L. Kaspers, and Jacqueline Cloos. Higer ratio immune vs. constitutive proteasome level as novel indicator of sensitivity of pediatric acute leukemia cells to proteasome inhibitors. Haematologica 2013.
Khalid W. Kalim, Michael Basler, Christopher J. Kirk and Marcus Groettrup. Immunoproteasome subunit LMP7 deficiency and inhibition suppresses Th1 and Th17 but enhances regulatory T cell differentiation. J Immunol 2012; 189:4182-4193
Product Citation
Chemical Properties
| | |
| --- | --- |
| Storage | Store at -20°C |
| M.Wt | 580.67 |
| Cas No. | 960374-59-8 |
| Formula | C31H40N4O7 |
| Synonyms | ONX-0914,PR-957 |
| Solubility | ≥29.03 mg/mL in DMSO; insoluble in H2O; ≥69 mg/mL in EtOH |
| Chemical Name | (2S)-3-(4-methoxyphenyl)-N-[(2S)-1-(2-methyloxiran-2-yl)-1-oxo-3-phenylpropan-2-yl]-2-[[(2S)-2-[(2-morpholin-4-ylacetyl)amino]propanoyl]amino]propanamide |
| SDF | Download SDF |
| Canonical SMILES | CC(C(=O)NC(CC1=CC=C(C=C1)OC)C(=O)NC(CC2=CC=CC=C2)C(=O)C3(CO3)C)NC(=O)CN4CCOCC4 |
| Shipping Condition | Evaluation sample solution: ship with blue ice. All other available sizes: ship with RT, or blue ice upon request. |
| General tips | For obtaining a higher solubility, please warm the tube at 37°C and shake it in the ultrasonic bath for a while. Stock solution can be stored below -20°C for several months. |
Protocol
Cell experiment: [1]

Cell lines

Human peripheral blood mononuclear (PBMC)cells

Preparation method

The solubility of this compound in DMSO is >10 mM. General tips for obtaining a higher concentration: Please warm the tube at 37 °C for 10 minutes and/or shake it in the ultrasonic bath for a while.Stock solution can be stored below -20°C for several months.

Reaction Conditions

200 nM, 1 hour

Applications

PBMCs were treated with 200 nM ONX-0914 for 1 hour and were exposure to 1 ng/ml LPS for 24 h. Supernatants were analyzed for expression of the inflammatory cytokines. ONX-0914 selectively inhibited LMP7 (> 80%). LMP7 inhibition blocked production of IL-23 by > 90% and of tumor necrosis factor-α (TNF-α) and IL-6 by ~ 50%. Higher concentrations of ONX-0914, which induce inhibition of LMP2 and MECL-1, further decreased secretion of TNF-α and IL-6, suggesting that these subunits have a role in cytokine regulation.

Animal experiment: [1]

Animal models

Collagen antibody–induced arthritis (CAIA) model in BALB/c mice Collagen-induced arthritis (CIA) model in DBA1/J mice

Dosage form

Intravenous injection, 2, 6 and 10 mg per kg body weight

Applications

ONX-0914 blocked disease progression in a dose-dependent manner and completely ameliorated visible signs of disease at the highest dose. Inhibition of LMP7 alone was sufficient to block disease progression, as evidenced by the therapeutic response to PR-957 administered at 2 mg per kg body weight. ONX-0914 treatment also induced a rapid therapeutic response in the T and B cell–dependent CIA model. Immunoproteasome inhibition was associated with a decrease in circulating levels of autoantibodies and collagen oligomeric matrix protein (COMP), a marker for cartilage breakdown.

Other notes

Please test the solubility of all compounds indoor, and the actual solubility may slightly differ with the theoretical value. This is caused by an experimental system error and it is normal.

References:

[1] Muchamuel T, Basler M, Aujay M A, et al. A selective inhibitor of the immunoproteasome subunit LMP7 blocks cytokine production and attenuates progression of experimental arthritis. Nature medicine, 2009, 15(7): 781-787.
Biological Activity
Description
ONX-0914 (PR-957) is a potent and selective inhibitor of immunoproteasome with minimal cross-reactivity for the constitutive proteasome.
Targets
LMP7
IC50
~10 nM
Quality Control
Quality Control & MSDS
View current batch:
Chemical structure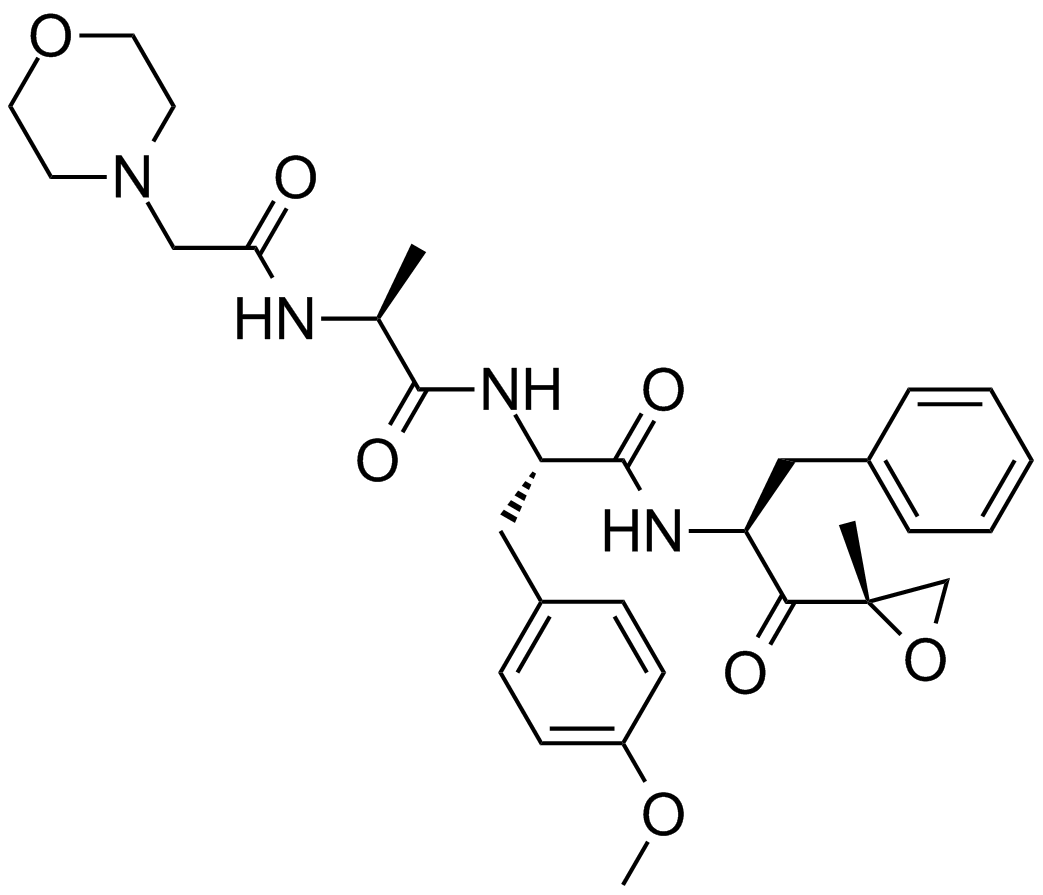 Related Biological Data
Related Biological Data
Related Biological Data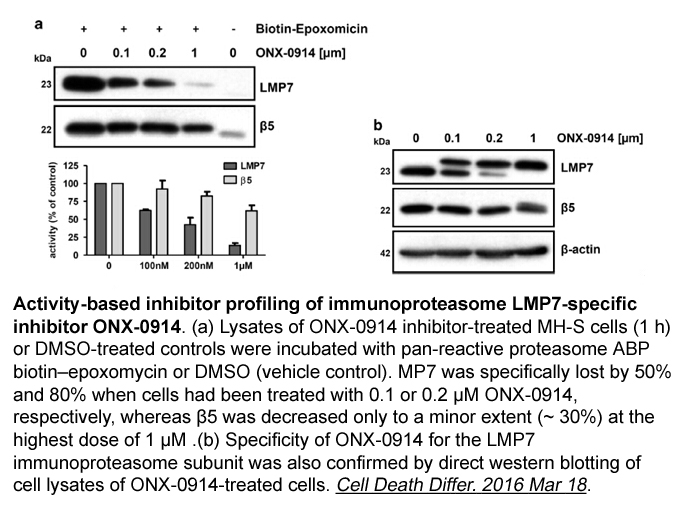 Related Biological Data
Related Biological Data
Related Biological Data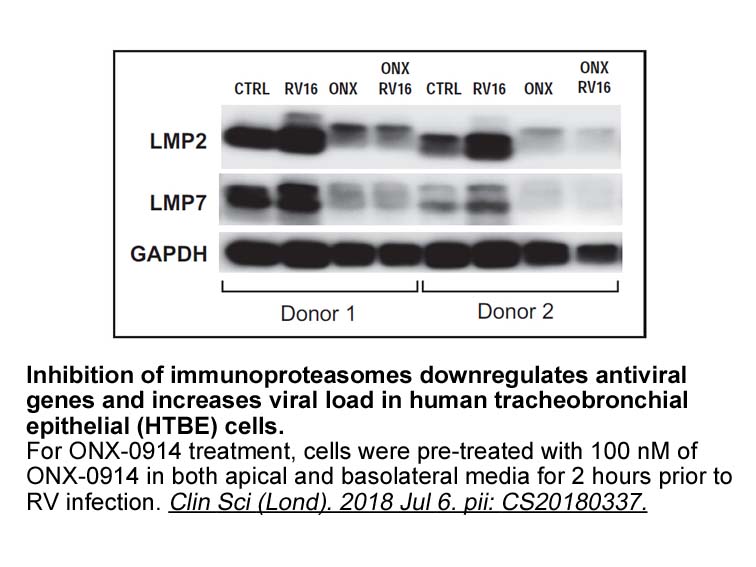 Related Biological Data