Background
Gemcitabine HCl is an inhibitor of DNA synthesis with the IC50 value of 240.4±29.0 μM (CCRF-CEM/dCK−/− cells), 14.7±2.8 nM (TC-1 cells), 36.7 ± 5.1 μM (TC-1-GR cells), and 50 nM (PANC1 cells) [1].
DNA synthesis is the natural or artificial creation of DNA molecules and can be defined as DNA replication, polymerase chain reaction, and gene synthesis. It is reported that DNA synthesis process plays an important role in a variety of cancers, many drugs have been made to target this process to inhibit tumor growth or metastasis [2] [3].
Gemcitabine HCl is a DNA synthesis inhibitor. When tested with pancreatic cancer cell line COLO 357 and L3.6pl, Gemcitabine HCl treatment following genistein which sensitized cells to Gemcitabine HCL significantly inhibited cell growth and increased cell apoptosis [4]. In MIA PaCa-2 cells, Gemcitabine HCl showed markedly cytotoxicity to cells with the IC50 value of 49.7 ± 17.7 nM via inhibiting the activity of dDNA [1].
In SCID mice bearing COLO 357 cells orthotopically implanted, compared with control group, treated both genistein and gemcitabine significantly decreased (75%, P < 0.01) tumor growth and body weight [4].
References:
[1].Lansakara, P.D., B.L. Rodriguez, and Z. Cui, Synthesis and in vitro evaluation of novel lipophilic monophosphorylated gemcitabine derivatives and their nanoparticles. Int J Pharm, 2012. 429(1-2): p. 123-34.
[2].Kostyrev, O.A. and T.A. Leont'eva, [Autoradiographic study of DNA systhesis in muscle and connective tissue cells of the heart during exposure to isopropylnorepinephrine]. Biull Eksp Biol Med, 1973. 76(7): p. 108-11.
[3].Mathews, L.A., et al., Increased expression of DNA repair genes in invasive human pancreatic cancer cells. Pancreas, 2011. 40(5): p. 730-9.
[4].Banerjee, S., et al., Molecular evidence for increased antitumor activity of gemcitabine by genistein in vitro and in vivo using an orthotopic model of pancreatic cancer. Cancer Res, 2005. 65(19): p. 9064-72.
Product Citation
Chemical Properties
| | |
| --- | --- |
| Storage | Store at -20°C |
| M.Wt | 299.66 |
| Cas No. | 122111-03-9 |
| Formula | C9H11F2N3O4·HCI |
| Solubility | ≥10.1 mg/mL in H2O with ultrasonic; ≥2.64 mg/mL in EtOH with gentle warming and ultrasonic; ≥7.49 mg/mL in H2O |
| Chemical Name | 4-amino-1-[(2R,4R,5R)-3,3-difluoro-4-hydroxy-5-(hydroxymethyl)oxolan-2-yl]pyrimidin-2-one;hydrochloride |
| SDF | Download SDF |
| Canonical SMILES | C1=CN(C(=O)N=C1N)[[email protected]]2C([[email protected]@H]([[email protected]](O2)CO)O)(F)F |
| Shipping Condition | Evaluation sample solution: ship with blue ice. All other available sizes: ship with RT, or blue ice upon request. |
| General tips | For obtaining a higher solubility, please warm the tube at 37°C and shake it in the ultrasonic bath for a while. Stock solution can be stored below -20°C for several months. |
Protocol
Cell experiment: [1]

Cell lines

COLO 357 and L3.6pl cells

Preparation method

The solubility of this compound in DMSO is

Reacting condition

25 nM, 72 hours

Applications

Cells were either pretreated with genistein (25 μmol/L) alone or in combination with a single dose of gemcitabine (25 nmol/L), and viable cells were evaluated at 96 hours posttreatment by MTT assay. Treatment with either genistein or gemcitabine alone for 96 hours resulted in only 25% to 30% loss of viability of COLO 357 and L3.6pl cells. However, pretreatment with genistein for 24 hours followed by treatment with gemcitabine resulted in the loss of 60% to 80% of viable cells in both the cell types investigated. These results suggests that the combination of genistein with low therapeutic doses of gemcitabine elicits significantly greater inhibition of cancer cell growth compared with either agent, suggesting that lower toxic side effects are likely to occur in normal cells.

Animal experiment: [1]

Animal models

Female nude mice (ICR-SCID) injected with COLO 357 or L3.6pl cells

Dosage form

Intravenous injection, 80 mg/kg body weight, every other day for a total of three injections

Application

Mice were randomized into the following treatment groups (n = 7): (a) untreated control; (b) only gemcitabine; (c) genistein, 1 mg genistein/d/mouse, everyday orally for 10 days; and (d) genistein and gemcitabine. Single modality treatment with either genistein or gemcitabine alone in mice harboring COLO 357 cells caused 13% and 27% reduction in tumor weight, respectively, compared with control tumors. Under identical experimental conditions, combination of genistein and gemcitabine treatment showed significant decrease in tumor weight compared with untreated control, genistein alone–, or gemcitabine alone– treated group.

Other notes

Please test the solubility of all compounds indoor, and the actual solubility may slightly differ with the theoretical value. This is caused by an experimental system error and it is normal.

References:

[1] Banerjee S, Zhang Y, Ali S, et al. Molecular evidence for increased antitumor activity of gemcitabine by genistein in vitro and in vivo using an orthotopic model of pancreatic cancer. Cancer research, 2005, 65(19): 9064-9072.
Biological Activity
Description
Gemcitabine HCl is an inhibitor of DNA synthesis with IC50 of 50 nM, 40 nM, 18 nM and 12 nM in PANC1, MIAPaCa2, BxPC3 and Capan2 cells, respectively.
Targets
PANC1
MIAPaCa2
BxPC3
Capan2 cell lines
IC50
50 nM
40 nM
18 nM
12 nM
Quality Control
Quality Control & MSDS
View current batch:
Chemical structure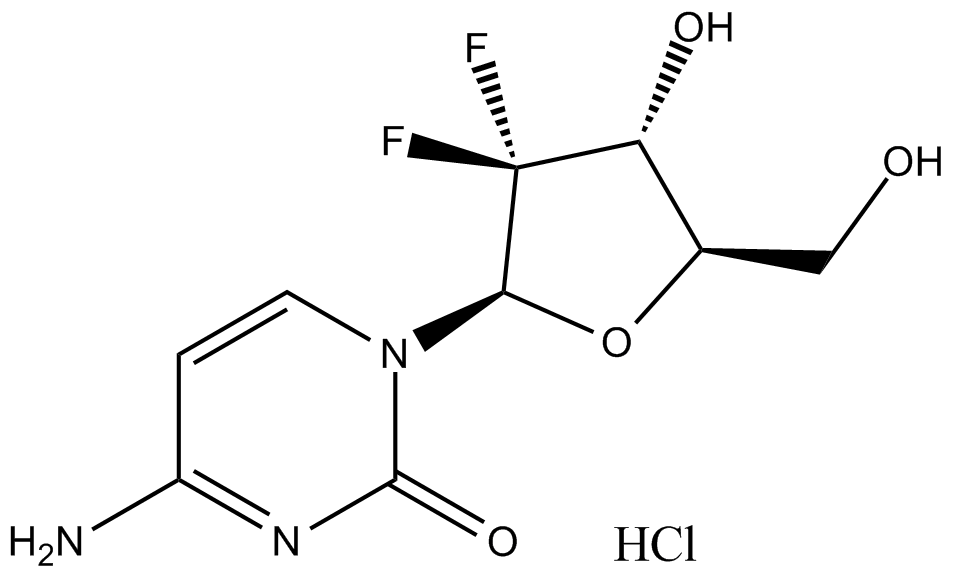 Related Biological Data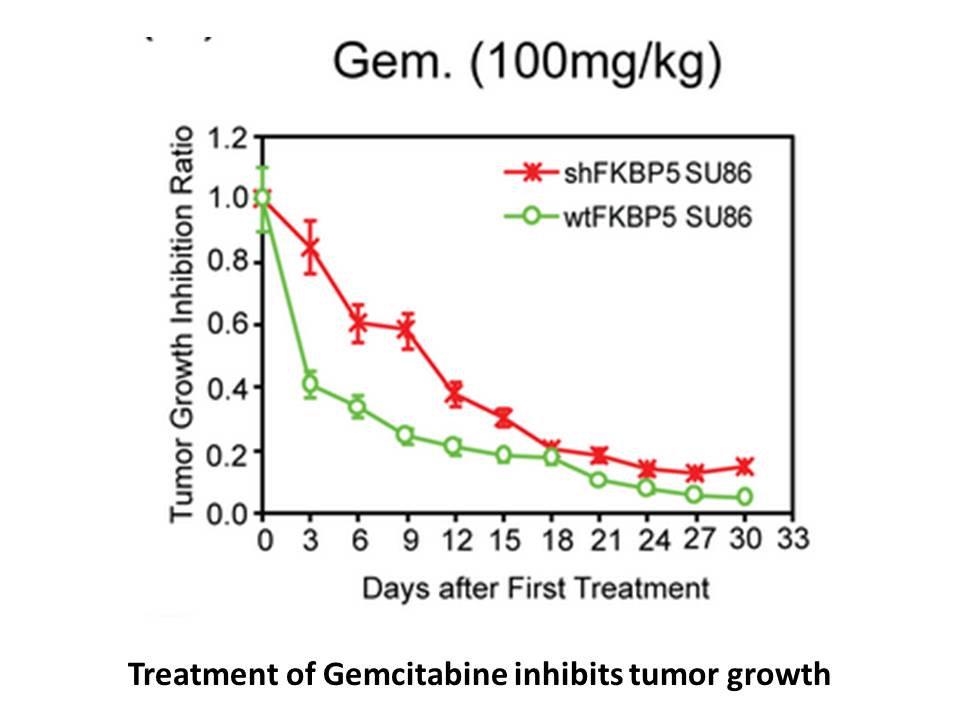 Related Biological Data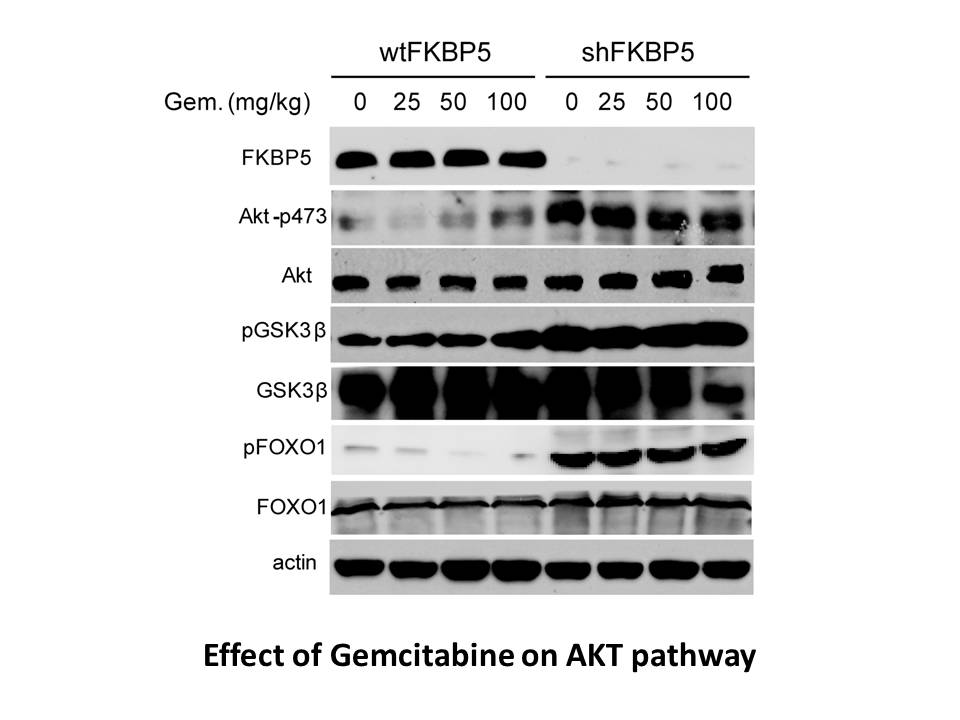 Related Biological Data