Background
LY2886721 is an oral and furothiazine-based inhibitor of β site-amyloid protein cleaving enzyme (BACE) with IC50 of 20.3nM. This product has the potency for the treatment of Alzheimer's disease.
BACE, also known as Beta-Secretase 1, is an aspartic-acid protease that plays important role in the formation of myelin sheaths in peripheral nerve cells.
In vitro, treatment of LY2886721 leads to the inhibition of Aβ in HEK293Swe with IC50 of 18.7nM and PDAPP neuronal culture with IC50 10.7 nM1. LY2886721 decreases CSF sAPPβ and increases CSF sAPPα in a dose- dependent manner 2.
In PDAPP mice, oral administration of LY2886721 resulted in a reduction in brain Aβ, C99 and sAPPβ in a dose-dependent pattern 2. Aβ levels in the brain were decreased by 20% -65% as compared with the vehicle-treated groups 3 hours after treatment of LY2886721 at a dosage of 3-30 mg/kg per mice. In addition, LY2886721 significantly lowers plasma and CSF Aβs in the MAD study 1.
References:
1. Vassar R. BACE1 inhibitor drugs in clinical trials for Alzheimer's disease. Alzheimer's research & therapy. 2014;6(9):89.
2. Nishitomi K, Sakaguchi G, Horikoshi Y, et al. BACE1 inhibition reduces endogenous Abeta and alters APP processing in wild-type mice. Journal of neurochemistry. 2006;99(6):1555-1563.
Product Citation
Chemical Properties
| | |
| --- | --- |
| Physical Appearance | A solid |
| Storage | Store at -20°C |
| M.Wt | 390.41 |
| Cas No. | 1262036-50-9 |
| Formula | C18H16F2N4O2S |
| Solubility | ≥19.52mg/mL in DMSO |
| Chemical Name | N-[3-[(4aS,7aS)-2-amino-4,4a,5,7-tetrahydrofuro[3,4-d][1,3]thiazin-7a-yl]-4-fluorophenyl]-5-fluoropyridine-2-carboxamide |
| SDF | Download SDF |
| Canonical SMILES | C1C2CSC(=NC2(CO1)C3=C(C=CC(=C3)NC(=O)C4=NC=C(C=C4)F)F)N |
| Shipping Condition | Evaluation sample solution : ship with blue ice.All other available size: ship with RT , or blue ice upon request |
| General tips | For obtaining a higher solubility , please warm the tube at 37 ℃ and shake it in the ultrasonic bath for a while.Stock solution can be stored below -20℃ for several months. |
Protocol
Animal experiment [1]:

Animal models

PDAPP mice

Dosage form

3, 10 or 30 mg/kg; p.o.

Applications

At all 3 doses, LY2886721 significantly reduced hippocampal and cortical levels of Aβ1-x. In addition, LY2886721 significantly lowered brain parenchymal levels of C99 and sAPPβ. Although cortical levels of C99 were reduced significantly by LY2886721 at the doses of 10 and 30 mg/kg, the effect of LY2886721 at the dose of 3 mg/kg failed to reach statistical significance. On the other hand, the sAPPβ levels were significantly decreased by LY2886721 at all 3 doses.

Other notes

Please test the solubility of all compounds indoor, and the actual solubility may slightly differ with the theoretical value. This is caused by an experimental system error and it is normal.

References:

[1]. May PC, Willis BA, Lowe SL, Dean RA, Monk SA, Cocke PJ, Audia JE, Boggs LN, Borders AR, Brier RA, Calligaro DO, Day TA, Ereshefsky L, Erickson JA, Gevorkyan H, Gonzales CR, James DE, Jhee SS, Komjathy SF, Li L, Lindstrom TD, Mathes BM, Martényi F, Sheehan SM, Stout SL, Timm DE, Vaught GM, Watson BM, Winneroski LL, Yang Z, Mergott DJ. The potent BACE1 inhibitor LY2886721 elicits robust central Aβ pharmacodynamic responses in mice, dogs, and humans. J Neurosci. 2015 Jan 21;35(3):1199-210.
Biological Activity
Description
LY2886721 is an oral, small molecule inhibitor of β-site amyloid protein cleaving enzyme (BACE) used for the treatment of Alzheimer's Disease.
Targets
BACE
IC50
Quality Control
Quality Control & MSDS
View current batch:
Chemical structure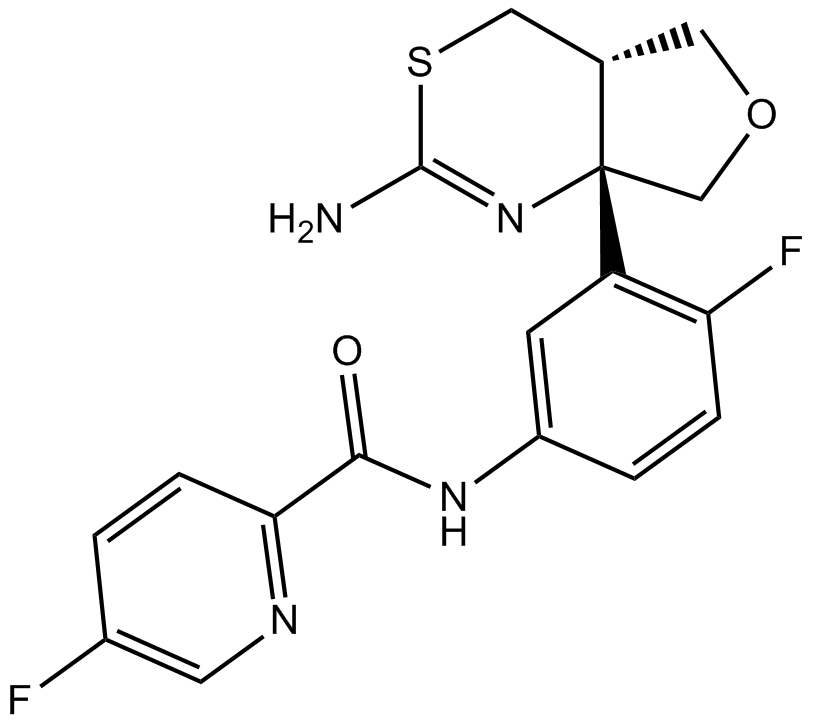 Related Biological Data