Background
IC50: 15.4 nM
CB-5083 is an orally bioavailable inhibitor of p97. P97 is an AAA-ATPase involved in multiple cellular functions such as organelle membrane homotypic fusion and sorting of endosomal cargo. P97 is also known as valosin-containing protein which plays important roles in regulating protein homeostasis [1].
In vitro: CB-5083 is a selective potent inhibitor of p97's second ATPase domain. CB-5083 might compete with ATP for the same binding site but may adopt a different orientation[2]. The IC50 of CB-5083 against wild-type (WT) p97 was 15.4 nM. CB-5083 could dose-dependently increase the cytosolic protein degradation in HEK293T, A549 and HCT116 cell lines [1]. CB-5083 treatment (2.5 μM) of A549 cells for 24h could induce cancer cell death [1].
In vivo: In female nude mice bearing HCT116, A549 lung carcinoma, and AMO-1 multiple myeloma xenograft tumors, oral administration of CB-5083 (100 mg/kg) for 6 h showed a significant antitumor response in tumors (TGI = 63%, p < 0.0001) [1,2].
Clinical trial: CB-5083 has entered phase 1 clinical trials in patients with multiple myeloma and solid tumors.
References:
Anderson D J, Le Moigne R, Djakovic S, et al.  Targeting the AAA ATPase p97 as an Approach to Treat Cancer through Disruption of Protein Homeostasis[J]. Cancer cell, 2015, 28(5): 653-665.
Zhou H J, Wang J, Yao B, et al.  Discovery of a First-in-Class, Potent, Selective, and Orally Bioavailable Inhibitor of the p97 AAA ATPase (CB-5083)[J]. Journal of medicinal chemistry, 2015, 58(24): 9480-9497.
Product Citation
Chemical Properties
| | |
| --- | --- |
| Physical Appearance | A solid |
| Storage | Store at -20°C |
| M.Wt | 413.47 |
| Cas No. | 1542705-92-9 |
| Formula | C24H23N5O2 |
| Solubility | insoluble in H2O; ≥20.65 mg/mL in DMSO; ≥4.4 mg/mL in EtOH |
| Chemical Name | 1-(4-(benzylamino)-7,8-dihydro-5H-pyrano[4,3-d]pyrimidin-2-yl)-2-methyl-1H-indole-4-carboxamide |
| SDF | Download SDF |
| Canonical SMILES | O=C(N)C1=CC=CC2=C1C=C(C)N2C3=NC(NCC4=CC=CC=C4)=C5COCCC5=N3 |
| Shipping Condition | Ship with blue ice, or upon other requests. |
| General tips | For obtaining a higher solubility, please warm the tube at 37°C and shake it in the ultrasonic bath for a while. We do not recommend long-term storage for the solution, please use it up soon. |
Protocol
Kinase experiment [1]:

Binding assays

CB-5083 IC50 analyses for p97 and mutants were conducted utilizing a standard NADH-based coupled kinetic ATPase assay. The assay was conducted in 384 well plates in 50 μl volume with 60 nM p97 enzyme, 500 μM ATP, 3 units/ml each of pyruvate kinase and lactate-dehydrogenase, 250 μM NADH and 3.75 mM phosphoenolpyruvate. ATP hydrolysis dependent NADH reduction was measured at 340 nM wavelength after 2 hours incubation at 37 °C. ATP competition with CB-5083 was measured in the NADH assay with increasing concentrations of ATP. For the ADP-glo assay, compounds were diluted in DMSO with a three-fold ten-point serial dilution to achieve assay concentrations ranging from 10 μM to 0.16 nM. The assay was performed by incubating 20 nM p97, 20 μM ATP and serial diluted compounds in 5 μl volume at 37 °C for 15 min. ADP glo reagents 1 and 2 were added. The IC50 of each compound was derived by reading luminescence values and fitting the values to a 4 point sigmoidal curve.

Cell experiment [1]:

Cell lines

HEK293T stably expressing TCRα-GFP, A549 and HCT116 cell lines

Preparation method

The solubility of this compound in DMSO is >20.7mg/mL. General tips for obtaining a higher concentration: Please warm the tube at 37 ℃ for 10 minutes and/or shake it in the ultrasonic bath for a while. Stock solution can be stored below -20℃ for several months.

Reacting condition

2.5 μM, 6 hr;

Applications

In human embryonic kidney 293T cells stably expressing TCRα-GFP, CB-5083 treatment led to a dose-dependent accumulation of TCRα-GFP in the ER with EC50 of 0.73 ± 0.04 μM. In the lung carcinoma cell line A549, CB-5083 led to accumulation of poly-ubiquitinated proteins. In HCT116 cells, CB-5083 treatment resulted in accumulation of K48-ubiquitinated proteins at a higher molecular weight.

Animal experiment [2]:

Animal models

Nude or SCID-Beige mice xenografted with HCT116 derived from colorectal adenocarcinoma, NCI-H1838 derived from non-small-cell lung cancer, AMO-1 derived from a plasmacytoma, and colorectal cancer patient-derived xenograft (PDX) models

Dosage form

oral administration, 25 and 100 mg/kg, 6 hr. oral gavage once (qd) or twice (bid) daily or following a 4 days on, 3 days off (qd4/3off) cycle.

Application

CB-5083 (oral, 25 and 100 mg/kg) induced the UPR and apoptosis. Oral treatment with CB-5083 inhibited the growth of human tumor xenografts in mice.

Other notes

Please test the solubility of all compounds indoor, and the actual solubility may slightly differ with the theoretical value. This is caused by an experimental system error and it is normal.

References:

[1]. Anderson D J, Le Moigne R, Djakovic S, et al. Targeting the AAA ATPase p97 as an approach to treat cancer through disruption of protein homeostasis[J]. Cancer Cell, 2015, 28(5): 653-665.
Quality Control
Quality Control & MSDS
View current batch:
Chemical structure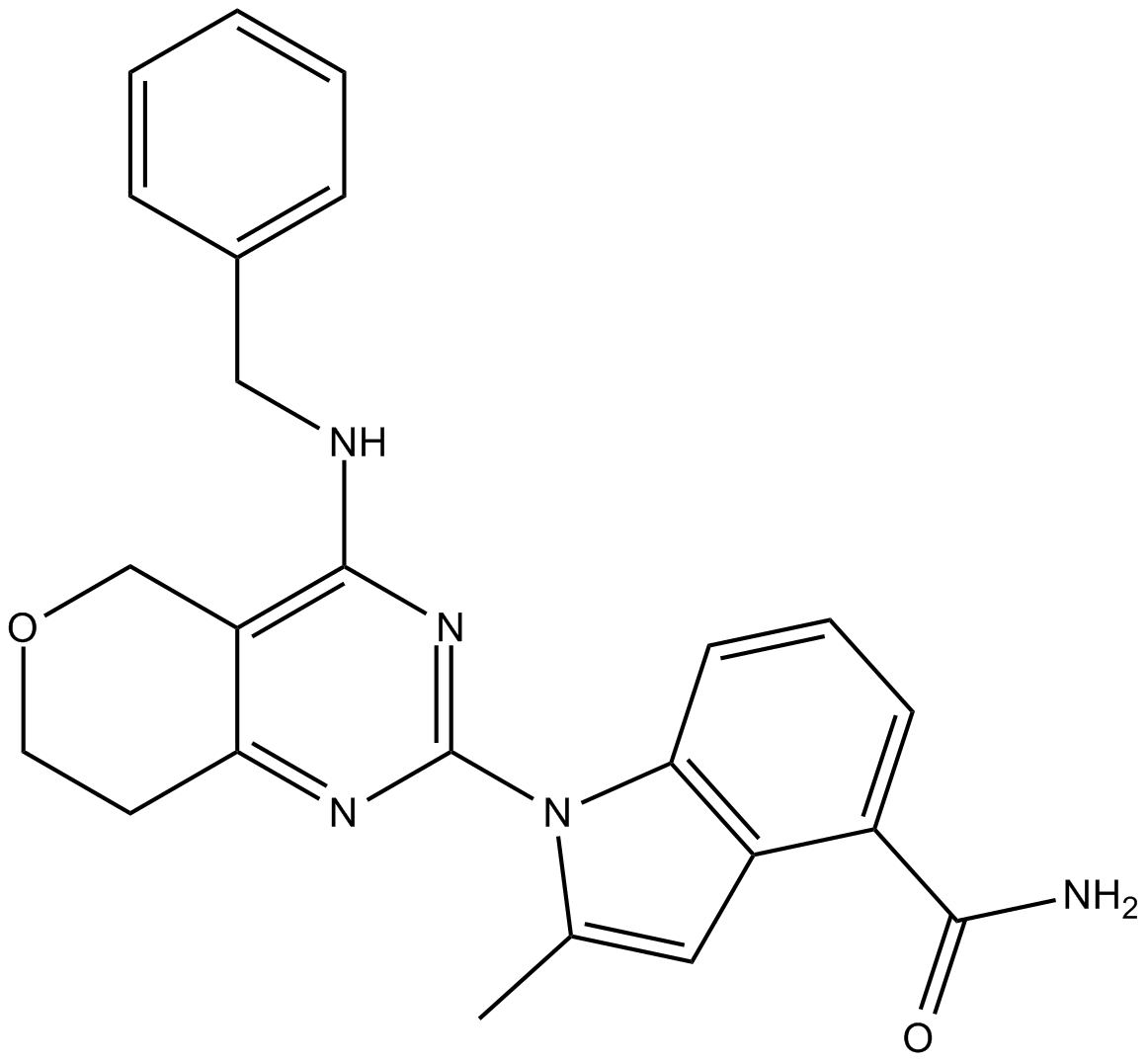 Related Biological Data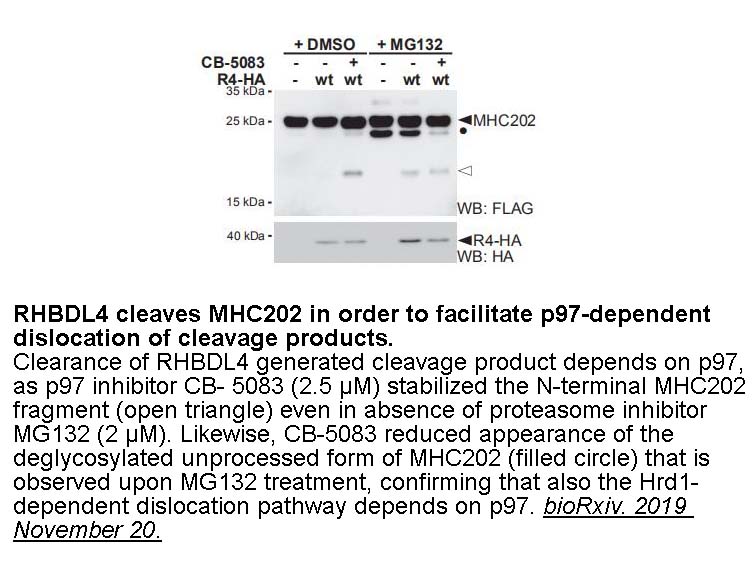 Related Biological Data