Background
Baricitinib, formerly named LY3009104 or INCB028050, is a new selective orally bioavailable inhibitor of tyrosine-protein kinase JAK1 or JAK2. Also, it is an ATP competitive kinase inhibitor. In vitro, it is able to inhibit JAK1 and JAK2 in a low nanomolar range with IC50 values of 5.9 and 5.7 nM, respectively, while it demonstrates low inhibitory activity for JAK3 and moderate activity for TYK2. Baricitinib inhibits intracellular signaling of multiple proinflammatory cytokines including IL-6 and IL-23 at concentrations <50 nM. It should also be recognized that JAK signaling is central to a number of fundamental processes, including the generation of RBCs
Reference
Gras, J. Baricitinib. Tyrosine-protein kinase JAK1/JAK2 inhibitor, treatment of rheumatoid arthritis. Drugs of the future. 2013, 38(9): 611.
Jordan S. Fridman, Peggy A. Scherle, Robert Collins, Timothy C. Burn, Yanlong Li, Jun Li, Maryanne B. Covington, Beth Thomas, Paul Collier, Margaret F. Favata, Xiaoming Wen, Jack Shi, Ryan McGee, Patrick J. Haley, Stacey Shepard, James D. Rodgers, Swamy Yeleswaram, Greg Hollis, Robert C. Newton, Brian Metcalf, Steven M. Friedman and Kris Vaddi. Selective Inhibition of JAK1 and JAK2 Is Efficacious in Rodent Models of Arthritis: Preclinical Characterization of INCB028050. The Journal of Immunology May 1, 2010 vol. 184 no. 9 5298-5307.
Product Citation
Chemical Properties
| | |
| --- | --- |
| Physical Appearance | A solid |
| Storage | Store at -20°C |
| M.Wt | 371.42 |
| Cas No. | 1187594-09-7 |
| Formula | C16H17N7O2S |
| Synonyms | INCB 028050,INCB-028050,LY 3009104,LY-3009104 |
| Solubility | ≥18.57 mg/mL in DMSO,insoluble in EtOH,insoluble in H2O |
| Chemical Name | 2-[1-ethylsulfonyl-3-[4-(7H-pyrrolo[2,3-d]pyrimidin-4-yl)pyrazol-1-yl]azetidin-3-yl]acetonitrile |
| SDF | Download SDF |
| Canonical SMILES | CCS(=O)(=O)N1CC(C1)(CC#N)N2C=C(C=N2)C3=C4C=CNC4=NC=N3 |
| Shipping Condition | Evaluation sample solution: ship with blue ice. All other available sizes: ship with RT, or blue ice upon request. |
| General tips | For obtaining a higher solubility, please warm the tube at 37°C and shake it in the ultrasonic bath for a while. Stock solution can be stored below -20°C for several months. |
Protocol
Kinase experiment [1]:

Inhibitory activities

Enzyme assays were performed using a homogeneous time-resolved fluorescence assay with recombinant epitope tagged kinase domains (JAK1, 837-1142; JAK2, 828-1132; JAK3, 718-1124; Tyk2, 873-1187) or fulllength enzyme (cMET and Chk2) and peptide substrate. Each enzyme reaction was performed with or without Baricitinib (LY3009104, INCB028050) (11-point dilution), JAK, cMET, or Chk2 enzyme, 500 nM (100 nM for Chk2) peptide, ATP (at the Km specific for each kinase or 1 mM), and 2.0% DMSO in assay buffer. The calculated IC50 value is the Baricitinib (LY3009104, INCB028050) concentration required for inhibition of 50% of the fluorescent signal. Additional kinase assays were performed at Cerep using standard conditions at 200 nM. Enzymes tested included: Abl, Akt1, AurA, AurB, CDC2, CDK2, CDK4, CHK2, c-kit, EGFR, EphB4, ERK1, ERK2, FLT-1, HER2, IGF1R, IKKa, IKKb, JNK1, Lck, MEK1, p38a, p70S6K, PKA, PKCa, Src, and ZAP70.

Cell experiment [1]:

Cell lines

Human PBMCs; PHA-stimulated T cells.

Preparation method

Soluble in DMSO > 10 mM. General tips for obtaining a higher concentration: Please warm the tube at 37℃ for 10 minutes and/or shake it in the ultrasonic bath for a while. Stock solution can be stored below -20℃ for several months.

Reaction Conditions

10, 100, 1000, 10000 nM; 48 h.

Applications

In PBMCs, INCB028050 inhibits STAT3 phosphorylation stimulated by IL-6 and the production of chemokine MCP-1 with IC50 values of 44 and 40 nM, respectively. In isolated naive T-cells, INCB028050 inhibits STAT3 phosphorylation with IC50 value of 20 nM and inhibits the production of IL-17 and IL-22 with IC50 value of 50 nM.

Animal experiment [1]:

Animal models

Female rats; adjuvant-induced arthritis rats; DBA/1j arthritis mice induced by bovine type II collagen.

Dosage form

Female rats: 10 mg/kg; 24 h; oral gavage.Adjuvant-induced arthritis rats: 1, 3, or 10 mg/kg; once daily for 2 wk; administrated orally.Collagen-induced arthritis (CIA) model: 1, 3, or 10 mg/kg; twice daily for 15 d; administrated orally.

Preparation method

Suspended in 0.5% methylcellulose and given by oral gavage at 10 ml/kg.

Applications

In female rats, INCB028050 (10 mg/kg) inhibits JAK1/2 signaling by ≥50% for 8 h. In rat adjuvant-induced arthritis, INCB028050 (1, 3, or 10 mg/kg) reduces disease scores by 24%, 57% and 81% respectively and inhibits the increase of hind paw volumes by 50%, >95% and >95%, respectively. Also, INCB028050 reduced bone resorption. In CIA mice model, INCB028050 (1, 3, or 10 mg/kg) reduces clinical scores by 19%, 67% and 61% respectively and inhibits IL-6 and IL-23 signaling and function.

Other notes

Please test the solubility of all compounds indoor, and the actual solubility may slightly differ with the theoretical value. This is caused by an experimental system error and it is normal.

References:

[1]. Fridman JS, Scherle PA, Collins R, et al. Selective inhibition of JAK1 and JAK2 is efficacious in rodent models of arthritis: preclinical characterization of INCB028050. J Immunol, 2010, 184(9): 5298-5307.
Biological Activity
Description
Baricitinib (LY3009104, INCB028050) is a selective inhibitor of JAK1 and JAK2 with IC50 values of 5.9 nM and 5.7 nM,
Targets
JAK2
JAK1
TYK2
JAK3
Chk2
c-Met
IC50
5.7 nM
5.9 nM
53 nM
>400 nM
>1 μM
>10 μM
Quality Control
Quality Control & MSDS
View current batch:
Chemical structure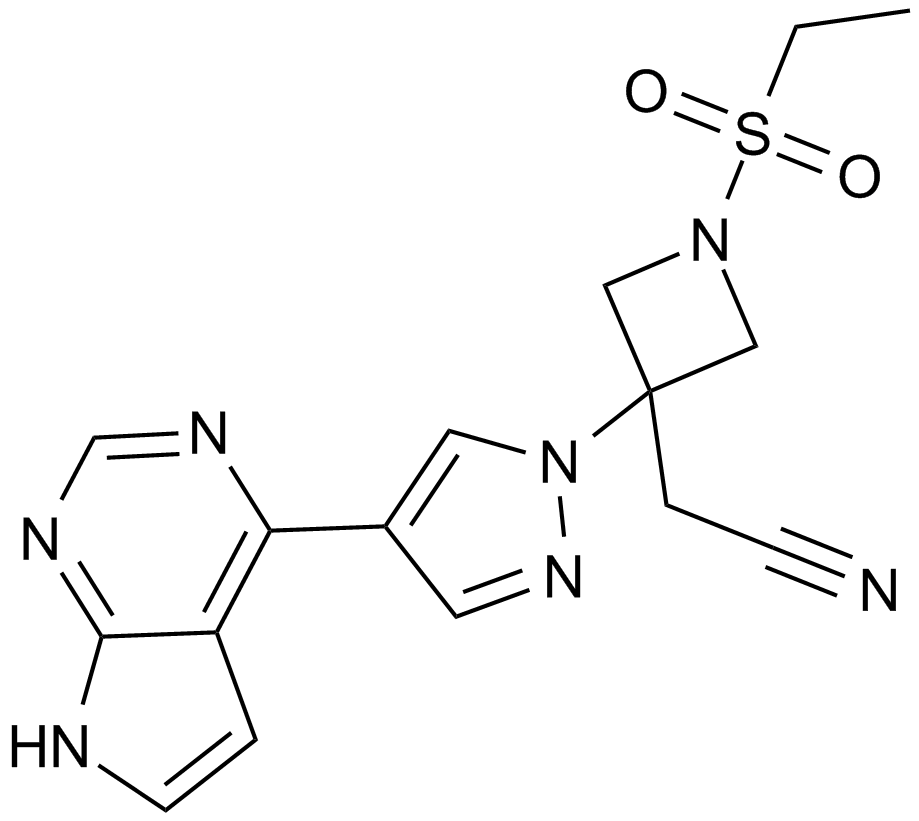 Related Biological Data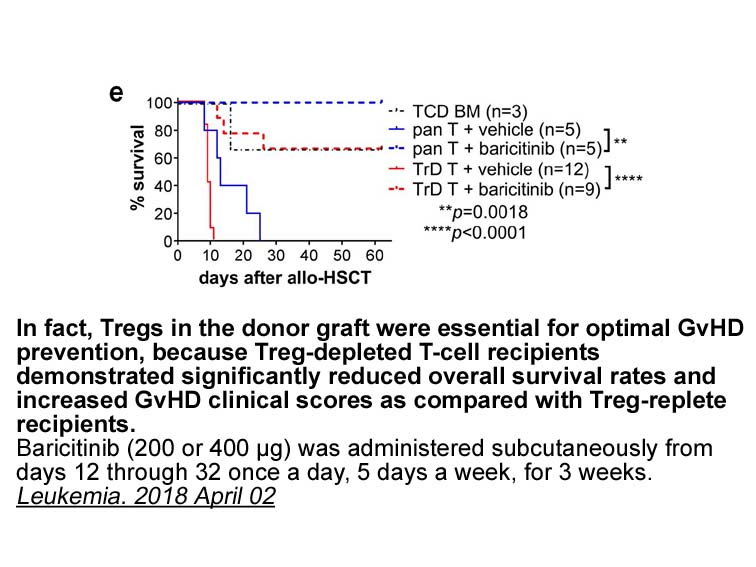 Related Biological Data