AZD1208
PIM kinase inhibitor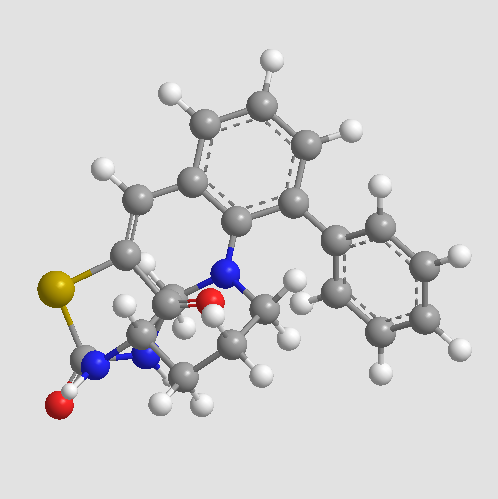 Sample solution is provided at 25 µL, 10mM.
Publications citing ApexBio Products
Related Compound Libraries
Quality Control
Quality Control & MSDS
View current batch:
Chemical structure
Biological Activity
Description
AZD1208 is a potent, and orally available inhibitor of Pim kinase with IC50 values of 0.4 nM, 5 nM, and 1.9 nM for Pim1, Pim2, and Pim3, respectively.
Targets
Pim1
Pim2
Pim3
IC50
0.4 nM
1.9 nM
5 nM
Protocol
Cell experiment[1]:

Cell lines

OCI-M1 and EOL-1 cell lines

Preparation method

The solubility of this compound in DMSO is > 10 mM. General tips for obtaining a higher concentration: Please warm the tube at 37 ℃ for 10 minutes and/or shake it in the ultrasonic bath for a while. Stock solution can be stored below -20℃ for several months.

Reacting condition

9 h, 1 µM

Applications

AZD1208 is a highly selective, potent and orally available Pim kinase inhibitor that effectively inhibits Pim-1, Pim-2 and Pim-3 with Ki values of 0.1 nM, 1.92 nM and 0.4 nM, respectively. AZD1208 inhibits AML cells growth and induce apoptosis and cell-cycle arrest.

Animal experiment [2]:

Animal models

SCID mice

Dosage form

Oral administration, 30-45mg/kg

Application

AZD1208 inhibited tumorigenesis in c-MYC/Pim1-prostate tissue recombinant grafts. Myc-CaP allografts, and human PC xenograft models. Inhibition of PIM by AZD1208 reduced c-MYC/Pim1 graft growth, decreased cellular proliferation, and increased apoptosis. Besides, AZD1208 also suppressed multiple protumorigenic pathways, including the MYC pathway and the p53 pathway.

Other notes

Please test the solubility of all compounds indoor, and the actual solubility may slightly differ with the theoretical value. This is caused by an experimental system error and it is normal.

References:

[1]. Keeton E K, McEachern K, Dillman K S, et al. AZD1208, a potent and selective pan-Pim kinase inhibitor, demonstrates efficacy in preclinical models of acute myeloid leukemia[J]. Blood, 2014, 123(6): 905-913.

[2]. Kirschner A N, Wang J, van der Meer R, et al. PIM kinase inhibitor AZD1208 for treatment of MYC-driven prostate cancer[J]. Journal of the National Cancer Institute, 2014, 107(2).
Chemical Properties
Cas No.
1204144-28-4
SDF
Download SDF
Synonyms
AZD 1208;AZD-1208
Chemical Name
(5E)-5-[[2-[(3R)-3-aminopiperidin-1-yl]-3-phenylphenyl]methylidene]-1,3-thiazolidine-2,4-dione
Canonical SMILES
C1CC(CN(C1)C2=C(C=CC=C2C=C3C(=O)NC(=O)S3)C4=CC=CC=C4)N
Formula
C21H21N3O2S
M.Wt

379.48

Solubility
>19mg/mL in DMSO
Storage
Store at -20°C
General tips
N/A
Shipping Condition
N/A
Background
IC50: 0.4 nM for Pim-1, 5.0 nM for Pim-2, and 1.9 nM for Pim-3
Upregulation of Pim kinases has been observed in several types of leukemias and lymphomas. Pim-1, -2, and -3 promote cell proliferation and survival downstream of cytokine and growth factor signaling pathways. AZD1208 is a potent, highly selective, and orally available Pim kinase inhibitor.
In vitro: AZD1208 inhibited the growth of 5 of 14 acute myeloid leukemia (AML) cell lines tested. In MOLM-16 cells, AZD1208 also causes cell cycle arrest and apoptosis, accompanied by a dose-dependent reduction in phosphorylation of Bcl-2 antagonist of cell death [1].
In vivo: AZD1208 inhibits the growth of KG-1a and MOLM-16 xenograft tumors in vivo with a clear PK/PD relationship. Treatment with 10 mg/kg or 30 mg/kg of AZD1208 led to an 89% tumor growth inhibition or slight regression, respectively [1].
Clinical trials: AZD1208 is in Phase I trials evaluating the safety and tolerability profile and to determine the maximum tolerated dose (MTD). There are two ongoing trials where AZD1208 has been orally administered in AML and solid tumor (of all types) patients
Reference:
[1] Keeton EK, McEachern K, Dillman KS, Palakurthi S, Cao Y, Grondine MR, Kaur S, Wang S, Chen Y, Wu A, Shen M, Gibbons FD, Lamb ML, Zheng X, Stone RM, Deangelo DJ, Platanias LC, Dakin LA, Chen H, Lyne PD, Huszar D. AZD1208, a potent and selective pan-Pim kinase inhibitor, demonstrates efficacy in preclinical models of acute myeloid leukemia. Blood. 2014;123(6):905-13.