Background
BKM120(NVP-BKM120, Buparlisib) is a selective PI3K inhibitor of p110α/β/δ/γ with IC50 of 52 nM/166 nM/116 nM/262 nM, respectively.
The intracellular phosphatidylinositol-3-kinase(PI3K) pathway regulates cellular functions incuding cell proliferation, growth, survival, apoptosis, protein synthesis, and glucose metabolism. BKM120, a biologic characterization of the 2-morpholino pyrimidine derivative, is a pan-PI3K inhibitor.
In vitro: NVP-BKM120 inhibits all four class I PI3K isoforms in biochemical assays with at least 50-fold selectivity against other protein kinases. NVP-BKM120 is also active against the most common somatic PI3Ka mutations but does not significantly inhibit the related class III (Vps34) and class IV (mTOR, DNA-PK) PI3K kinases. Consistent with its mechanism of action, NVP-BKM120 decreases the cellular p-Akt levels in mechanistic models and relevant tumor cell lines. In a panel of 353 cell lines test, NVP-BKM120 showed preferential inhibition of tumor cells with PIK3CA mutations, rather than either KRAS or PTEN mutant models [1].
In vivo: NVP-BKM120 shows dose-dependent in vivo pharmacodynamic activity as measured by significant inhibition of p-Akt and tumor growth inhibition in mechanistic xenograft models. In addition, NVP-BKM120 behaves synergistically when combined with either targeted agents such as MEK or HER2 inhibitors or with cytotoxic agents such as docetaxel or temozolomide [1].
Clinical trial: A phase I dose-escalation study investigated the maximum-tolerated dose (MTD), safety, preliminary activity, PK, and PD of BKM120. This study demonstrates feasibility and proof-of-concept of class I PI3K inhibition in cancer patients. BKM120 at the MTD of 100 mg d-1 is safe and well tolerated, with a good PK profile, clear evidence of target inhibition, and preliminary antitumor activity [2].
References:
[1] Maira SM, Pecchi S, Huang A, Burger M, Knapp M, Sterker D, Schnell C, Guthy D, Nagel T, Wiesmann M, Brachmann S, Fritsch C, Dorsch M, Chène P, Shoemaker K, De Pover A, Menezes D, Martiny-Baron G, Fabbro D, Wilson CJ, Schlegel R, Hofmann F, García-Echeverría C, Sellers WR, Voliva CF. Identification and characterization of NVP-BKM120, an orally available pan-class I PI3-kinase inhibitor. Mol Cancer Ther. 2012;11(2):317-28.
[2] Bendell JC, Rodon J, Burris HA, de Jonge M, Verweij J, Birle D, Demanse D, De Buck SS, Ru QC, Peters M, Goldbrunner M, Baselga J. Phase I, dose-escalation study of BKM120, an oral pan-Class I PI3K inhibitor, in patients with advanced solid tumors. J Clin Oncol. 2012;30(3):282-90.
Product Citation
Chemical Properties
| | |
| --- | --- |
| Physical Appearance | A solid |
| Storage | Store at -20°C |
| M.Wt | 410.39 |
| Cas No. | 944396-07-0 |
| Formula | C18H21F3N6O2 |
| Synonyms | BKM-120,Buparlisib,BKM 120,NVP-BKM120,NVP-BKM-120 |
| Solubility | ≥20.52 mg/mL in DMSO; insoluble in H2O; ≥11.36 mg/mL in EtOH with ultrasonic |
| Chemical Name | 5-(2,6-dimorpholin-4-ylpyrimidin-4-yl)-4-(trifluoromethyl)pyridin-2-amine |
| SDF | Download SDF |
| Canonical SMILES | C1COCCN1C2=NC(=NC(=C2)C3=CN=C(C=C3C(F)(F)F)N)N4CCOCC4 |
| Shipping Condition | Ship with blue ice, or upon other requests. |
| General tips | For obtaining a higher solubility, please warm the tube at 37°C and shake it in the ultrasonic bath for a while. We do not recommend long-term storage for the solution, please use it up soon. |
Protocol
Cell experiment: [1]

Cell lines

MM cell lines (RPMI-8226, OPM1, MM.1S, OPM2 and H929)

Preparation method

The solubility of this compound in DMSO is >10 mM. General tips for obtaining a higher concentration: Please warm the tube at 37 °C for 10 minutes and/or shake it in the ultrasonic bath for a while.Stock solution can be stored below -20°C for several months.

Reaction Conditions

IC50: 0.5-1μM, 48 hours

Applications

The effect of the pan-PI3K inhibition, mediated by increased concentrations of buparlisib on MM cell survival was tested by MTT assay. Buparlisib induced cell toxicity after 48 hr treatment in all MM cell lines tested; with an IC50 between 0.5 and 1 μM. In addition, buparlisib decreased the activation of signaling proteins downstream of PI3K including pAkt, pS6R, pP70S6K, and p-mTOR in MM.1S cells in a dose dependent manner.

Animal experiment: [1]

Animal models

Female SCID-Bg mice injected with MM.1S-GFP+/luc+ cells

Dosage form

Oral administration, 50 mg/kg, once a day for 5 weeks

Applications

Treatment of mice with buparlisib significantly decreased the rate of tumor progression compared with the vehicle treated group, as shown in representative images of the BLI and quantification of the BLI. These results were further confirmed by fluorescence microscopy, showing that the number of MM.1S- GFP+/luc+ cells present in the BM of mice treated with buparlisib decreased significantly compared with those present in the BM of mice treated with vehicle, as shown in representative images of immunofluorescence.

Other notes

Please test the solubility of all compounds indoor, and the actual solubility may slightly differ with the theoretical value. This is caused by an experimental system error and it is normal.

References:

[1] Sahin I, Azab F, Mishima Y, Moschetta M, Tsang B, Glavey SV, Manier S, Zhang Y, Sacco A, Roccaro AM, Azab AK, Ghobrial IM. Targeting survival and cell trafficking in multiple myeloma and Waldenstrom macroglobulinemia using pan-class I PI3K inhibitor, buparlisib. Am J Hematol. 2014 Jul 24.
Biological Activity
Description
BKM120(NVP-BKM120, Buparlisib) is a selective PI3K inhibitor of p110α/β/δ/γ with IC50 of 52 nM/166 nM/116 nM/262 nM, respectively.
Targets
p110α
p110β
p110δ
p110γ
IC50
52-99 nM
166 nM
116 nM
262 nM
Quality Control
Quality Control & MSDS
View current batch:
Chemical structure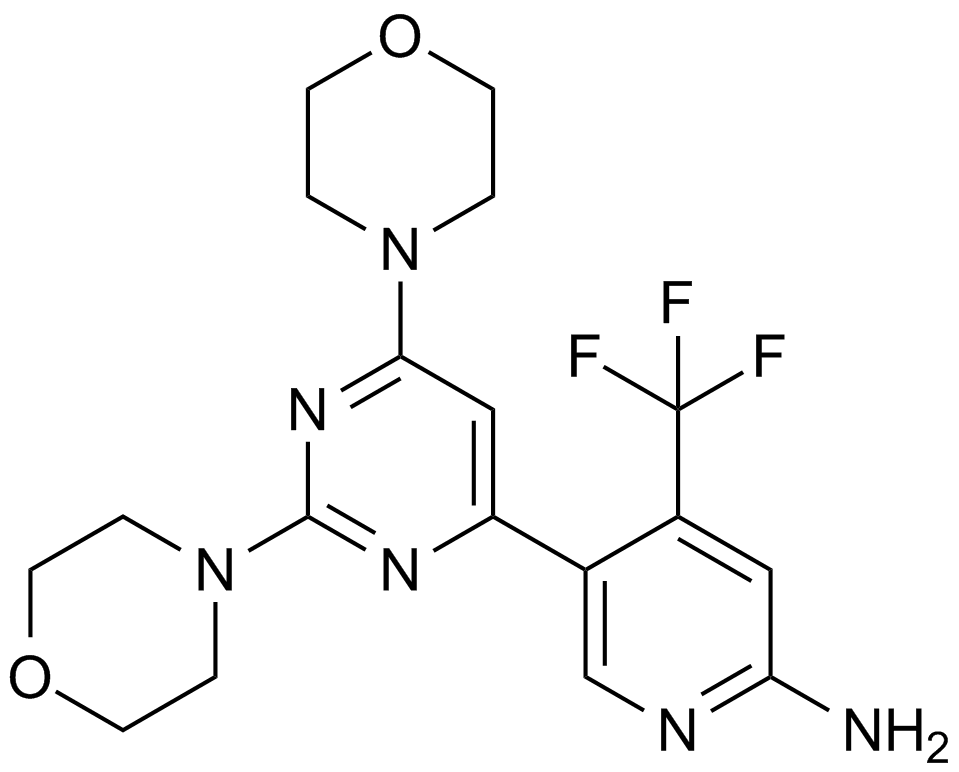 Related Biological Data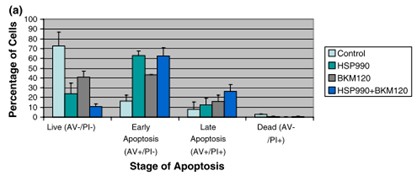 Annexin V assay analyzing stages of apoptosis 48 h following drug treatments [BKM120 (2 μM)] for U87Mg cells; Experiments were repeated 3 times. The mean ± SEM from at least 2–3 independent experiments containing 4 replicates each were obtained. Students t test was used to determine significance (p < 0.05) between groups. AV annexin V, PI propidium iodide.
Related Biological Data

BKM120 almost completely blocked the phosphorylation of Akt at concentration of 2.5 μM. High concentrations of BKM120 such as 5 μM and 10 μM induced cell death.
Method:Western Blot; Cell Lines:Primary HUVECs; Concentrations:2.5 μM; Incubation Time:2 h.
Related Biological Data