Product Citation
Quality Control
Quality Control & DataSheet
View current batch:
Related Biological Data
Related Biological Data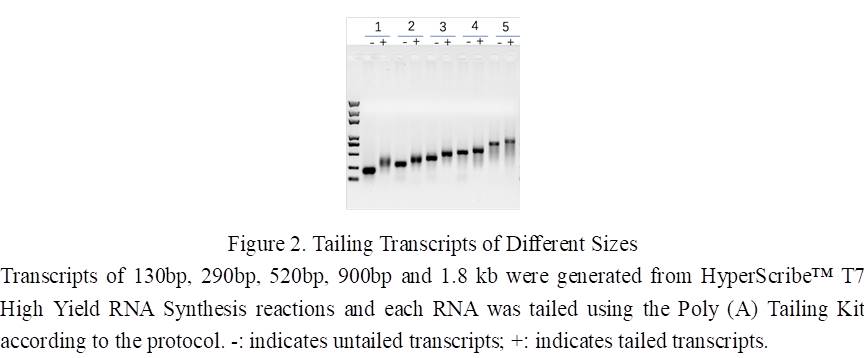 Components and Storage
Amount
Component
Storage
100 uL
E-PAP (2 units/uL)
-20°C
600 uL
5X E-PAP Buffer
-20°C
100 uL
ATP Solution (100 mM)
-20°C
250 uL
25 mM MnCl2
-20°C
10 uL
Control DNA Template (0.5 ug/uL)
-20°C
1 mL x 2
Nuclease - free Water
any temp*

* Store Nuclease-free Water at -20°C, 4°C, or room temperature.
Description
HyperScribe™ Poly (A) Tailing Kit is a set of reagents designed to add a ≥150 base poly (A) tail to RNA transcripts generated with the HyperScribe™ T7 High Yield RNA Synthesis Kit. The kit is completed by using E. coli Poly (A) Polymerase (E-PAP) and ATP. Then the resulting capped and tailed RNA can be used in transfection or micro-injection experiments where mRNA stability and translation efficiency may be increased relative to unmodified mRNA.