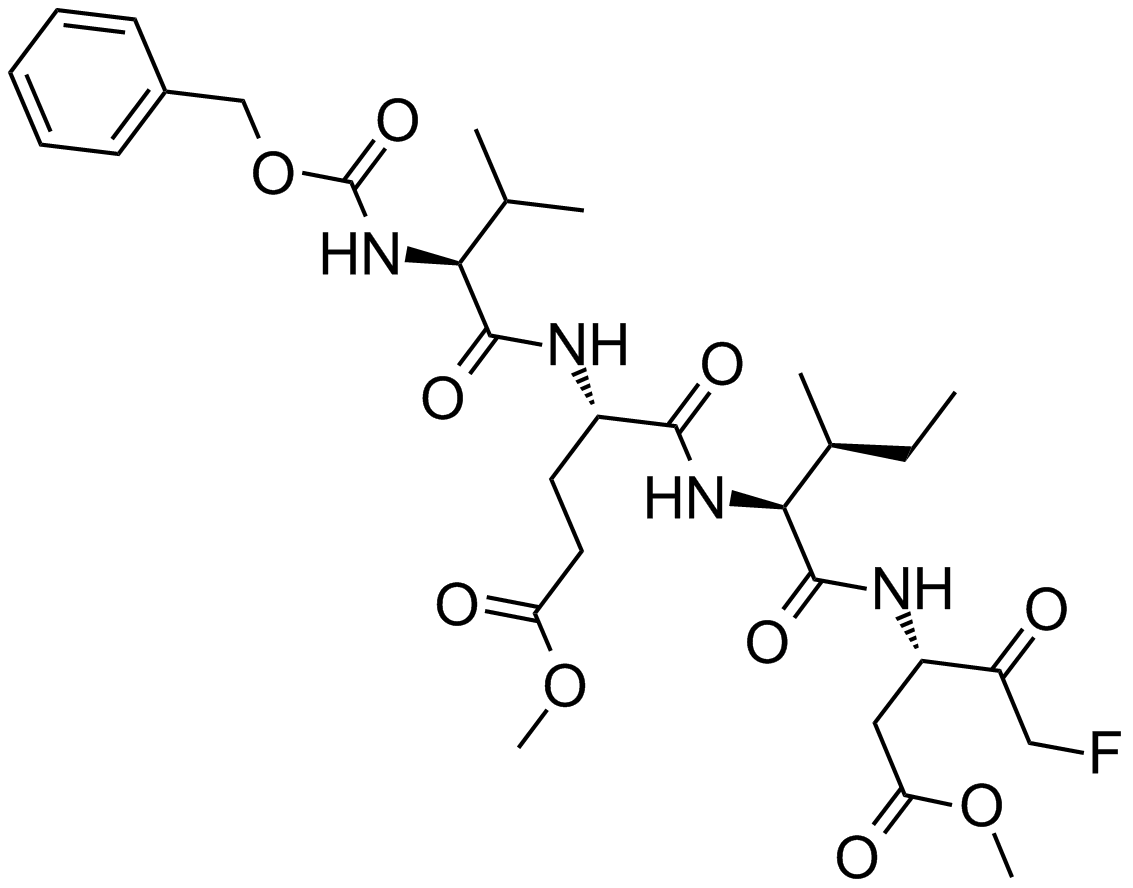 When compared to other caspase inhibitors, Z-DRHD-FMK inhibited caspase 6 activity more effectively than the general caspase inhibitor Z-Val-Ala-Asp (OMe)-fluoromethy ketone (Z-VAD-FMK) or the caspase 6 inhibitor Z-Val-Glu(Ome)-Ile-Asp(OMe)-fluoromethyl ketone (Z-VEID-FMK). However, it was less effective in inhibiting TNFα-induced apoptosis than Z-VAD-FMK or Z-VEID-FMK, presumably because caspase 6 is only one of at least three effector caspases, the others being caspase 3 and 7, that are active during caspase dependent apoptosis. Loss of DNA-binding activity and TNFα-induced apoptosis can be prevented by caspase-6-preferred inhibitor (Z-VEID-FMK)1.
The caspase-6-specific inhibitor Z-VEID- FMK and general caspase inhibitors significantly prevent apoptosis of caspase-6-microinjected neurons2.
Z-VEID-FMK, which inhibits caspase-6, was also able to abolish the cleavage of procaspase-8, although caspase-6 is activated downstream of caspase-8 in Fas-mediated apoptosis3.
References:
1. Nyormoi et al (2003) Sequence-based discovery of a synthetic peptide inhibitor of caspase 6. Apoptosis 8 371.
2. Y. Zhang C. Goodyer, Selective and Protracted Apoptosis in Human Primary Neurons Microinjected with Active Caspase-3, -6, -7, and -8. The Journal of Neuroscience, 2000, 20(22):8384–8389
3. Microinjected with Active Caspase-3, -6, -7, and -8 Taimen and Kallajoki (2003) NuMA and nuclear lamins behave differently in Fas-mediated apoptosis. J.Cell Sci.116 571.
Product Citation
Chemical Properties
| | |
| --- | --- |
| Storage | Store at -20°C |
| M.Wt | 652.71 |
| Formula | C31H45FN4O10 |
| Synonyms | Caspase-6 inhibitor (fluoromethylketone),Benzyloxycarbonyl-Val-Glu(OMe)-Ile-​Asp(OMe)-fluoromethylketone |
| Solubility | ≥113.4mg/mL in DMSO |
| Chemical Name | methyl (4S)-5-[[(2S)-1-[[(3S)-5-fluoro-1-methoxy-1,4-dioxopentan-3-yl]amino]-3-methyl-1-oxopentan-2-yl]amino]-4-[[(2S)-3-methyl-2-(phenylmethoxycarbonylamino)butanoyl]amino]-5-oxopentanoate |
| SDF | Download SDF |
| Canonical SMILES | CCC(C)C(C(=O)NC(CC(=O)OC)C(=O)CF)NC(=O)C(CCC(=O)OC)NC(=O)C(C(C)C)NC(=O)OCC1=CC=CC=C1 |
| Shipping Condition | Evaluation sample solution : ship with blue ice.All other available size: ship with RT , or blue ice upon request |
| General tips | For obtaining a higher solubility , please warm the tube at 37 ℃ and shake it in the ultrasonic bath for a while.Stock solution can be stored below -20℃ for several months. |
Protocol
Cell experiment [1]:

Cell lines

Luteal cells

Preparation method

Soluble in DMSO. General tips for obtaining a higher concentration: Please warm the tube at 37 ℃ for 10 minutes and/or shake it in the ultrasonic bath for a while. Stock solution can be stored below -20℃ for several months.

Reaction Conditions

50 μM; 6 h

Applications

Incubation of luteal cells in the presence of inhibitors of caspase-3 (Z-DEVD-FMK), caspase-6 (Z-VEID-FMK), caspase-8 (Z-IETD-FMK) and a general caspase inhibitor (Boc-DFMK) resulted in a reduction in the level of TNFα-induced DNA fragmentation.

References:

[1]. Abdo M1, Hisheh S, Dharmarajan A. Role of tumor necrosis factor-alpha and the modulating effect of the caspases in rat corpus luteum apoptosis. Biol Reprod. 2003 Apr;68(4):1241-8.
Biological Activity
Z-VEID-FMK is the specific recognition sequence for caspase-6/Mch2.
Targets
caspase-6
IC50
Quality Control
Quality Control & MSDS
View current batch:
Chemical structure
Related Biological Data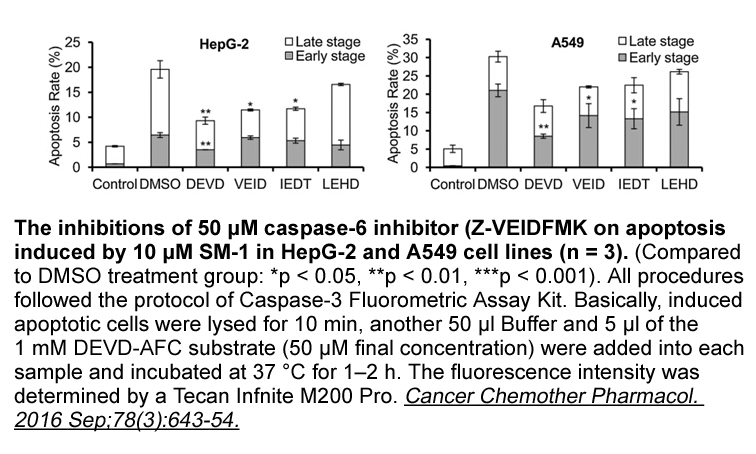 Related Biological Data