Background
Nonivamide is a capsaicin analog. Capsaicin is an anti-proliferation agent with IC50 value of 100 μM in A172 cells.
Capsaicin is an anti-proliferation agent with IC50 value of 100 μM in A172 cells.
Capsaicin is an active component of chili peppers. It selectively binds to TRPV1 which is a heat-activated calcium channel. Capsaicin causes the channel to open below 37 °C. This is why capsaicin is linked to the sensation of heat. [1] Capsaicin has been reported to possess anti-carcinogenic and anti-mutagenic activities. In human glioma A172 cells, capsaicin reduced cell viability with IC50 of ~100 μM treated for 1 day. Capsaicin inhibited cell growth and induced apoptosis through down-regulation of Bcl-2 and activation of caspase-3. Capsaicin also induced terminal differentiation, which contribute to A172 cell growth inhibition.[2] On the other hand, capsaicin reduced the basal generation of ROS, which may played a role in the induction of apoptosis by capsaicin.[3] In MCF-7 cells, capsaicin induced cell apoptosis through the mitochondrial pathway, and subsequently caused PARP-1 cleaved by activation of caspase-7.[4] In human SCLC cell line, capsaicin displayed robust anti-proliferative activity with MTT assay. Furthermore, capsaicin (10 mg/kg body weight) significantly reduced the growth rate of established (800 mm3) H69 tumors xenotransplanted in nude mice. [5]
References:
1. M. J. Caterina, M. A. Schumacher, M. Tominaga, T. A. Rosen, J. D. Levine and D. Julius, Nature 1997, 389, 816-824.
2. Y. G. Gil and M. K. Kang, Life Sci 2008, 82, 997-1003.
3. Y. S. Lee, D. H. Nam and J. A. Kim, Cancer Lett 2000, 161, 121-130.
4. H. C. Chang, S. T. Chen, S. Y. Chien, S. J. Kuo, H. T. Tsai and D. R. Chen, Hum Exp Toxicol 2011, 30, 1657-1665.
5. K. C. Brown, T. R. Witte, W. E. Hardman, H. Luo, Y. C. Chen, A. B. Carpenter, J. K. Lau and P. Dasgupta, PLoS One 2010, 5, e10243.>
Product Citation
Chemical Properties
| | |
| --- | --- |
| Physical Appearance | A solid |
| Storage | Store at -20°C |
| M.Wt | 293.40 |
| Cas No. | 2444-46-4 |
| Formula | C17H27NO3 |
| Synonyms | Pelargonic acid vanillylamide; Nonanoic acid vanillylamide; Pseudocapsaicin |
| Solubility | ≥15.27 mg/mL in DMSO, ≥52.3 mg/mL in EtOH with gentle warming, insoluble in H2O |
| Chemical Name | N-(4-hydroxy-3-methoxybenzyl)nonanamide |
| SDF | Download SDF |
| Canonical SMILES | OC1=CC=C(CNC(CCCCCCCC)=O)C=C1OC |
| Shipping Condition | Evaluation sample solution : ship with blue ice.All other available size: ship with RT , or blue ice upon request |
| General tips | For obtaining a higher solubility , please warm the tube at 37 ℃ and shake it in the ultrasonic bath for a while.Stock solution can be stored below -20℃ for several months. |
Protocol
Cell experiment [1]:

Cell lines

A172 cells

Preparation method

The solubility of this compound in DMSO is > 15.3 mg/mL. General tips for obtaining a higher concentration: Please warm the tube at 37 °C for 10 minutes and/or shake it in the ultrasonic bath for a while. Stock solution can be stored below - 20 °C for several months.

Reacting condition

0 ~ 200 μM; 1, 3 and 5 days

Applications

Capsaicin significantly inhibited A172 cell growth in dose- and time-dependent manners. At the dose of 100 μM, capsaicin increased the proportion of A172 cells in the sub G1 phase by 38.5 ± 2.75% and induced apoptosis. The Western blot results showed that capsaicin significantly down-regulated Bcl-2 protein expression and up-regulated Bax protein expression.

Animal experiment [2]:

Animal models

Nude mice bearing human H69 cells

Dosage form

10 mg/kg; p.o.

Applications

In nude mice bearing human H69 cells, Capsaicin significantly reduced the growth rate of H69 tumors. The immunohistochemical results of H69 tumors showed that capsaicin markedly reduced the number of proliferating cell nuclear antigen (PCNA)-positive cells. However, capsaicin did not substantially induce apoptosis in H69 tumors.

Other notes

Please test the solubility of all compounds indoor, and the actual solubility may slightly differ with the theoretical value. This is caused by an experimental system error and it is normal.

References:

[1]. Gil YG, Kang MK. Capsaicin induces apoptosis and terminal differentiation in human glioma A172 cells. Life Sci. 2008 May 7;82(19-20):997-1003.

[2]. Brown KC, Witte TR, Hardman WE, Luo H, Chen YC, Carpenter AB, Lau JK, Dasgupta P. Capsaicin displays anti-proliferative activity against human small cell lung cancer in cell culture and nude mice models via the E2F pathway. PLoS One. 2010 Apr 20;5(4):e10243.
Quality Control
Quality Control & MSDS
View current batch:
Chemical structure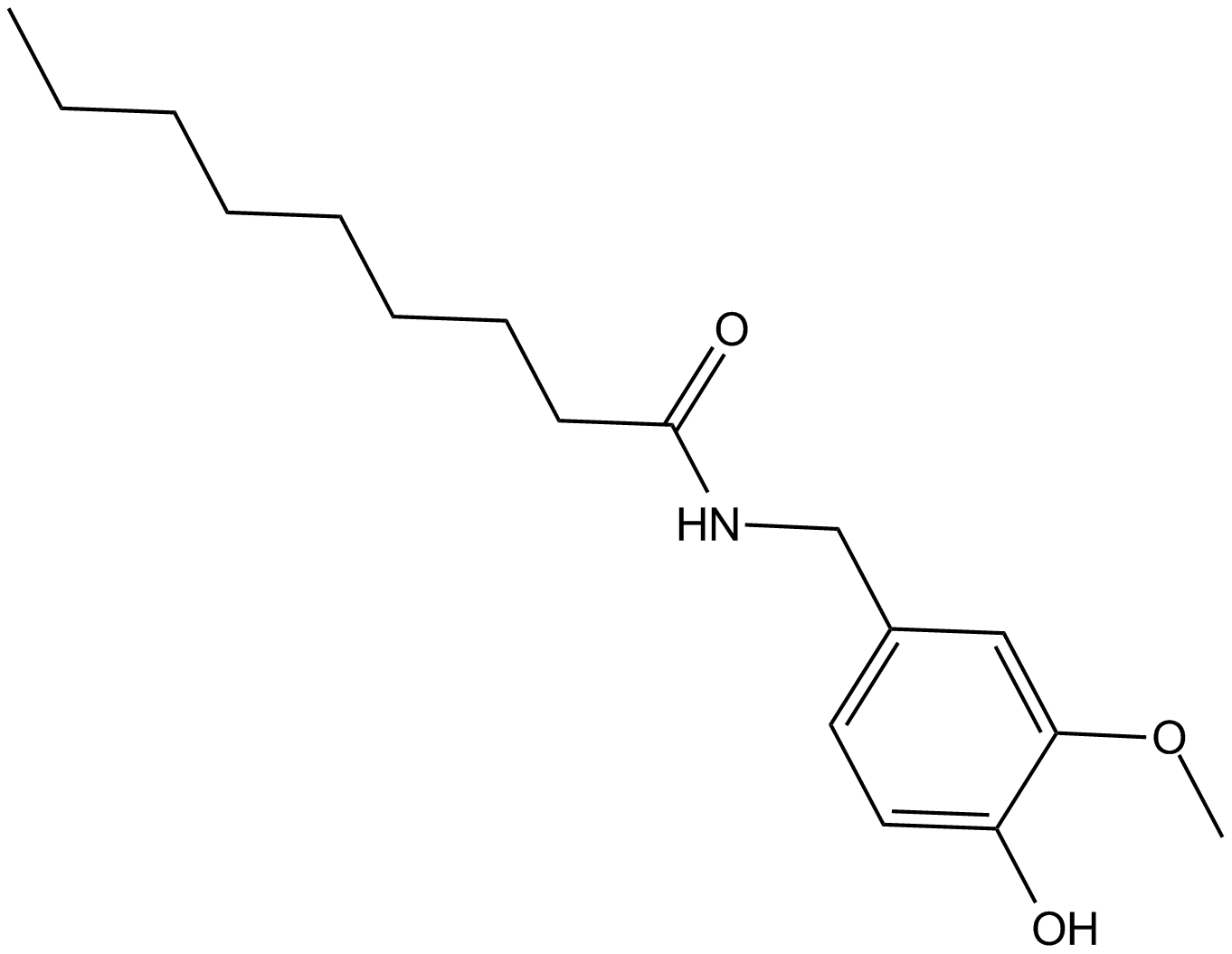 Related Biological Data