BMS-911543
JAK2 inhibitor,selective small molecule
Sample solution is provided at 25 µL, 10mM.
Publications citing ApexBio Products
Quality Control
Quality Control & MSDS
View current batch:
Chemical structure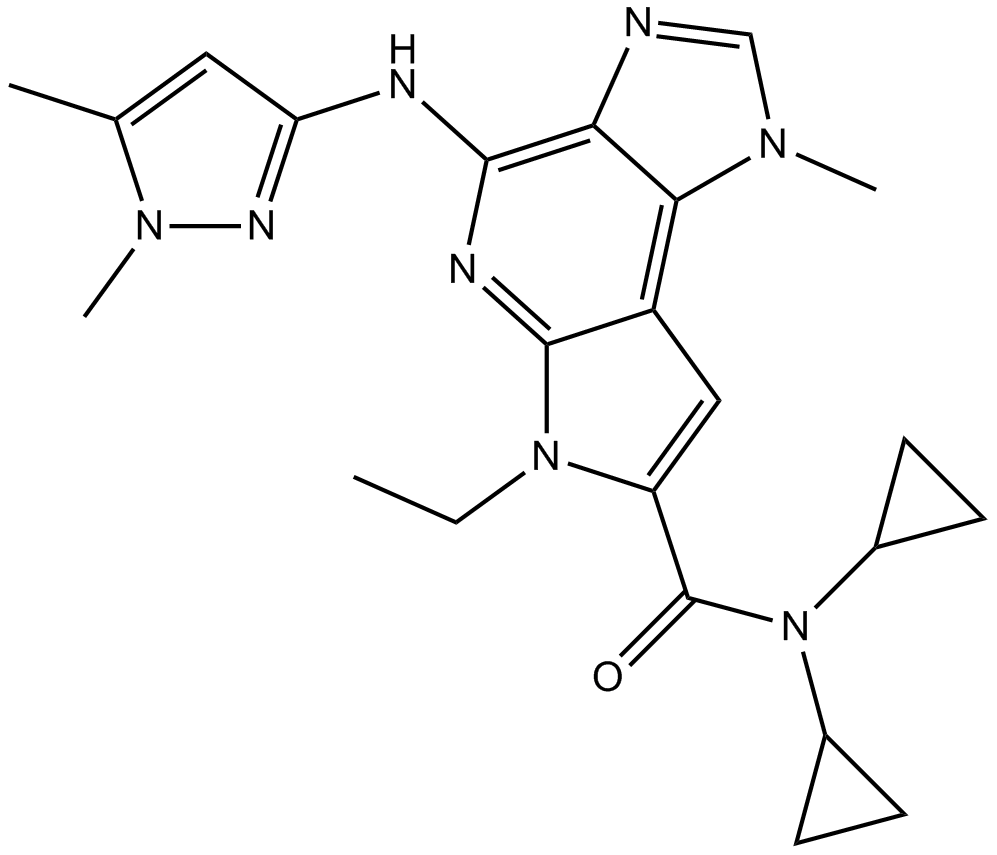 Biological Activity
Description
BMS-911543 is a selective small-molecule inhibitor of Janus tyrosine kinase 2 (JAK2) with IC50 value of 1 nM.
Targets
JAK2
IC50
1 nM
Chemical Properties
Cas No.
1271022-90-2
SDF
Download SDF
Canonical SMILES
CCN1C(=CC2=C3C(=C(N=C21)NC4=NN(C(=C4)C)C)N=CN3C)C(=O)N(C5CC5)C6CC6
Formula
C23H28N8O
M.Wt

432.52

Solubility
DMSO mg/mL Water mg/mL Ethanol mg/mL
Storage
Store at -20°C
General tips
N/A
Shipping Condition
N/A
Background
BMS-911543 is a selective small-molecule inhibitor of JAK2 with IC50 value of 1.1nM [1].
BMS-911543 is a reversible pyrrolopyridine ATP-competitive JAK2 inhibitor with a high selectivity. In the in vitro assay using human recombinant JAK enzyme, BMS-911543 displays an IC50 value of 1.1nM against JAK2 and the Ki value is 0.48nM. The inhibition activity and affinity against JAK2 are both much higher than those against JAK1 and JAK3. Besides that, BMS-911543 also has efficacy against other kinases, such as Lyn and the c-FMS receptor tyrosine kinase. In JAK-dependent cells such as SET2 or Ba/F3, the treatment of BMS-911543 causes an anti-proliferative effect with IC50 values of 60 and 70nM, respectively. The cell lines depending on other JAK family members do not show significant anti-proliferative response to BMS-911543. The colony growth assays prove that BMS-911543 can suppress the growth of MPN patient-derived cells and is more potent in the JAK2V617F pathway compared with the JAK2WT pathway. BMS-911543 is also found to be potent in vivo in both the JAK2WT pathway and the JAK2V617F pathway through suppressing pSTAT5 induction [1].
References:
[1] Purandare AV, McDevitt TM, Wan H, You D, Penhallow B, Han X, Vuppugalla R, Zhang Y, Ruepp SU, Trainor GL, Lombardo L, Pedicord D, Gottardis MM, Ross-Macdonald P, de Silva H, Hosbach J, Emanuel SL, Blat Y, Fitzpatrick E, Taylor TL, McIntyre KW, Michaud E, Mulligan C, Lee FY, Woolfson A, Lasho TL, Pardanani A, Tefferi A, Lorenzi MV. Characterization of BMS-911543, a functionally selective small-molecule inhibitor of JAK2. Leukemia. 2012 Feb;26(2):280-8.