XL019
JAK2 inhibitor,potent and selective
Sample solution is provided at 25 µL, 10mM.
Publications citing ApexBio Products
Related Compound Libraries
Quality Control
Quality Control & MSDS
View current batch:
Chemical structure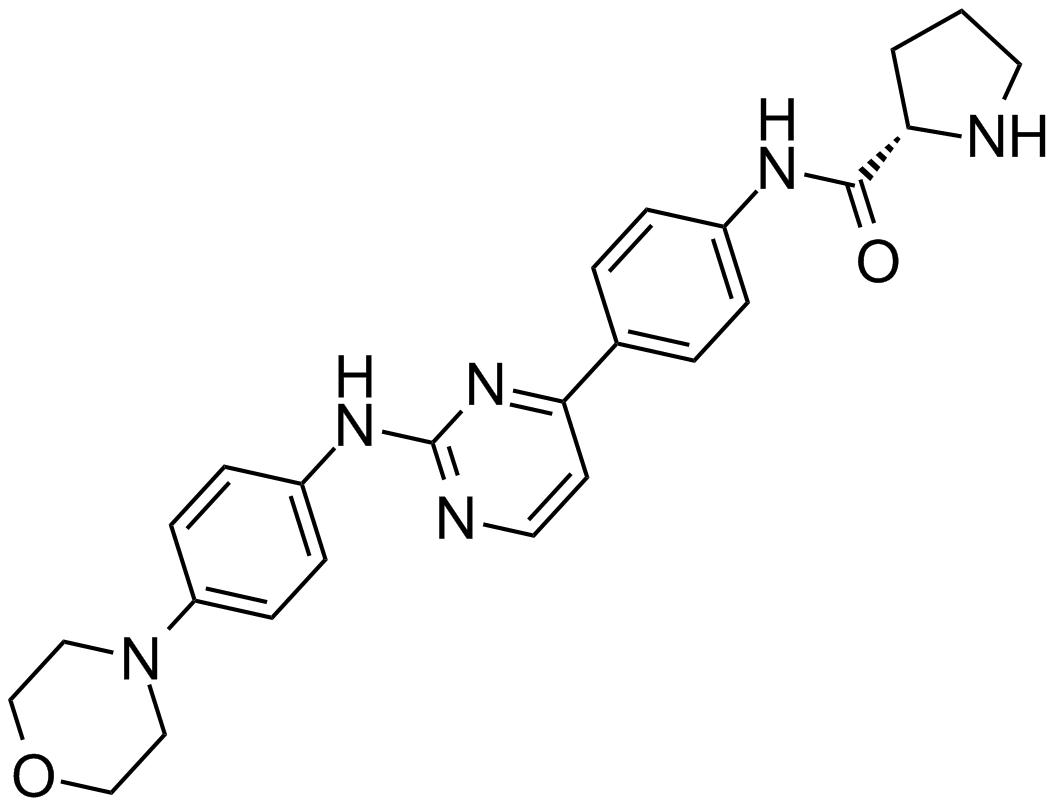 Biological Activity
Description
XL019 is a potent and selective inhibitor of JAK2 with IC50 value of 2.2 nM.
Targets
JAK2
IC50
2.2 nM
Chemical Properties
Cas No.
945755-56-6
SDF
Download SDF
Synonyms
XL-019;XL 019
Chemical Name
(2S)-N-[4-[2-(4-morpholin-4-ylanilino)pyrimidin-4-yl]phenyl]pyrrolidine-2-carboxamide
Canonical SMILES
C1CC(NC1)C(=O)NC2=CC=C(C=C2)C3=NC(=NC=C3)NC4=CC=C(C=C4)N5CCOCC5
Formula
C25H28N6O2
M.Wt

444.53

Solubility
>11.1mg/mL in DMSO
Storage
Store at -20°C
General tips
N/A
Shipping Condition
N/A
Background
XL019 is a potent and selective inhibitor of JAK2 with IC50 value of 2.2 nM.
JAK kinases were first identified in 1989 and characterized by the presence of two tyrosine kinase domains. There are four members in the JAK family, which are JAK1, JAK2, JAK3 and TYK2. JAK2 played an important role in the pathways that control erythroid, myeloid and megakaryocytic development. JAK2 mediates signaling through erythropoietin receptor, thrombopoietin receptor and cytokine receptor that harbor the common β-chain (e.g. IL3 receptor) and IFN-γ receptors [38]. JAK2 inhibitors are a novel class of agents with promising results for treating patients with polycythemia vera (PV), essential thrombocythemia (ET) and myelofibrosis (MF) [1]. XL019 was selected as a clinical candidate and advanced into human clinical trials where it was evaluated in patients with PMF, post-PV, or post-ET MF [2].
XL019 shows good biochemical and cellular potency against JAK2 with good selectivity, against a panel of over 100 serine/threonine and tyrosine kinases, including other members of the JAK family [2]. Analogue XL019 was evaluated against a select panel of 118 kinases. Targets for which XL019 exhibited IC50 <1000 nM are displayed. XL019 is a highly selective JAK2 inhibitor displaying >50-fold selectivity against all kinases tested including JAK1 and TYK2. XL019 was a desirable CYP, hERG (16 μM), and P-glycoprotein inhibition (>20 μM).
XL019 had a superior pharmacodynamic profile and thus was evaluated in an efficacy experiment measuring growth inhibition of HEL.92.1.7 xenograft tumors in mice. Derivative XL019 demonstrated 60% and 70% inhibition when dosed orally at 200 mg/kg and 300 mg/kg respectively twice a day for 14 days. Thirty patients received XL019 for a median of 91 days. All of them have discontinued XL019 therapy. Toxicity: N/A Clinical trial: A Safety Study of XL-019 in Adults With Myelofibrosis [2].
References:
[1]. Fabio P.S. Santos, Srdan Verstovsek. JAK2 inhibitors: What's the true therapeutic potential?. Blood Reviews, 2011, 25: 53-63.
[2]. Srdan Verstovsek, Constantine S. Tam, Martha Wadleigh, et al. Phase I evaluation of XL019, an oral, potent, and selective JAK2 inhibitor. Leukemia Research, 2014, 38: 316-322.