Background
Bleomycin sulfate (BLENOXANE®) is a mixture of cytotoxic glycopeptide antibiotics produced by a strain of streptomyces verticillus. This component is known to cause single and/ or double-stranded breaks in DNA through approximating metals and coordinate dioxygen to generate the active species.
Bleomycin sulfate treatment resulted in elongation of E. coli cells and enlargement of HeLa cells through inhibiting DNA and protein syntheses [1].
This component is widely used in the treatment of Hodgkin's lymphoma in combination with doxorubicin, testicular cancer, squamous cell carcinomas, pulmonary fiborosis as well as in the treatment of plantar warts. For instance, Bleomycin sulfate was also shown to have
moderate to marked effects upon Rous sarcoma virus induced mouse ascites sarcoma, particularly when F1 hybrid mice were employed as host animals [2]. In addition, recent studies support the role of the proinflammatory cytokines IL-18 and IL-1beta in the mechanism of bleomycin sulfate –induced human and mouse lung injury [3].
References:
1.  Suzuki H, Nagai K, Yamaki H, Tanaka N, Umezawa H. Mechanism of action of bleomycin. Studies with the growing culture of bacterial and tumor cells. J Antibiot (Tokyo) 1968,21:379-386.
2.  Takeuchi M, Yamamoto T. Effects of bleomycin on transplantable mouse tumors. J Antibiot (Tokyo) 1968,21:631-637.
3.  Hoshino T, Okamoto M, Sakazaki Y, Kato S, Young HA, Aizawa H. Role of proinflammatory cytokines IL-18 and IL-1beta in bleomycin-induced lung injury in humans and mice. Am J Respir Cell Mol Biol 2009,41:661-670.
Chemical Properties
| | |
| --- | --- |
| Physical Appearance | A solid |
| Storage | Store at -20° C |
| M.Wt | 1512.6 |
| Cas No. | 9041-93-4 |
| Formula | C55H85N17O25S4 |
| Synonyms | Blenoxane;Bleo;Blexane |
| Solubility | ≥125 mg/mL in DMSO with gentle warming, ≥151.3 mg/mL in H2O with ultrasonic,insoluble in EtOH |
| Chemical Name | 3-[[2-[2-[2-[[(2R,3R)-2-[[(2R,3R,4S)-4-[[(2S)-2-[[6-amino-2-[(1S)-3-amino-1-[[(2R)-2,3-diamino-3-oxopropyl]amino]-3-oxopropyl]-5-methylpyrimidine-4-carbonyl]amino]-3-[(2S,3R,4R,5R,6R)-3-[(2R,3S,4S,5R,6R)-4-carbamoyloxy-3,5-dihydroxy-6-(hydroxymethyl)oxan- |
| SDF | Download SDF |
| Canonical SMILES | CC1=C(N=C(N=C1N)C(CC(=O)N)NCC(C(=O)N)N)C(=O)NC(C(C2=CN=CN2)OC3C(C(C(C(O3)CO)O)O)OC4C(C(C(C(O4)CO)O)OC4C(C(C(C(O4)CO)O)OC(=O)N)O)C(=O)NC(C)C(C(C)C(=O)NC(C(C)O)C(=O)NCCC5=NC(=CS5)C6=NC(=CS6)C(=O)NCCC[S+](C)C)O.OS(=O)(=O)[O-] |
| Shipping Condition | Evaluation sample solution : ship with blue ice.All other available size: ship with RT , or blue ice upon request |
| General tips | For obtaining a higher solubility , please warm the tube at 37°C and shake it in the ultrasonic bath for a while.Stock solution can be stored below -20°C for several months. |
Protocol
Cell experiment [1]:

Cell lines

ADIPO-P2 cells

Preparation method

The solubility of this compound in DMSO is >10 mM. General tips for obtaining a higher concentration: Please warm the tube at 37 °C for 10 minutes and/or shake it in the ultrasonic bath for a while. Stock solution can be stored below -20 °C for several months.

Reaction Conditions

2.5 μg/mL; 30 mins

Applications

In ADIPO-P2 cells, Bleomycin Sulfate showed significant clastogenic effect, which even lasted for at least 10 days after exposure.

Animal experiment [2]:

Animal models

CD-1 mice

Dosage form

5 mg/kg, 2 ml/kg, intratracheally

Applications

Bleomycin Sulfate promoted the development of inflammation, resulting in severe pulmonary fibrosis, as well as simultaneous increasing of TGF-β1, Smad3 and STAT1.

Other notes

Please test the solubility of all compounds indoor, and the actual solubility may slightly differ with the theoretical value. This is caused by an experimental system error and it is normal.

References:

[1]. Paviolo NS, Quiroga IY, Castrogiovanni DC, Bianchi MS, Bolzán AD. Telomere instability is present in the progeny of mammalian cells exposed to bleomycin. Mutat Res. 2012 Jun 1;734(1-2):5-11.

[2]. Shi K, Jiang J, Ma T, Xie J, Duan L, Chen R, Song P, Yu Z, Liu C, Zhu Q, Zheng J. Dexamethasone attenuates bleomycin-induced lung fibrosis in mice through TGF-β, Smad3 and JAK-STAT pathway. Int J Clin Exp Med. 2014 Sep 15;7(9):2645-50.
Biological Activity
Description
Bleomycin Sulfate is a glycopeptide antibiotic and an anticancer agent for squamous cell carcinomas (SCC) with IC50 of 4 nM in UT-SCC-19A cells.
Targets
UT-SCC-129 cells
IC50
4 nM
Quality Control
Quality Control & MSDS
View current batch:
Chemical structure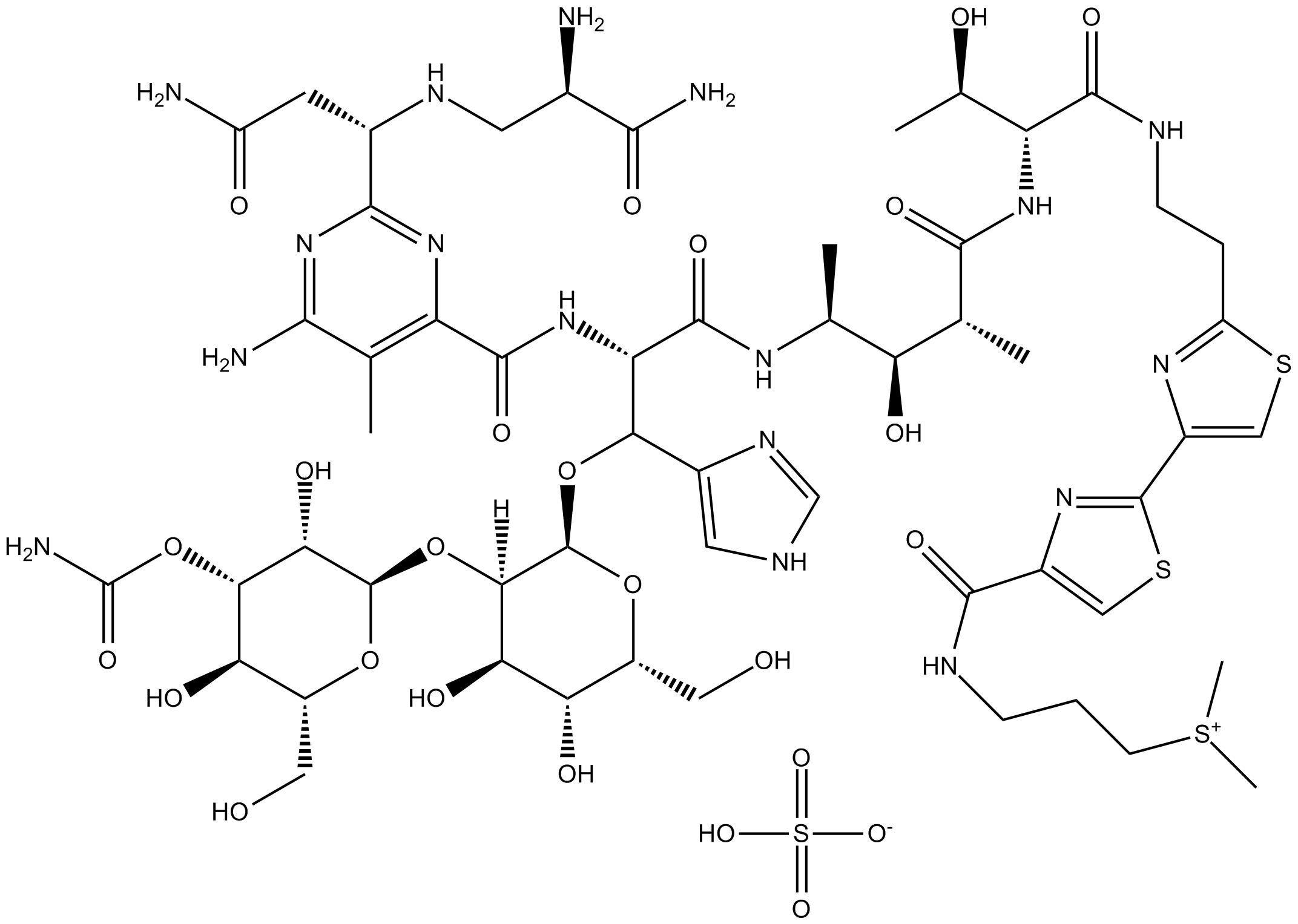 Related Biological Data
Related Biological Data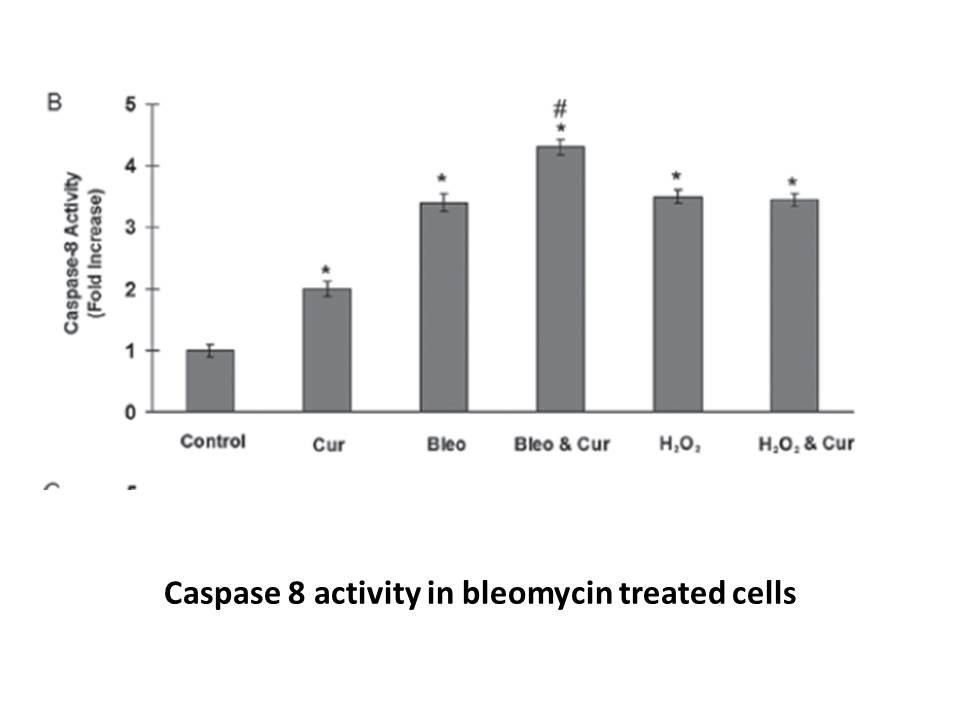 Related Biological Data