WZ4002
Mutant-selective EGFR inhibitor(L858R,T790M), irreversible and potent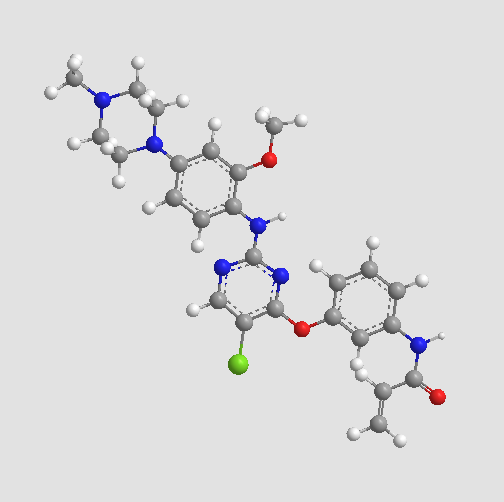 Sample solution is provided at 25 µL, 10mM.
Publications citing ApexBio Products
Related Compound Libraries
Quality Control
Quality Control & MSDS
View current batch:
Chemical structure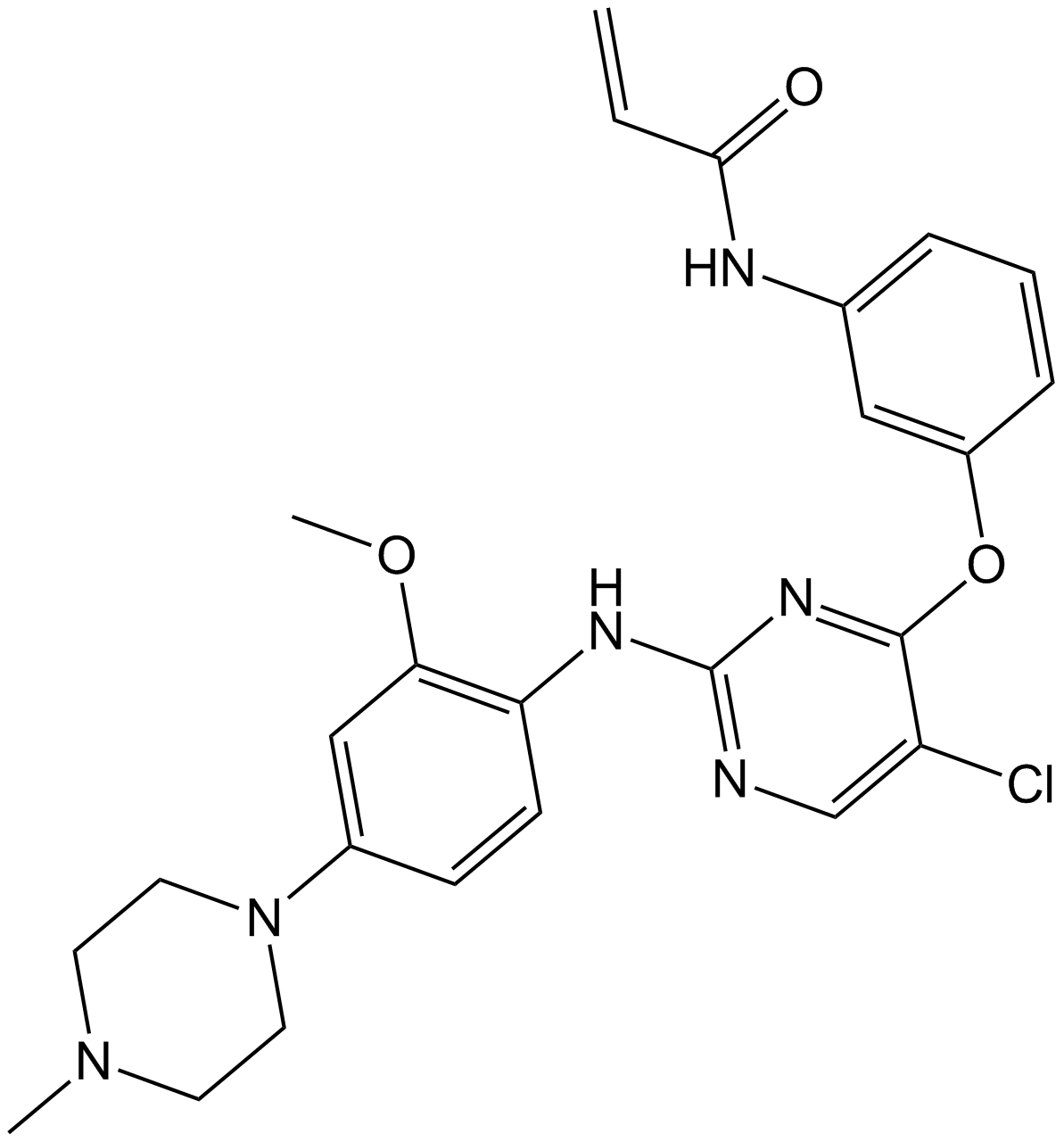 Related Biological Data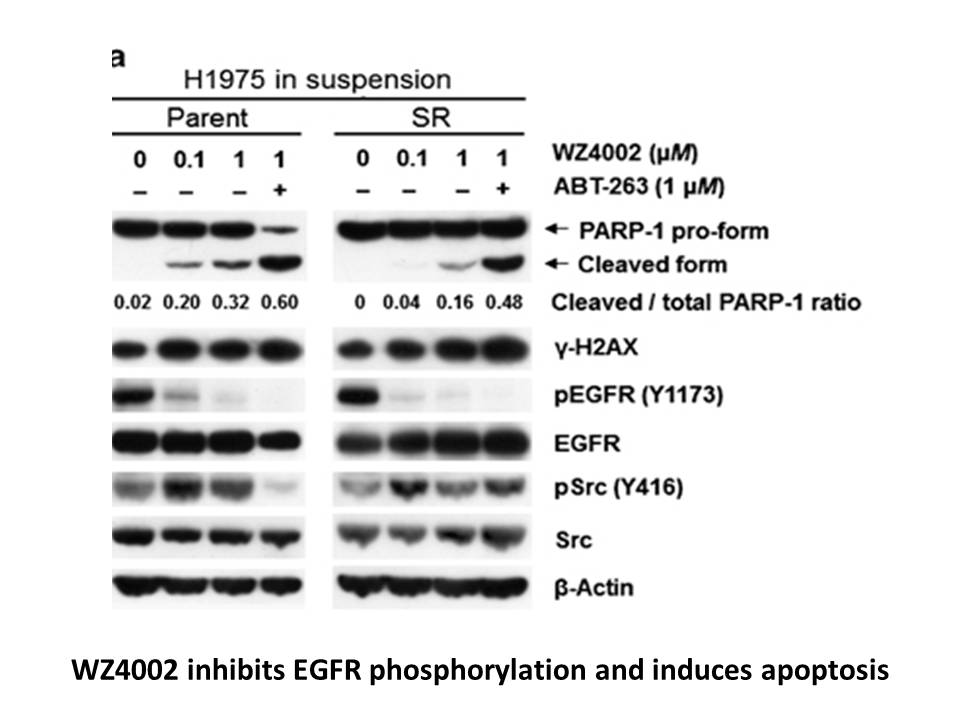 Related Biological Data
Biological Activity
Description
WZ4002 is a novel, mutant-selective inhibitor of EGFR for EGFR(L858R)/(T790M) with IC50 of 2 nM/8 nM.
Targets
EGFRL858R
EGFRL858R/T790M
IC50
2 nM
8 nM
Chemical Properties
Cas No.
1213269-23-8
SDF
Download SDF
Chemical Name
N-[3-[5-chloro-2-[2-methoxy-4-(4-methylpiperazin-1-yl)anilino]pyrimidin-4-yl]oxyphenyl]prop-2-enamide
Canonical SMILES
CN1CCN(CC1)C2=CC(=C(C=C2)NC3=NC=C(C(=N3)OC4=CC=CC(=C4)NC(=O)C=C)Cl)OC
Formula
C25H27ClN6O3
M.Wt

494.18

Solubility
>24.7mg/mL in DMSO
Storage
Store at -20°C
General tips
N/A
Shipping Condition
N/A
Background
WZ4002 is a novel mutant-selective epidermal growth factor receptor (EGFR) kinase inhibitor that potently and irreversibly suppresses the ATP-dependent auto-phosphorylation of both wild-type EGFR and EGFR mutants, including EGFR delE746_A750/T790M, EGFR L858R/T790M, EGFR T790M, EGFR delE746_A750 and EGFR L858R, with inhibition constant Ki of 13.6 nM, 1.8 nM, 4 nM, 5 nM, 3.9 nM and 8.5 nM respectively. Although WZ4002 is actively against EGFR mutants rather than wild-type EGFR at lower concentrations resulting in less toxicity in normal tissues, wild-type EGFR is susceptible to higher concentrations of WZ4002 as well as prolonged administration of WZ4002, especially in tissues where it accumulates.
References:
[1]Lee HJ, Schaefer G, Heffron TP, Shao L, Ye X, Sideris S, Malek S, Chan E, Merchant M, La H, Ubhayakar S, Yauch RL, Pirazzoli V, Politi K, Settleman J. Noncovalent wild-type-sparing inhibitors of EGFR T790M. Cancer Discov. 2013 Feb;3(2):168-81. doi: 10.1158/2159-8290.CD-12-0357. Epub 2012 Dec 10.
[2]Zhou W, Ercan D, Chen L, Yun CH, Li D, Capelletti M, Cortot AB, Chirieac L, Iacob RE, Padera R, Engen JR, Wong KK, Eck MJ, Gray NS, Jänne PA. Novel mutant-selective EGFR kinase inhibitors against EGFR T790M. Nature. 2009 Dec 24;462(7276):1070-4. doi: 10.1038/nature08622.
[3]Zannetti A, Iommelli F, Speranza A, Salvatore M, Del Vecchio S. 3'-deoxy-3'-18F-fluorothymidine PET/CT to guide therapy with epidermal growth factor receptor antagonists and Bcl-xL inhibitors in non-small cell lung cancer. J Nucl Med. 2012 Mar;53(3):443-50. doi: 10.2967/jnumed.111.096503. Epub 2012 Feb 13.