Background
WZ4002 is a novel mutant-selective epidermal growth factor receptor (EGFR) kinase inhibitor that potently and irreversibly suppresses the ATP-dependent auto-phosphorylation of both wild-type EGFR and EGFR mutants, including EGFR delE746_A750/T790M, EGFR L858R/T790M, EGFR T790M, EGFR delE746_A750 and EGFR L858R, with inhibition constant Ki of 13.6 nM, 1.8 nM, 4 nM, 5 nM, 3.9 nM and 8.5 nM respectively. Although WZ4002 is actively against EGFR mutants rather than wild-type EGFR at lower concentrations resulting in less toxicity in normal tissues, wild-type EGFR is susceptible to higher concentrations of WZ4002 as well as prolonged administration of WZ4002, especially in tissues where it accumulates.
References:
[1]Lee HJ, Schaefer G, Heffron TP, Shao L, Ye X, Sideris S, Malek S, Chan E, Merchant M, La H, Ubhayakar S, Yauch RL, Pirazzoli V, Politi K, Settleman J. Noncovalent wild-type-sparing inhibitors of EGFR T790M. Cancer Discov. 2013 Feb;3(2):168-81. doi: 10.1158/2159-8290.CD-12-0357. Epub 2012 Dec 10.
[2]Zhou W, Ercan D, Chen L, Yun CH, Li D, Capelletti M, Cortot AB, Chirieac L, Iacob RE, Padera R, Engen JR, Wong KK, Eck MJ, Gray NS, Jänne PA. Novel mutant-selective EGFR kinase inhibitors against EGFR T790M. Nature. 2009 Dec 24;462(7276):1070-4. doi: 10.1038/nature08622.
[3]Zannetti A, Iommelli F, Speranza A, Salvatore M, Del Vecchio S. 3'-deoxy-3'-18F-fluorothymidine PET/CT to guide therapy with epidermal growth factor receptor antagonists and Bcl-xL inhibitors in non-small cell lung cancer. J Nucl Med. 2012 Mar;53(3):443-50. doi: 10.2967/jnumed.111.096503. Epub 2012 Feb 13.

Chemical Properties
| | |
| --- | --- |
| Physical Appearance | A solid |
| Storage | Store at -20°C |
| M.Wt | 494.18 |
| Cas No. | 1213269-23-8 |
| Formula | C25H27ClN6O3 |
| Solubility | ≥24.7 mg/mL in DMSO; insoluble in H2O; insoluble in EtOH |
| Chemical Name | N-[3-[5-chloro-2-[2-methoxy-4-(4-methylpiperazin-1-yl)anilino]pyrimidin-4-yl]oxyphenyl]prop-2-enamide |
| SDF | Download SDF |
| Canonical SMILES | CN1CCN(CC1)C2=CC(=C(C=C2)NC3=NC=C(C(=N3)OC4=CC=CC(=C4)NC(=O)C=C)Cl)OC |
| Shipping Condition | Evaluation sample solution: ship with blue ice. All other available sizes: ship with RT, or blue ice upon request. |
| General tips | For obtaining a higher solubility, please warm the tube at 37°C and shake it in the ultrasonic bath for a while. Stock solution can be stored below -20°C for several months. |
Protocol
Cell experiment [1]:

Cell lines

EGFR-mutated NSCLC cell lines PC-9 and NCI-H1975 (H1975)

Preparation method

The solubility of this compound in DMSO is >24.7mg/mL. General tips for obtaining a higher concentration: Please warm the tube at 37℃ for 10 minutes and/or shake it in the ultrasonic bath for a while. Stock solution can be stored below -20℃ for several months.

Reacting condition

1-40 nM (PC-9G cells) and 0-1000 nM (H1975 cells); 72 h

Applications

In PC-9G and H1975 cells, WZ4002 alone reduced the cell viability in a small amount, and combining WZ4002 with SAHA significantly decreased cell viability for both cell lines. Combined treatment of WZ4002 with SAHA significantly enhanced bcl-xL decrement, caspase 3 activation and PARP cleavage. In PC-9G cells, combining WZ4002 with SAHA also enhanced autophagy.

Animal experiment [1]:

Animal models

nude mice xenografted with H1975 cells

Dosage form

25 mg/kg; oral gavage for 5 days per week; 3 weeks

Application

In nude mice xenografted with H1975 cells, WZ4002 resulted in only a marginal decrease in tumor volume, whereas treatment with the combination of WZ4002 and SAHA led to a marked shrinkage of tumor. In H1975 tumors, Combined treatment of WZ4002 with SAHA decreased expression of bcl-2 and bcl-xL and increased PARP cleavage, which then enhanced apoptosis and autophagy.

Other notes

Please test the solubility of all compounds indoor, and the actual solubility may slightly differ with the theoretical value. This is caused by an experimental system error and it is normal.

References:

[1]. Lee TG1, Jeong EH, Kim SY, et al. The combination of irreversible EGFR TKIs and SAHA induces apoptosis and autophagy-mediated cell death to overcome acquired resistance in EGFR T790M-mutated lung cancer. Int J Cancer. 2015 Jun 1;136(11):2717-29.
Biological Activity
Description
WZ4002 is a novel, mutant-selective inhibitor of EGFR for EGFR(L858R)/(T790M) with IC50 of 2 nM/8 nM.
Targets
EGFRL858R
EGFRL858R/T790M
IC50
2 nM
8 nM
Quality Control
Quality Control & MSDS
View current batch:
Chemical structure
Related Biological Data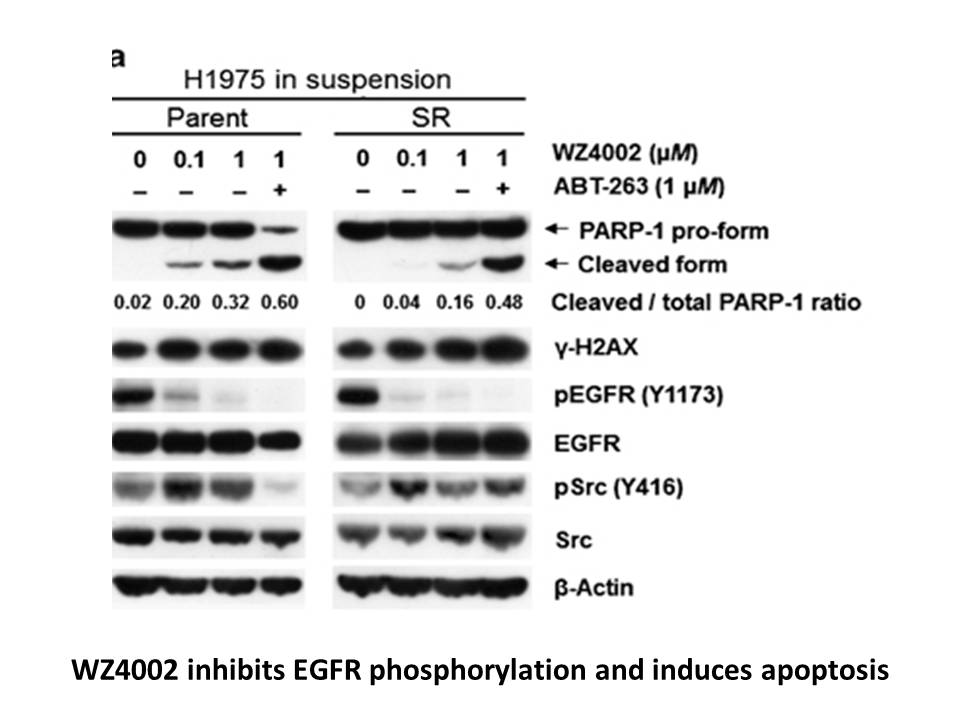 Related Biological Data