Background
IC50: 6 nM (EGFR); 45.7 nM (ERBB2); 73.7 nM (ERBB4)
The epidermal growth factor receptor (EGFR; ErbB-1; HER1 in humans) is the cell-surface receptor for members of the epidermal growth factor family (EGF-family) of extracellular protein ligands. The epidermal growth factor receptor is a member of the ErbB family of receptors, a subfamily of four closely related receptor tyrosine kinases: EGFR (ErbB-1), HER2/c-neu (ErbB-2), Her 3 (ErbB-3) and Her 4 (ErbB-4). Mutations affecting EGFR expression or activity could result in cancer. Dacomitinib (PF-00299804) is an irreversible small molecule pan-HER inhibitor.
In vitro: Dacomitinib reduced the phosphorylation of HER2, EGFR, HER4, AKT, andERKin the majority of sensitive lines. Dacomitinib exerted its antiproliferative effect through a combined G0–G1 arrest and an induction of apoptosis. Dacomitinib inhibited growth in several HER2-amplified lines with de novo and acquired resistance to trastuzumab. Dacomitinib maintained a high activity in lines with acquired resistance to lapatinib. This study identifies HER2-amplified breast cancer lines as most sensitive to the antiproliferative effect of dacomitinib and provides a strong rationale for its clinical testing in HER2-amplified breast cancers resistant to trastuzumab and lapatinib [1].
In vivo: To evaluate the in vivo efficacy of PF00299804, the authors generated xenografts in nu/nu mice using HCC827 GFP and HCC827 Del/T790M cells and treated the mice with PF00299804. PF00299804 effectively inhibited the growth of HCC827 GFP xenografts. PF00299804 treatment was substantially more effective at inhibiting growth of this xenograft model than gefinitib. Thus, these preclinical models suggest that PF00299804 may be quite effective against lung cancers that become resistant to gefitinib or erlotinib via acquisition of a T790M mutation in EGFR [2].
Clinical trial: Dacomitinib (PF-00299804) is an experimental drug candidate under development by Pfizer for the treatment of non-small-cell lung carcinoma. It is a selective and irreversible inhibitor of EGFR. Dacomitinib has advanced to several Phase III clinical trials. The results of the first trials were disappointing, with a failure to meet the study goals. Additional Phase III trials are ongoing (http://en.wikipedia.org/wiki/Dacomitinib).
Reference:
[1] Kalous O, Conklin D, Desai AJ, O'Brien NA, Ginther C, Anderson L, Cohen DJ, Britten CD, Taylor I, Christensen JG, Slamon DJ, Finn RS. Dacomitinib (PF-00299804), an irreversible Pan-HER inhibitor, inhibits proliferation of HER2-amplified breast cancer cell lines resistant to trastuzumab and lapatinib. Mol Cancer Ther. 2012;11(9):1978-87.
[2] Engelman JA, Zejnullahu K, Gale CM, Lifshits E, Gonzales AJ, Shimamura T, Zhao F, Vincent PW, Naumov GN, Bradner JE, Althaus IW, Gandhi L, Shapiro GI, Nelson JM, Heymach JV, Meyerson M, Wong KK, Jfinne PA. PF00299804, an irreversible pan-ERBB inhibitor, is effective in lung cancer models with EGFR and ERBB2 mutations that are resistant to gefitinib. Cancer Res. 2007;67(24):11924-32.
Chemical Properties
| | |
| --- | --- |
| Physical Appearance | A solid |
| Storage | Store at -20°C |
| M.Wt | 469.94 |
| Cas No. | 1110813-31-4 |
| Formula | C24H25ClFN5O2 |
| Synonyms | PF-00299804; PF-299804; PF 299804; PF 00299804 |
| Solubility | ≥23.5mg/mL in DMSO, ≥8.76 mg/mL in EtOH with ultrasonic and warming,insoluble in H2O |
| Chemical Name | (E)-N-[4-(3-chloro-4-fluoroanilino)-7-methoxyquinazolin-6-yl]-4-piperidin-1-ylbut-2-enamide |
| SDF | Download SDF |
| Canonical SMILES | COC1=C(C=C2C(=C1)N=CN=C2NC3=CC(=C(C=C3)F)Cl)NC(=O)C=CCN4CCCCC4 |
| Shipping Condition | Evaluation sample solution: ship with blue ice. All other available sizes: ship with RT, or blue ice upon request. |
| General tips | For obtaining a higher solubility, please warm the tube at 37°C and shake it in the ultrasonic bath for a while. Stock solution can be stored below -20°C for several months. |
Biological Activity
Description
PF-299804 is a potent, irreversible inhibitor of ErbB for EGFR with IC50 of 6 nM.
Targets
ErbB1
ErbB2
ErbB4
IC50
6 nM
45.7 nM
73.7 nM
Quality Control
Quality Control & MSDS
View current batch:
Chemical structure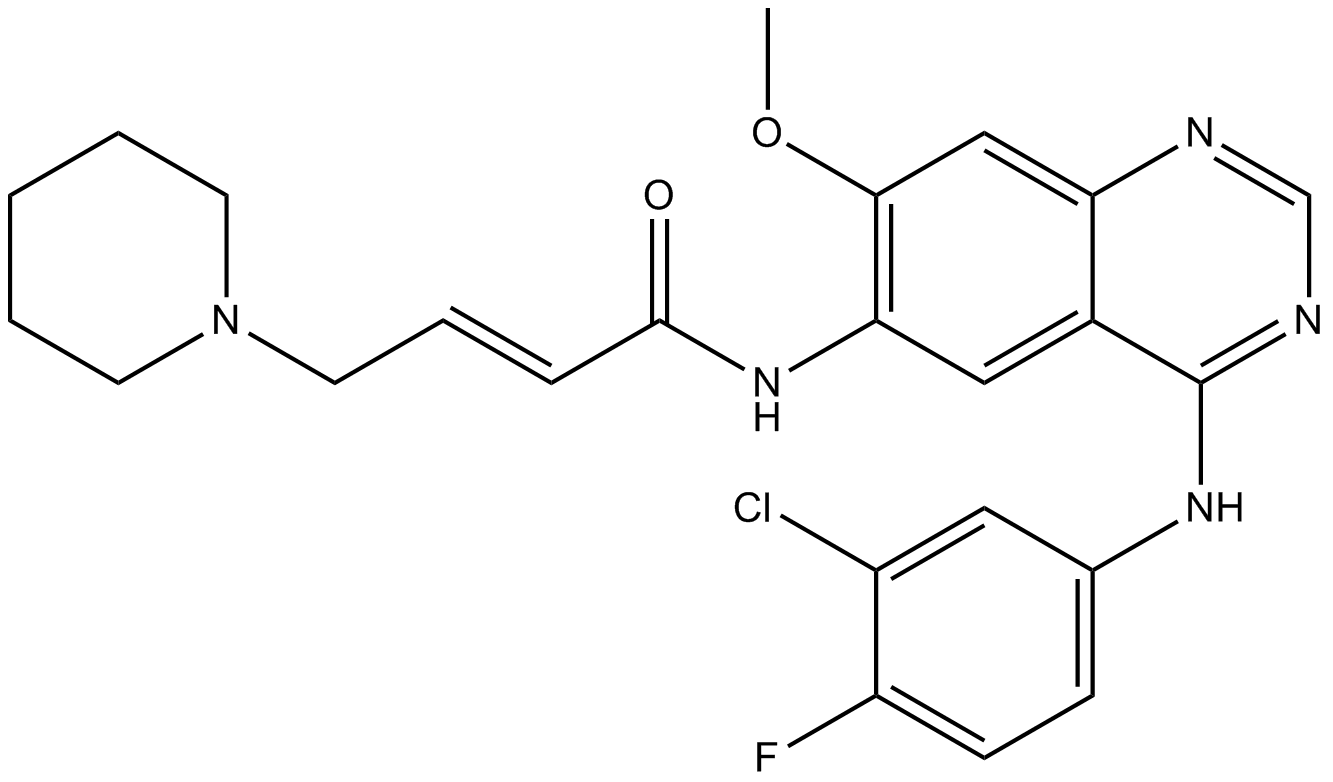 Related Biological Data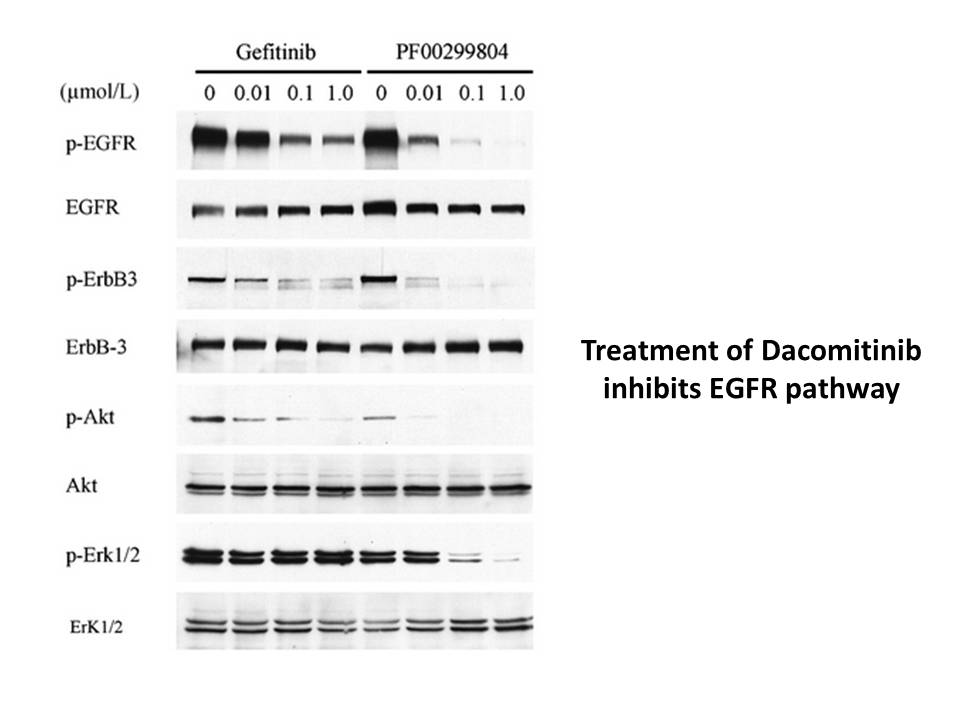 Related Biological Data