Background
Olaparib (4-(3-4-fluorophenyl) methyl-1(2H)-one), as known as AZD2281 or KU0059436, is a novel, selective and potent inhibitor of both poly adenosine diphosphate-ribose polymeras-1 (PARP-1) and poly adenosine diphosphate-ribose polymeras-2 (PARP-2).  Having been successfully used in the treatment of tumors harboring BRCA mutations, olaparib strongly inhibits the growth of BRCA2-deficient mouse mannary tumor cell lines demonstrating cytotoxicity. In previous researches treating non-small cell lung carcinoma (NSCLC), olaparib increased the radiation sensitivity of NSCLC cells, grown as xenografts in nude mice, following radiation and increased vascular perfusion in Calu-6 tumors established in a dorsal window chamber (DWC) model.
Reference
Joana M. Senra, Brian A. Telfer, Kim E. Cherry, Cian M. McCrudden, David G. Hirst, Mark J. O'Connor, Stephen R. Wedge, and Ian J. Stratford. Inhibition of poly(ADP-ribose) polymerase-1 by olaparib (AZD2281) increases the radiosensitivity of a lung tumor xenograft. Mol Cancer Ther. 2011; 10(10): 1949-1958
Bastiaan Evers, Rinske Drost, Eva Schut, Michiel Bruin, Eline vab der Burg, Patrick W.B. Derksen, Henne Holstege, Xiaoling Liu, Ellen van Drunen, H. Berna Beverloo, Graeme C. M. Smith, Niall M. B. Martin, Alan Lau, Mark J. O'Connor, and Jos Jonkers. Selective inhibition of BRCA2-deficient mammary tumor cell growth by AZD2281 and Cisplatin. Clin Cancer Res 2008; 14:3916-3925
Product Citation
Chemical Properties
| | |
| --- | --- |
| Storage | Store at -20°C |
| M.Wt | 434.46 |
| Cas No. | 763113-22-0 |
| Formula | C24H23FN4O3 |
| Synonyms | AZD 2281,AZD-2281 |
| Solubility | ≥21.72 mg/mL in DMSO, <2.29 mg/mL in EtOH, <2.43 mg/mL in H2O |
| Chemical Name | 4-[[3-[4-(cyclopropanecarbonyl)piperazine-1-carbonyl]-4-fluorophenyl]methyl]-2H-phthalazin-1-one |
| SDF | Download SDF |
| Canonical SMILES | C1CC1C(=O)N2CCN(CC2)C(=O)C3=C(C=CC(=C3)CC4=NNC(=O)C5=CC=CC=C54)F |
| Shipping Condition | Evaluation sample solution : ship with blue ice.All other available size: ship with RT , or blue ice upon request |
| General tips | For obtaining a higher solubility , please warm the tube at 37 ℃ and shake it in the ultrasonic bath for a while.Stock solution can be stored below -20℃ for several months. |
Protocol
Cell experiment: [1]

Cell lines

Normal LCL cells ATM-null LCL cells

Preparation method

The solubility of this compound in DMSO is >10 mM. General tips for obtaining a higher concentration: Please warm the tube at 37 °C for 10 minutes and/or shake it in the ultrasonic bath for a while.Stock solution can be stored below -20°C for several months.

Reaction Conditions

10 μM, 1 hour

Applications

The sensitivity of cells to olaparib is mediated by absence of Ataxia Telangiectasia Mutated (ATM) activity. Immunoblot analysis revealed that in ATM wild-type LCLs, but not ATM null LCLs, phosphorylation of the ATM-dependent targets ATM S1981 and SMC1 S966 was induced in a dose-dependent manner by olaparib.

Animal experiment: [1]

Animal models

Granta-519–engrafted NOD/SCID mice

Dosage form

Intraperitoneal injection, 50 mg/kg/d, for 14 days

Applications

Analysis of the percentage of human CD45 staining by FACS analysis revealed a significant reduction in the percentage of Granta-519 cells in the bone marrow and a trend toward reduced tumor cell load in the spleen of mice treated with olaparib compared with those receiving vehicle alone.

Other notes

Please test the solubility of all compounds indoor, and the actual solubility may slightly differ with the theoretical value. This is caused by an experimental system error and it is normal.

References:

[1] Weston V J, Oldreive C E, Skowronska A, et al. The PARP inhibitor olaparib induces significant killing of ATM-deficient lymphoid tumor cells in vitro and in vivo. Blood, 2010, 116(22): 4578-4587.
Biological Activity
Olaparib (AZD2281, KU0059436) is a potent inhibitor of PARP1 and PARP2 with IC50 of 5 and 1 nM, respectively.
Targets
PARP1
PARP2
IC50
5 nM
1 nM
Quality Control
Quality Control & MSDS
View current batch:
Chemical structure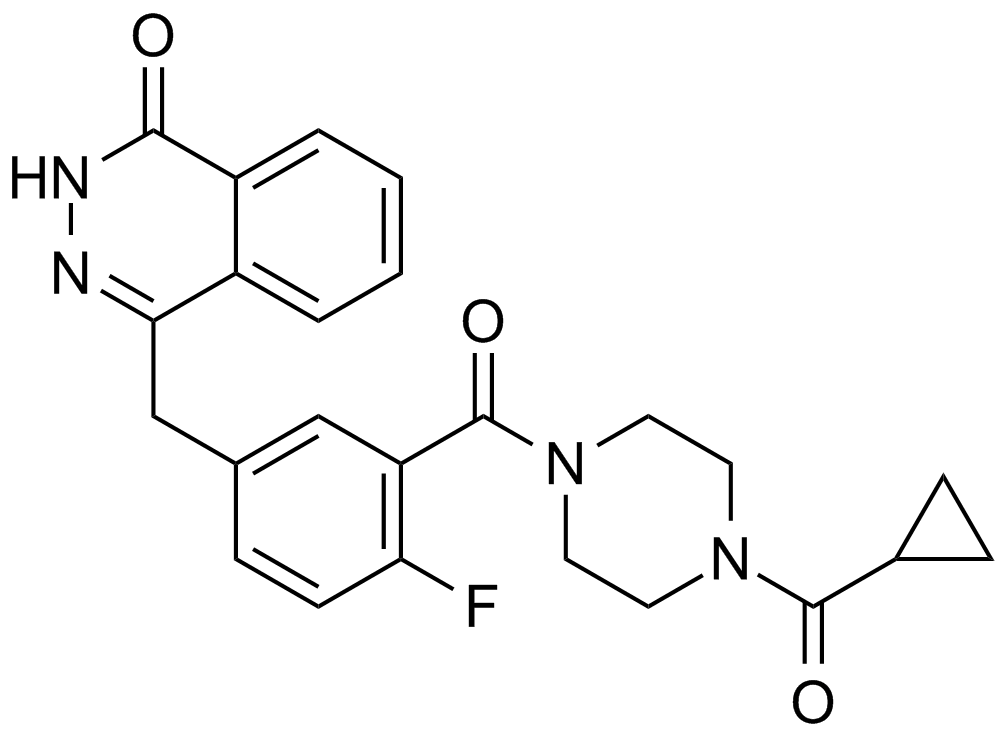 Related Biological Data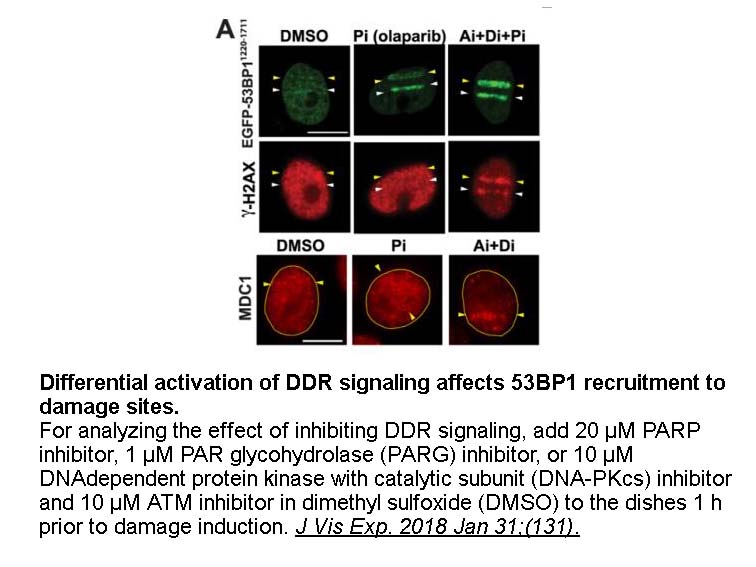 Related Biological Data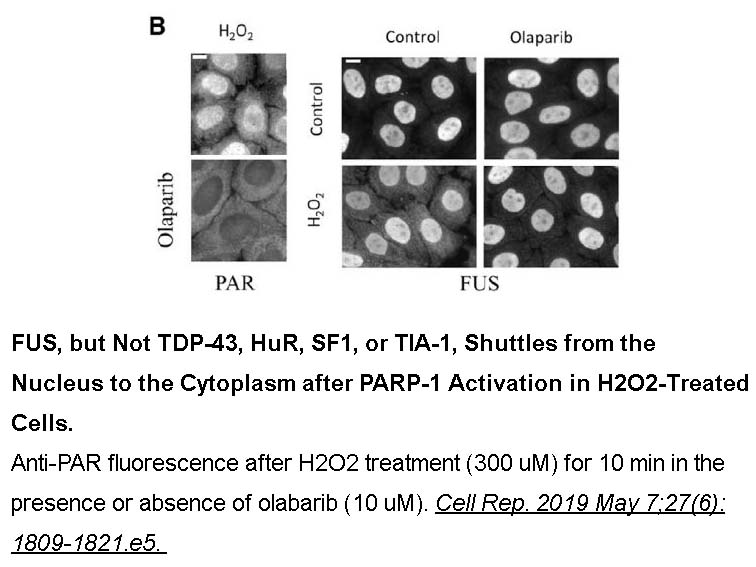 Related Biological Data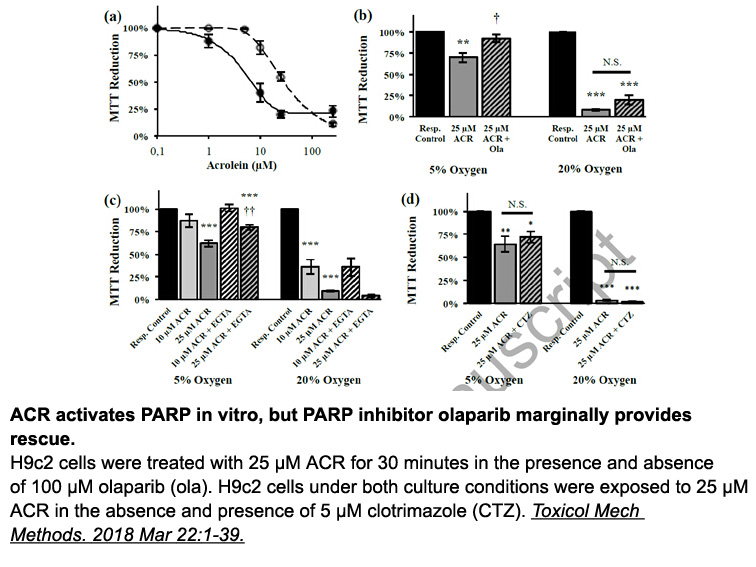 Related Biological Data
Related Biological Data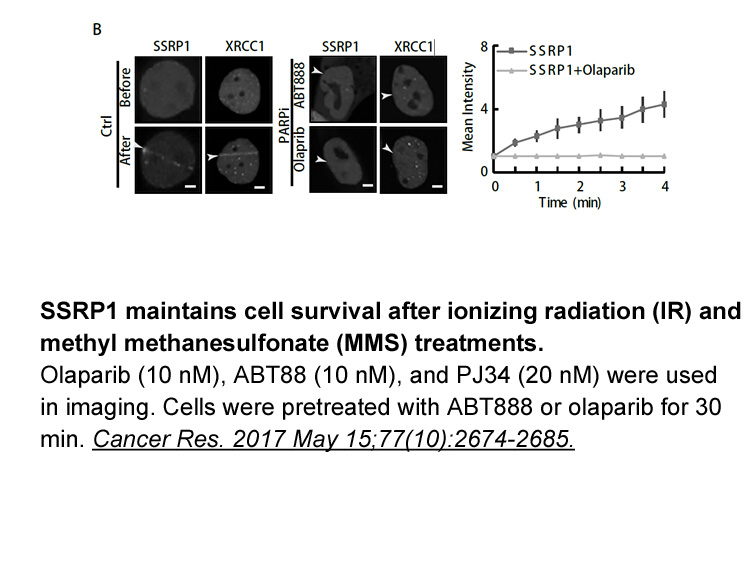 Related Biological Data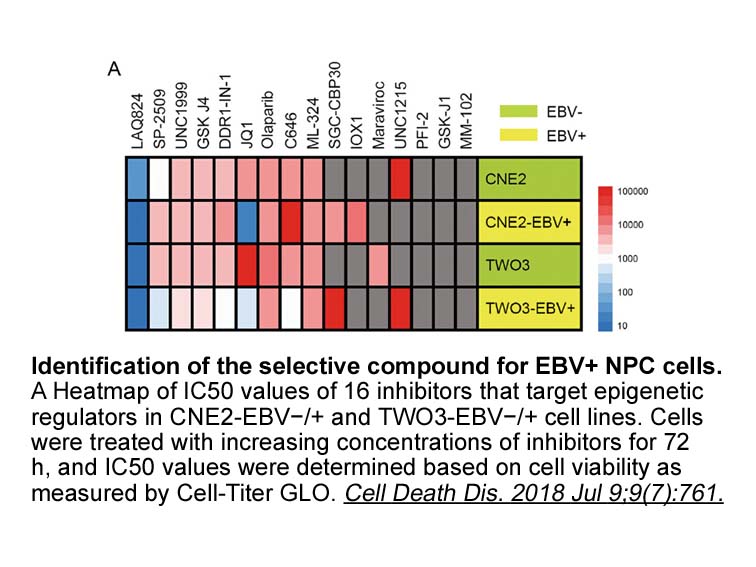 Related Biological Data