Monomethyl auristatin E
Antimitotic agent
Sample solution is provided at 25 µL, 10mM.
Publications citing ApexBio Products
Related Compound Libraries
Quality Control
Quality Control & MSDS
View current batch:
Chemical structure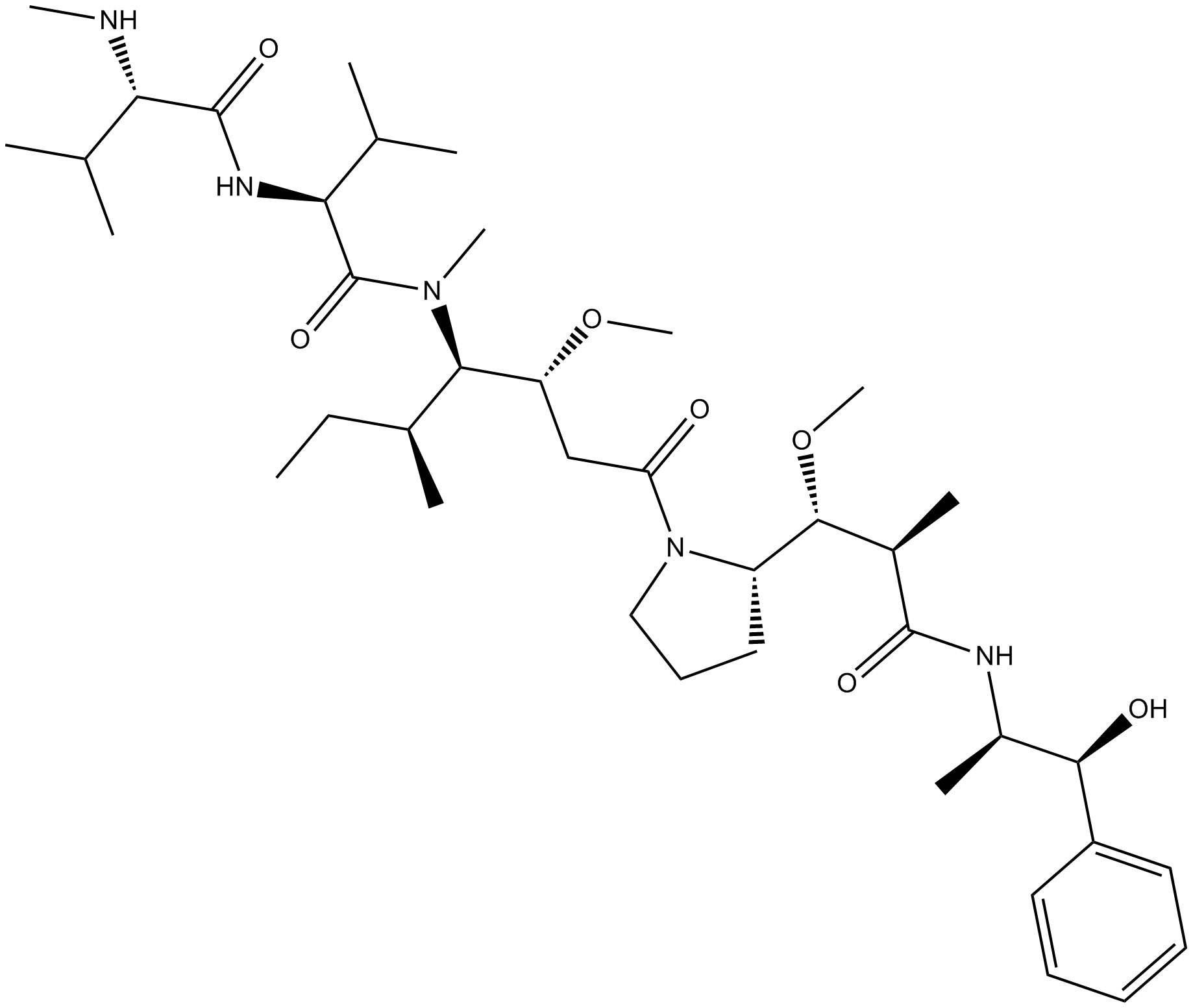 Chemical Properties
Cas No.
474645-27-7
SDF
Download SDF
Synonyms
Vedotin; MMAE
Chemical Name
(2S)-N-[(2S)-1-[[(3R,4S,5S)-1-[(2S)-2-[(1R,2R)-3-[[(1S,2R)-1-hydroxy-1-phenylpropan-2-yl]amino]-1-methoxy-2-methyl-3-oxopropyl]pyrrolidin-1-yl]-3-methoxy-5-methyl-1-oxoheptan-4-yl]-methylamino]-3-methyl-1-oxobutan-2-yl]-3-methyl-2-(methylamino)butanamide
Canonical SMILES
CCC(C)C(C(CC(=O)N1CCCC1C(C(C)C(=O)NC(C)C(C2=CC=CC=C2)O)OC)OC)N(C)C(=O)C(C(C)C)NC(=O)C(C(C)C)NC
Formula
C39H67N5O7
M.Wt

717.98

Solubility
>35.9mg/mL in DMSO
Storage
Store at -20°C
General tips
N/A
Shipping Condition
N/A
Background
IC50: less than 1 nM for various cancer cell lines
Monomethyl auristatin E(MMAE) is a potent antimitotic agent by blocking the polymerisation of tubulin.
Microtubules play essential role in the function of the cell. Microtubules are also reported to be involved in migration, transport and reorganization and have numerous dynamic roles including movement through motor proteins such as dynein and kinesin and the separation and segregation ofchromosomes during cell division.
In vitro: The cytotoxic effects of the MMAE conjugates on H3396 cells were determined using both pulsed and long-term drug exposure assays. It was found that under both exposure conditions, high degrees of immunological specificity were obtained with the Val-Cit conjugates. cBR96-Val-Cit-MMAE was highly active at <1/100th of the concentration required for antigen saturation [1].
In vivo: In vivo therapy tests were undertaken in athymic mice with subcutaneous L2987 human lung adenocarcinoma xenografts. MMAE conjugates were administered at 3 mg mAb component/kg/dose. All of the tested MMAE conjugates were highly efficacious, leading to long-term regressions of established tumors, whereas the nonbinding control conjugates had no effect on tumor growth. In addition, there were no apparent toxicities associated with conjugate treatment [1].
Clinical trial: In a ongoing Phase I study with platinum-resistant ovarian cancer patients, nonlinear PK of MMAE conjugate had been observed in the dose range of 0.3 to 3.2 mg/kg. Circulating CA125 results suggested no impact on the PK at 2.4 mg/kg, which was the potential clinically relevant dose. Systemic free MMAE concentration was low and consistent with other MMAE containing ADCs [2].
References:
[1] Doronina SO,Toki BE,Torgov MY,Mendelsohn BA,Cerveny CG,Chace DF,DeBlanc RL,Gearing RP,Bovee TD,Siegall CB,Francisco JA,Wahl AF,Meyer DL,Senter PD. Development of potent monoclonal antibody auristatin conjugates for cancer therapy. Nat Biotechnol.2003 Jul;21(7):778-84.
[2] Jian Xu*, Priya Agarwal, Ola Saad, et al. Clinical Pharmacokinetics (PK) of Anti-MUC16 Antibody-Drug Conjugates (ADCs), DMUC5754A, in Patients with Platinum-Resistant Ovarian Cancer: Results from Phase I study. This poster was presented at World ADC Summit 2014.