Background
LAQ824 (also known as NVP-LAQ824 or Dacinostat), a derivative of 4-aminomethylcinnamic hydroxamic acid, is a novel and potent inhibitor of histone deacetylase (HDAC) that inhibits the activity of HDAC with 50% inhibition concentration IC50 value of 0.03 μM. LAQ824 has been found to inhibit the growth of a variety of cancer cell lines, including colon cancer H1299 and HCT116 cells, breast cancer MDA435 cells, prostate cancer DU145 and PC3 cells and non-small cell lung cancer A549 cells, with IC50 value < 1 μM and induce apoptosis in human breast cancer SKBR-3, BT-474 and MB-468 cells. LAQ824 also dose- and time-dependently inhibits the growth of multiple myeloma cells.
Reference
Catley L, Weisberg E, Tai YT, Atadja P, Remiszewski S, Hideshima T, Mitsiades N, Shringarpure R, LeBlanc R, Chauhan D, Munshi NC, Schlossman R, Richardson P, Griffin J, Anderson KC. NVP-LAQ824 is a potent novel histone deacetylase inhibitor with significant activity against multiple myeloma. Blood. 2003 Oct 1;102(7):2615-22. Epub 2003 Jun 19.
Product Citation
Chemical Properties
| | |
| --- | --- |
| Physical Appearance | A solid |
| Storage | Store at -20°C |
| M.Wt | 379.46 |
| Cas No. | 404951-53-7 |
| Formula | C22H25N3O3 |
| Synonyms | LAQ-824, NVP-LAQ 824 |
| Solubility | insoluble in H2O; insoluble in EtOH; ≥17.45 mg/mL in DMSO |
| Chemical Name | (E)-N-hydroxy-3-[4-[[2-hydroxyethyl-[2-(1H-indol-3-yl)ethyl]amino]methyl]phenyl]prop-2-enamide |
| SDF | Download SDF |
| Canonical SMILES | C1=CC=C2C(=C1)C(=CN2)CCN(CCO)CC3=CC=C(C=C3)C=CC(=O)NO |
| Shipping Condition | Ship with blue ice, or upon other requests. |
| General tips | For obtaining a higher solubility, please warm the tube at 37°C and shake it in the ultrasonic bath for a while. We do not recommend long-term storage for the solution, please use it up soon. |
Protocol
Cell experiment: [1]

Cell lines

Dexamethasone –sensitive human multiple myeloma (Dex-sensitive MM.1S) cells

Preparation method

The solubility of this compound in DMSO is >10 mM. General tips for obtaining a higher concentration: Please warm the tube at 37 °C for 10 minutes and/or shake it in the ultrasonic bath for a while.Stock solution can be stored below -20°C for several months.

Reaction Conditions

20 nM 24-, 48-, or 72-hour

Applications

As an inhibitor of HDAC, LAQ824 induces apoptosis in multiple myeloma cell lines resistant to conventional therapies. In this experiment, Dex or LAQ824 alone produced only 15% and 7% growth inhibition, respectively, but produced 51% inhibition when used in combination.

Animal experiment : [2]

Animal models

Female BALB/c mice administered 32D.p210 leukemic cells via tail vein injection

Dosage form

The mice were given intraperitoneal injection of either 25 mg/kg LAQ824 or D5W vehicle on a daily basis, beginning 3 days after introduction of the leukemic cells.

Applications

Treatment of mice with LAQ824 delayed the onset of symptoms of leukemia and lethality as compared to mice treated with the vehicle control. Median survival times were 20 days in the LAQ824-treated mice and 15.5 days in the vehicle control mice.

Other notes

Please test the solubility of all compounds indoor, and the actual solubility may slightly differ with the theoretical value. This is caused by an experimental system error and it is normal.

References:

[1] Catley L, Weisberg E, Tai Y T, et al. NVP-LAQ824 is a potent novel histone deacetylase inhibitor with significant activity against multiple myeloma. Blood, 2003, 102(7): 2615-2622.

[2] Weisberg E, Catley L, Kujawa J, et al. Histone deacetylase inhibitor NVP-LAQ824 has significant activity against myeloid leukemia cells in vitro and in vivo. Leukemia, 2004, 18(12): 1951-1963.
Biological Activity
Description
LAQ824 is a novel inhibitor of HDAC with IC50 value of 32 nM.
Targets
HDAC
IC50
32 nM
Quality Control
Quality Control & MSDS
View current batch:
Chemical structure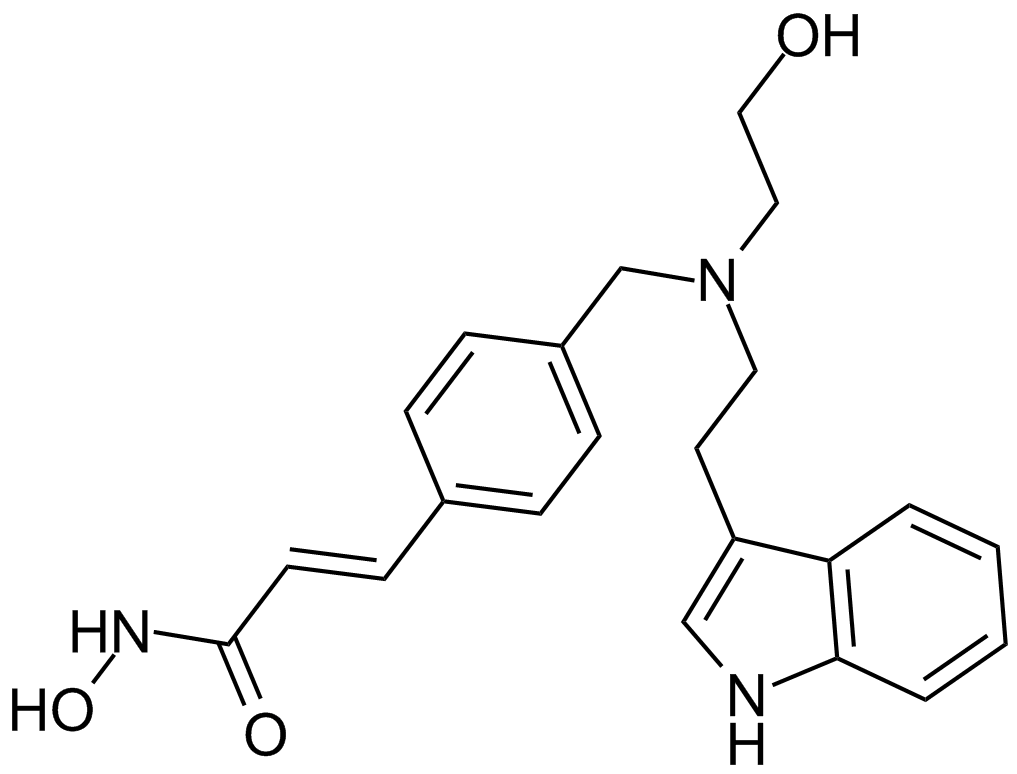 Related Biological Data