Background
CUDC-101 is a multitargeted inhibitor of histone deacetylase. It is designed to directly inhibit epidermal growth factor receptor (EGFR) and HER2 as well as class I and class II HDACs. It has been shown that CUDC-101 is able to effectively suppress the progression of a broad range of tumor types in both in vitro and in vivo xenograft models, including lapatinib- and erlotinib-resistant cancer cell lines. Mechanistic studies provide the evidence that CUDC-101 not only directly inhibits both EGFR and HER2 signaling but also indirectly attenuates the survival signaling pathways Akt, HER3, and MET.
Reference
Cheng-Jung Lai, Rudi Bao, Xu Tao, Jing Wang, Ruzanna Atoyan, Hui Qu, Da-Gong Wang, Ling Yin, Maria Samson, Jeffrey Forrester, Brian Zifcak, Guang-Xin Xu, Steven DellaRocca, Hai-Xiao Zhai, Xiong Cai, William E. Munger, Mitchell Keegan, Carmen V. Pepicelli, and Changgeng Qian. CUDC-101, a Multitargeted Inhibitor of Histone Deacetylase, Epidermal Growth Factor Receptor, and Human Epidermal Growth Factor Receptor 2, Exerts Potent Anticancer Activity. Cancer Res May 1, 2010 70; 3647.
Product Citation
Chemical Properties
| | |
| --- | --- |
| Physical Appearance | A solid |
| Storage | Store at -20°C |
| M.Wt | 434.49 |
| Cas No. | 1012054-59-9 |
| Formula | C24H26N4O4 |
| Synonyms | CUDC101, CUDC 101 |
| Solubility | ≥21.7 mg/mL in DMSO; insoluble in EtOH; insoluble in H2O |
| Chemical Name | 7-[4-(3-ethynylanilino)-7-methoxyquinazolin-6-yl]oxy-N-hydroxyheptanamide |
| SDF | Download SDF |
| Canonical SMILES | COC1=C(C=C2C(=C1)N=CN=C2NC3=CC=CC(=C3)C#C)OCCCCCCC(=O)NO |
| Shipping Condition | Evaluation sample solution: ship with blue ice. All other available sizes: ship with RT, or blue ice upon request. |
| General tips | For obtaining a higher solubility, please warm the tube at 37°C and shake it in the ultrasonic bath for a while. Stock solution can be stored below -20°C for several months. |
Protocol
Cell experiment: [1]

Cell lines

MDA-MB-231 cells

Preparation method

The solubility of this compound in DMSO is >10 mM. General tips for obtaining a higher concentration: Please warm the tube at 37 °C for 10 minutes and/or shake it in the ultrasonic bath for a while.Stock solution can be stored below -20°C for several months.

Reaction Conditions

1 µM, 16h.

Applications

MDA-MB-231 human breast carcinoma cells showed that HGF- and EGF-induced migration was significantly reduced by 1 µM CUDC-101. The inhibition of migration and invasion was not a secondary effect of cell death or growth inhibition, as no significant decrease in cell viability under all conditions tested has been detected.

Animal experiment : [2]

Animal models

four-to 6-week-old female athymic mice (nude nu/nu CD-1) bearing human HepG2 liver cancer cell xenografts

Dosage form

After tumors reached an average of 281 mm3 in size, mice were orally treated with CUDC-101 at a daily dose of 120 mg/kg.

Applications

CUDC-101 induced 30% tumor regression. One of the treated mice displayed complete tumor regression at the end of the dosing cycle, an effect that lasted for at least 6 months after treatment.

Other notes

Please test the solubility of all compounds indoor, and the actual solubility may slightly differ with the theoretical value. This is caused by an experimental system error and it is normal.

References:

[1] Wang J, Pursell N W, Samson M E S, et al. Potential advantages of CUDC-101, a multitargeted HDAC, EGFR, and HER2 inhibitor, in treating drug resistance and preventing cancer cell migration and invasion. Molecular cancer therapeutics, 2013, 12(6): 925-936.

[2] Lai C J, Bao R, Tao X U, et al. CUDC-101, a multitargeted inhibitor of histone deacetylase, epidermal growth factor receptor, and human epidermal growth factor receptor 2, exerts potent anticancer activity. Cancer research, 2010, 70(9): 3647-3656.
Biological Activity
Description
CUDC-101 is a potent inhibitor of HDAC, EGFR and HER2 with IC50 values of 4.4 nM, 2.4 nM, and 15.7 nM, respectively.
Targets
EGFR
HDAC
HDAC1
HDAC6
HDAC3
HDAC5
IC50
2.4 nM
4.4 nM
4.5 nM
5.1 nM
9.1 nM
11.4 nM
Quality Control
Quality Control & MSDS
View current batch:
Chemical structure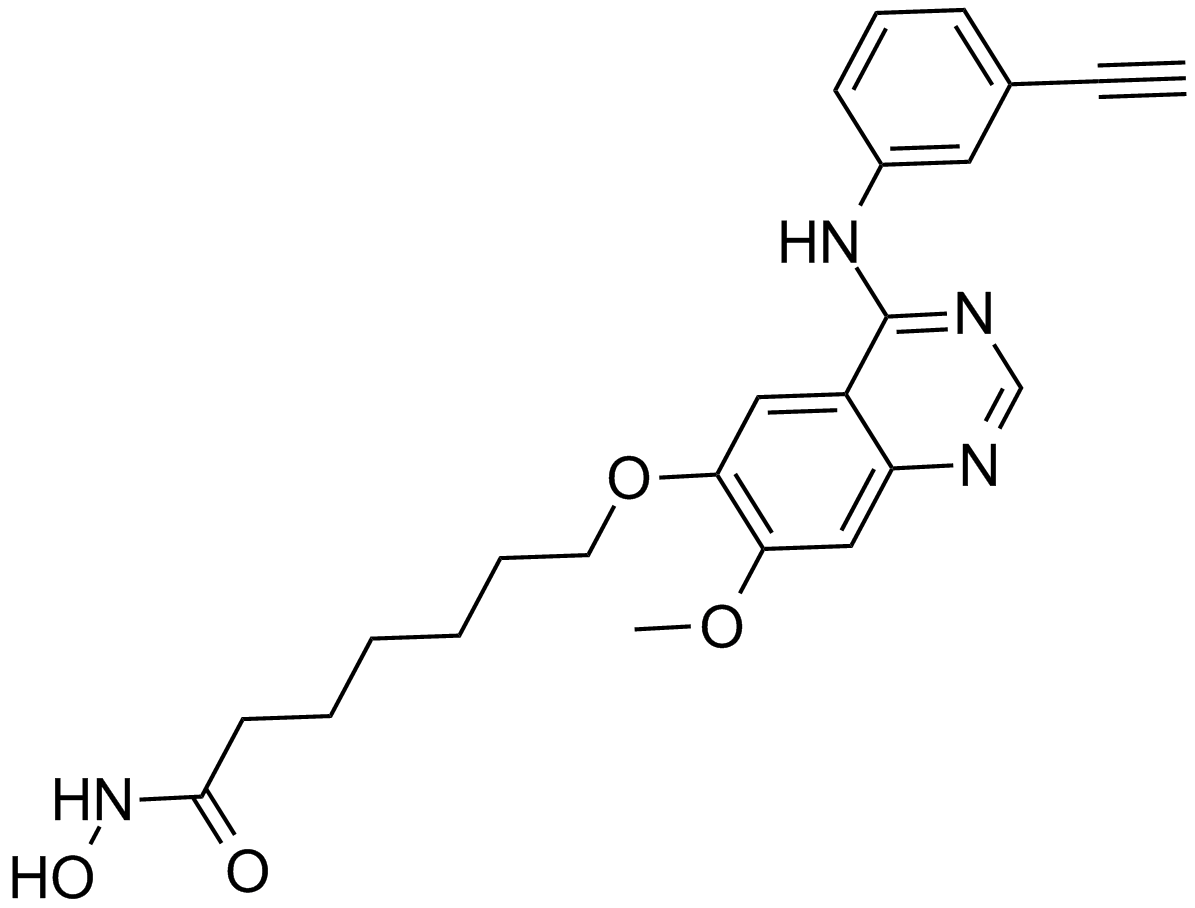 Related Biological Data