GF 109203X
Protein kinase C,MLCK,PKG and PKA inhibitor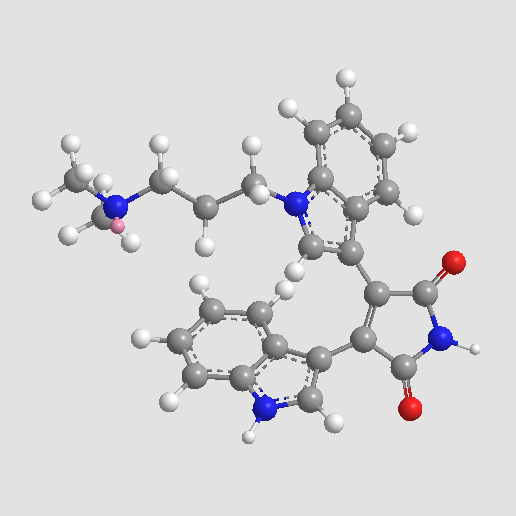 Sample solution is provided at 25 µL, 10mM.
Publications citing ApexBio Products
Related Compound Libraries
Quality Control
Quality Control & MSDS
View current batch:
Chemical structure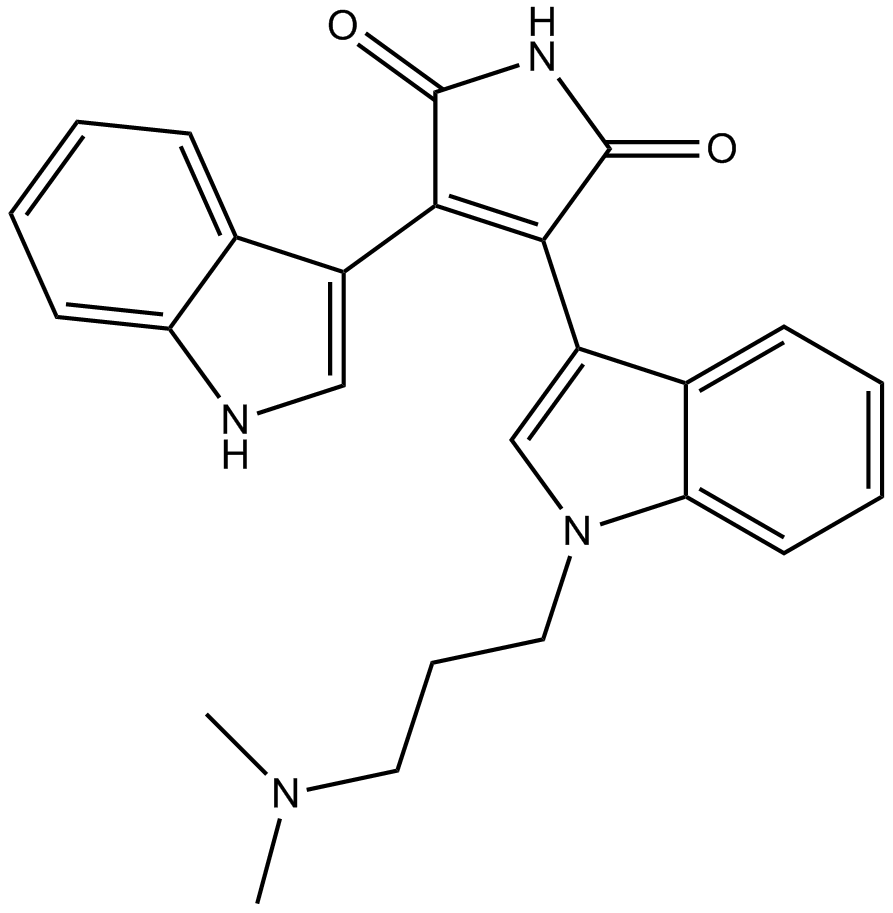 Related Biological Data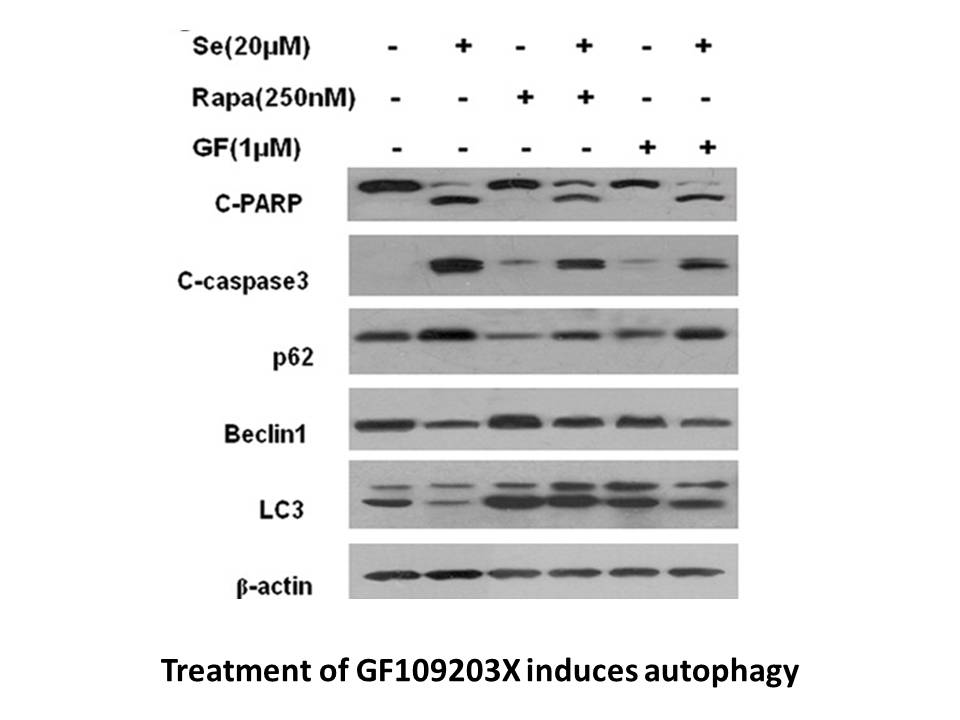 Related Biological Data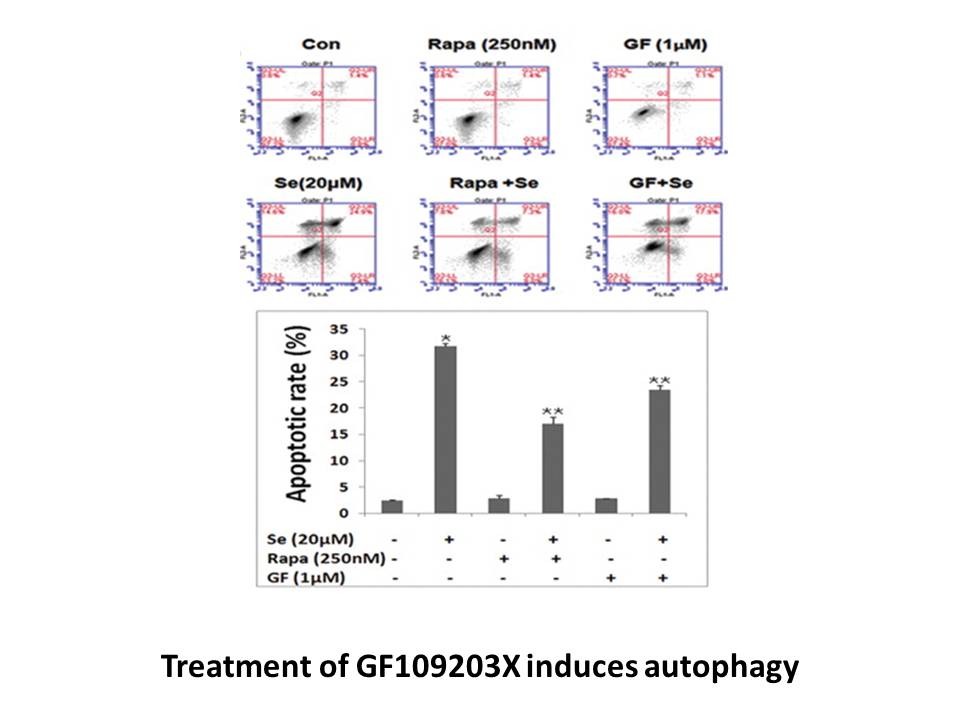 Biological Activity
Description
GF109203X is a potent inhibitor of PKC with IC50 of 20 nM, 17 nM, 16 nM, and 20 nM for PKCα, PKCβI, PKCβII, and PKCγ, respectively.
Targets
PKCα
PKCβI
PKCβII
PKCγ
IC50
20 nM
17 nM
16 nM
20 nM
Chemical Properties
Cas No.
133052-90-1
SDF
Download SDF
Synonyms
Gö 6850;Bisindolylmaleimide I
Chemical Name
3-[1-[3-(dimethylamino)propyl]indol-3-yl]-4-(1H-indol-3-yl)pyrrole-2,5-dione
Canonical SMILES
CN(C)CCCN1C=C(C2=CC=CC=C21)C3=C(C(=O)NC3=O)C4=CNC5=CC=CC=C54
Formula
C25H24N4O2
M.Wt

412.49

Solubility
>20.6mg/mL in DMSO
Storage
Store at RT
General tips
N/A
Shipping Condition
N/A
Background
GF 109203X is a potent and selective inhibitor of protein kinase C [1].
Protein kinase C (PKC) is a family of protein kinase enzymes that are involved in controlling the function of other proteins through the phosphorylation of serine and threonine amino acid residues on target proteins. PKC enzymes are activated by increases in the concentration of Ca2+ or diacylglycerol (DAG).
GF 109203X is a competitive inhibitor with Ki value of 14 nM. It inhibited PKC with IC50 values of 0.020, 0.017, 0.016, 0.020 μM for α, βI, βII and γ, respectively. In human platelets and Swiss 3T3 fibroblasts, GF 109203X significantly inhibited PKC-mediated phosphorylations with Mr of 47000 and 80000 in platelets and Swiss 3T3 cells, respectively. Also, GF 109203X inhibited collagen-triggered ATP secretion as well as α- thrombin- and collagen- induced platelet aggregation [1]. GF 109203X selectively inhibited PKC activity extracted from either fibroblasts or keratinocytes with IC50 values of 0.01 μM and 0.4 μM, respectively. Also, GF 109203X inhibited the expression of c-fos and c-jun, which involved in the cellular differentiation process [2].
References:
[1]. Toullec D, Pianetti P, Coste H, et al. The bisindolylmaleimide GF 109203X is a potent and selective inhibitor of protein kinase C. J Biol Chem, 1991, 266(24): 15771-15781.
[2]. Le Panse R, Coulomb B, Mitev V, et al. Differential modulation of human fibroblast and keratinocyte growth by the protein kinase C inhibitor GF 109203X. Mol Pharmacol, 1994, 46(3): 445-451.