Background
CX-4945 (Silmitasertib) is a potent and selective casein kinase 2 (CK2) inhibitor with IC50 value of 1 nM. It is ATP-competitive and can be taken orally [1].
CX-4945 has been reported to have antiproliferative activity against a wide range of tumor cell lines. It is suggested that CX-4945 suppresses the CK2 regulated PI3K/Akt signaling pathway by inhibiting Akt phosphorylation at Serine 129, but not by activating PTEN. Additionally, cells treated with CX-4945 had a reduction of p21 phophorylation and an up-regulations of total p21 and p27. CX-4945 has been shown to induce cell-cycle arrest at G2/M phase in breast cancer cell line BT-474. It also causes cell-cycle arrest at G1 phase the breast cancer cell line BxPC-3) [1].
In CX-4945 and BxPC-3 derived mouse xenograft model, CX-4945 induced a reduction of phos-p21 expression along with anti-carcinoma effects [1]
References:
[1] Siddiqui-Jain A1, Drygin D, Streiner N, Chua P, Pierre F, O'Brien SE, Bliesath J, Omori M, Huser N, Ho C, Proffitt C, Schwaebe MK, Ryckman DM, Rice WG,Anderes K. CX-4945, an orally bioavailable selective inhibitor of protein kinase CK2, inhibits prosurvival and angiogenic signaling and exhibits antitumor efficacy. Cancer Res. 2010 Dec 15; 70 (24): 10288-98.
Product Citation
Chemical Properties
| | |
| --- | --- |
| Physical Appearance | A solid |
| Storage | Store at -20°C |
| M.Wt | 349.77 |
| Cas No. | 1009820-21-6 |
| Formula | C19H12ClN3O2 |
| Synonyms | CX 4945; CX4945 |
| Solubility | insoluble in H2O; insoluble in EtOH; ≥8.74 mg/mL in DMSO |
| Chemical Name | 5-(3-chloroanilino)benzo[c][2,6]naphthyridine-8-carboxylic acid |
| SDF | Download SDF |
| Canonical SMILES | C1=CC(=CC(=C1)Cl)NC2=C3C=CN=CC3=C4C=CC(=CC4=N2)C(=O)O |
| Shipping Condition | Evaluation sample solution: ship with blue ice. All other available sizes: ship with RT, or blue ice upon request. |
| General tips | For obtaining a higher solubility, please warm the tube at 37°C and shake it in the ultrasonic bath for a while. Stock solution can be stored below -20°C for several months. |
Protocol
Cell experiment [1]:

Cell lines

Jurkat cells

Preparation method

The solubility of this compound in DMSO is >10 mM. General tips for obtaining a higher concentration: Please warm the tube at 37°C for 10 minutes and/or shake it in the ultrasonic bath for a while.Stock solution can be stored below -20°C for several months.

Reaction Conditions

4d; IC50=0.1 μM

Applications

CK2 inhibition was confirmed by measuring the phosphorylation level of the CK2 specific phosphorylation site on Akt (S129). CX-4945 induced dephosphorylation of Akt (S129) and a rapid dephosphorylation of the Akt substrate p21 (T145). Apoptosis was induced by CX-4945. CX-4945 was also found to potently inhibit endogenous intracellular CK2 activity with an IC50 of 0.1 μM in Jurkat cells.

Animal experiment [1]:

Animal models

Athymic mice

Dosage form

75 mg/kg; bid; oral taken

Applications

CX-4945 was tested for in vivo efficacy in established human prostate PC3 xenograft model in athymic mice. Mice bearing subcutaneous PC3 tumors were treated with CX-4945 (25 mg/kg, 50 mg/kg, and 75 mg/kg, p.o, bid). CX-4945 demonstrated tumor growth inhibition (TGI = 19%, 40%, and 86%, respectively) compared to vehicle treated control, and a dose responsive efficacy was observed. Last, CX-4945 was well tolerated in mice as assessed by minimal changes in body weight during the course of treatment compared to vehicle control.

Other notes

Please test the solubility of all compounds indoor, and the actual solubility may slightly differ with the theoretical value. This is caused by an experimental system error and it is normal.

References:

[1] Pierre F, Chua P C, O'Brien S E, et al. Discovery and SAR of 5-(3-chlorophenylamino) benzo [c][2, 6] naphthyridine-8-carboxylic acid (CX-4945), the first clinical stage inhibitor of protein kinase CK2 for the treatment of cancer [J]. Journal of medicinal chemistry, 2010, 54 (2): 635-654.
Biological Activity
Description
CX-4945 (Silmitasertib) is a potent and selective inhibitor of CK2 (casein kinase 2) with IC50 of 1 nM.
Targets
CK2α
CK2α'
IC50
1 nM
1 nM
Quality Control
Quality Control & MSDS
View current batch:
Chemical structure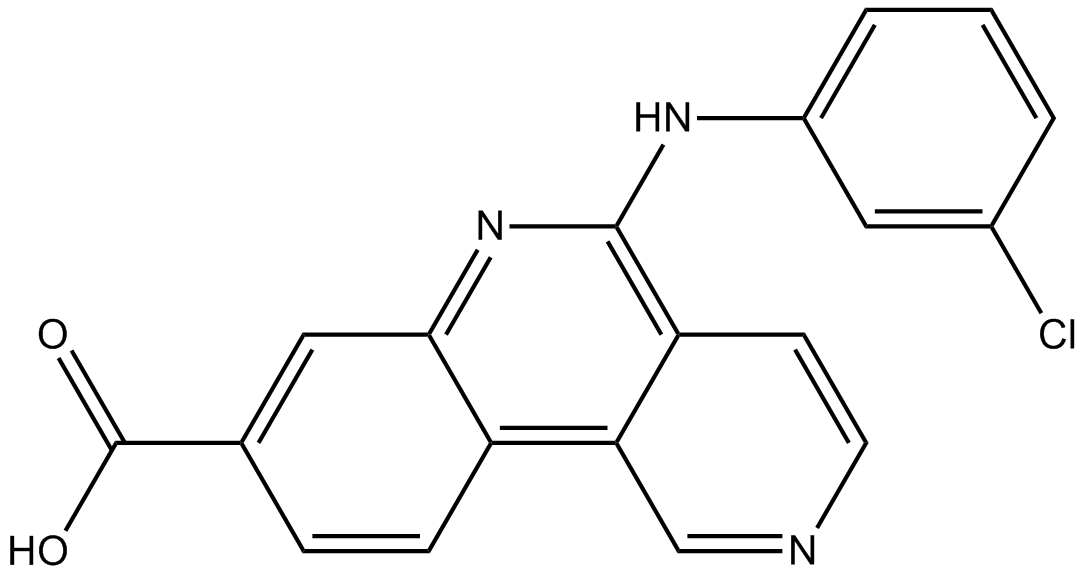 Related Biological Data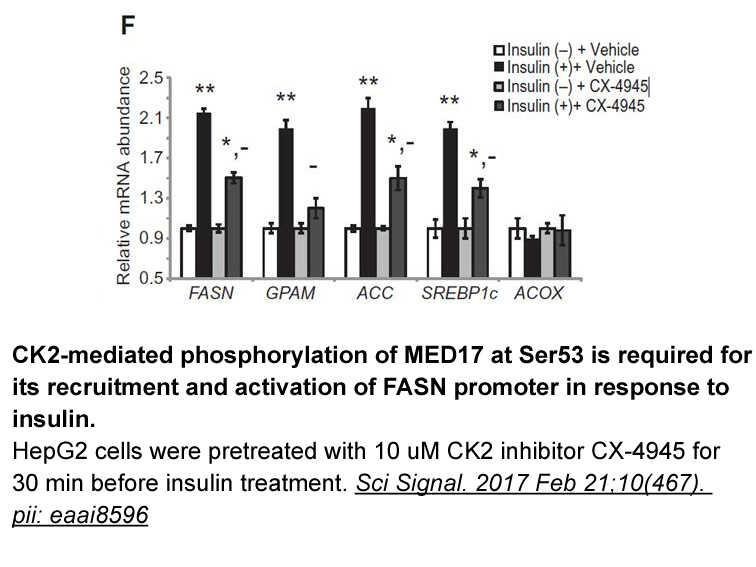 Related Biological Data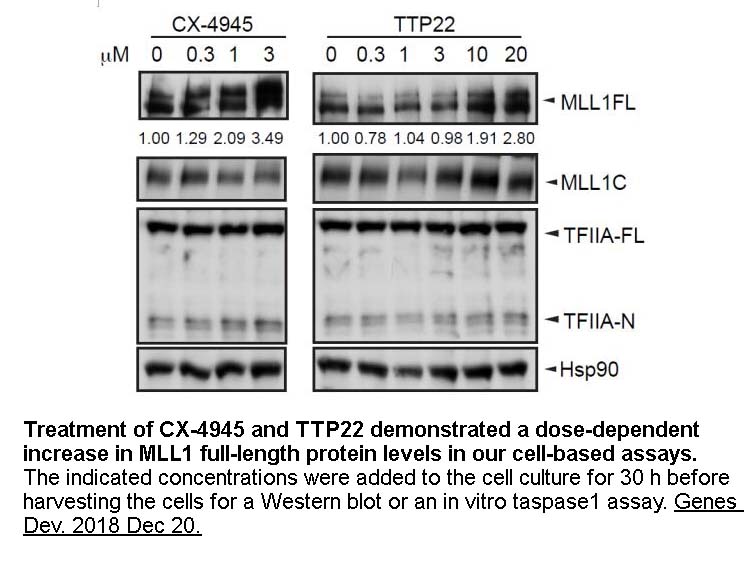 Related Biological Data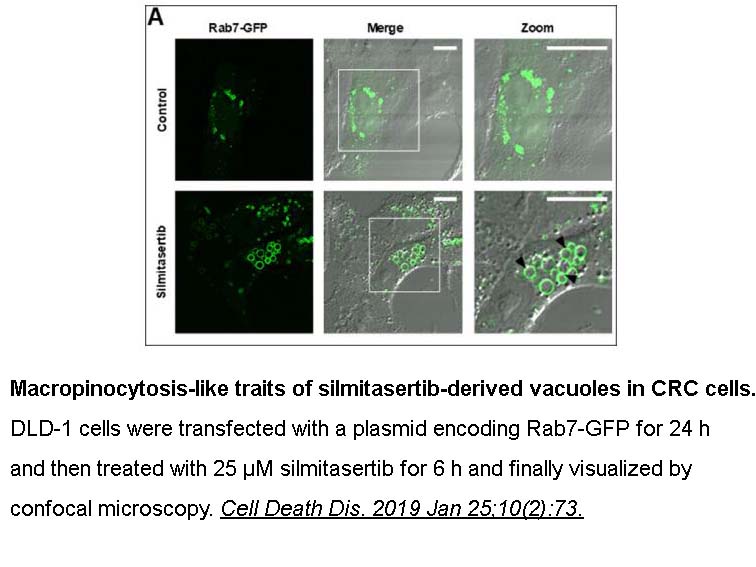 Related Biological Data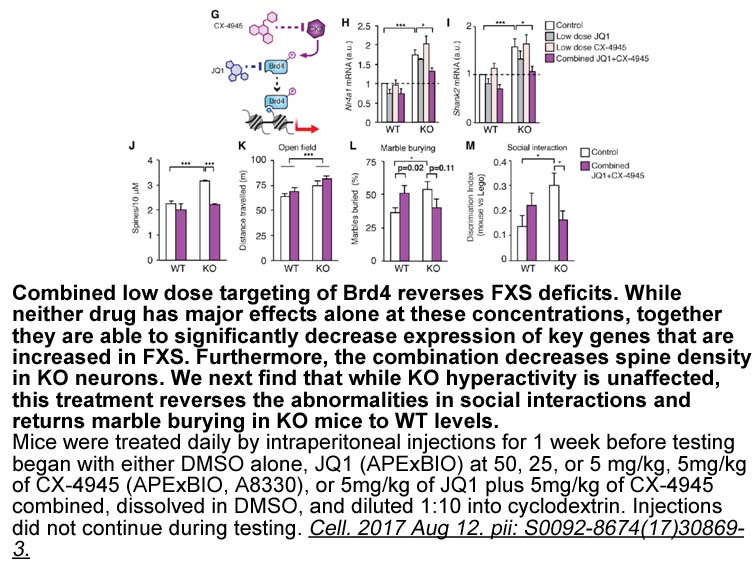 Related Biological Data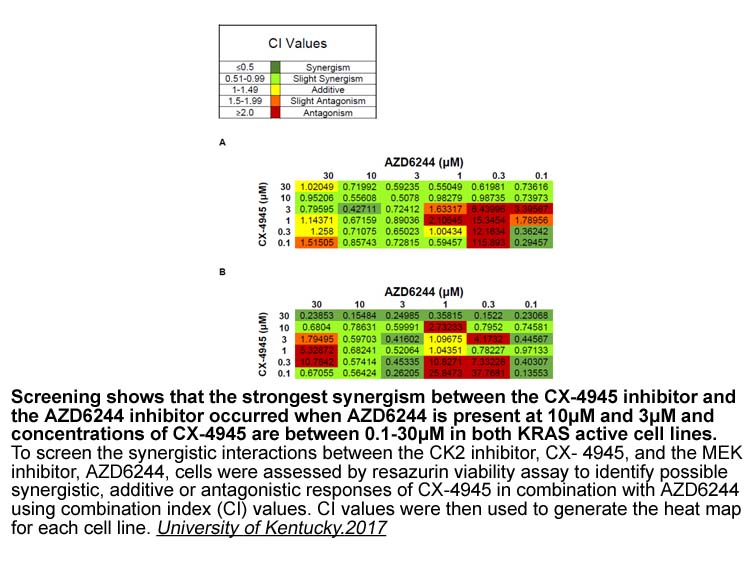 Related Biological Data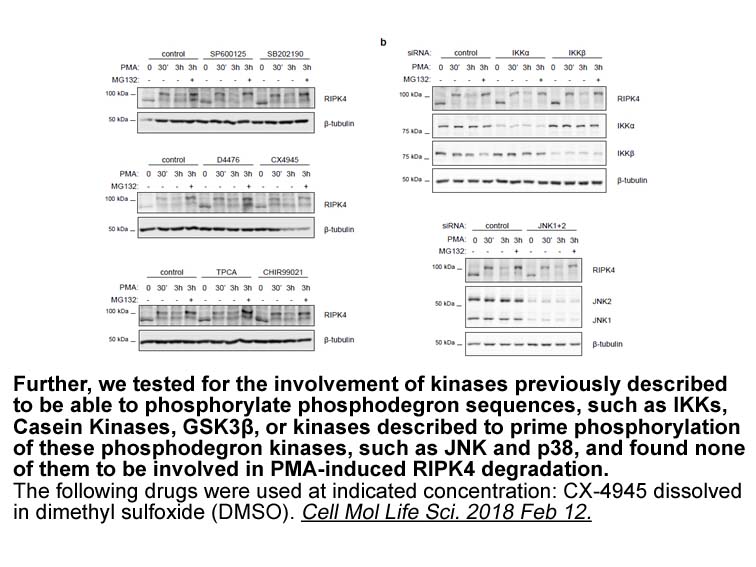 Related Biological Data