Background
IC50= 0.1 μM; Ki= 40 nM
TTP 22 is a high affinity, ATP-competitive casein kinase 2 (CK2) inhibitor.
Casein kinase 2 (CK2) noticeably stands out against a background of the kinase family due to its constitutive catalytic activity with the ability to phosphorylate more than 300 physiological substrates. These features make CK2 appear greatly diverse points of cell signaling pathways and be involved in processes leading to the development of various disorders, especially cancer. Thus, currently CK2 is regarded as druggable protein kinase target and can be used for the development of antitumor, anti-inflammatory and antiviral drugs.
In vitro: Kinetic studies of TTP 22 showed that activity of (thieno[2,3-d]pyrimidin-4-ylthio)carboxylic acids moiety was a result of its competition with ATP molecule for the binding site. Inhibition constant (Ki) for TTP 22 was 40 nM. Initial in vitro tests of TTP 22 and it analog on four serine/threonine (ASK1, JNK3, Aurora A and Rock 1) and three tyrosine protein kinases (FGFR1, Met and Tie2) revealed their remarkable specificity towards CK2 [1].
In vivo: So far, no animal in vivo study has been conducted for TTP 22.
Clinical trial: N/A
Reference:
[1] Golub AG,Bdzhola VG,Briukhovetska NV,Balanda AO,Kukharenko OP,Kotey IM,Ostrynska OV,Yarmoluk SM.  Synthesis and biological evaluation of substituted (thieno[2,3-d]pyrimidin-4-ylthio)carboxylic acids as inhibitors of human protein kinase CK2. Eur J Med Chem.2011 Mar;46(3):870-6.
Product Citation
Chemical Properties
| | |
| --- | --- |
| Physical Appearance | A solid |
| Storage | Store at -20°C |
| M.Wt | 330.42 |
| Cas No. | 329907-28-0 |
| Formula | C16H14N2O2S2 |
| Synonyms | TTP22;TTP-22 |
| Solubility | insoluble in H2O; ≥16.5 mg/mL in DMSO; ≥7.85 mg/mL in EtOH with gentle warming and ultrasonic |
| Chemical Name | 3-[5-(4-methylphenyl)thieno[2,3-d]pyrimidin-4-yl]sulfanylpropanoic acid |
| SDF | Download SDF |
| Canonical SMILES | CC1=CC=C(C=C1)C2=CSC3=C2C(=NC=N3)SCCC(=O)O |
| Shipping Condition | Evaluation sample solution: ship with blue ice. All other available sizes: ship with RT, or blue ice upon request. |
| General tips | For obtaining a higher solubility, please warm the tube at 37°C and shake it in the ultrasonic bath for a while. Stock solution can be stored below -20°C for several months. |
Quality Control
Quality Control & MSDS
View current batch:
Chemical structure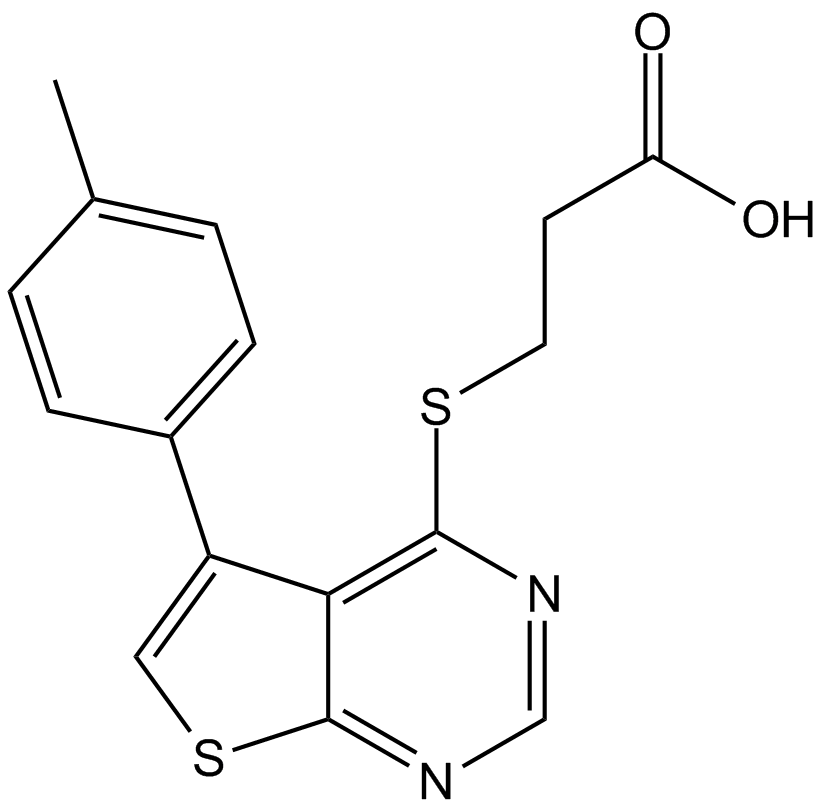 Related Biological Data