Background
This Cy5.5 is a labeling reagent that ready for the use in Click Chemistry reaction which available as 10 mM solution in DMSO. As Cy5.5 azide is a far-red emitting dye, it can replace Alexa Fluor 680, and DyLight 680. Most derivatives of non-sulfonated cyanines have low aqueous solubility except for hydrochlorides of hydrazides and amines. For biomolecule labeling, the labeling reagent has low aqueous solubility, using of organic co-solvent to dissolve this molecular is necessary for efficient reaction. First, Cyanine dye should be dissolved in organic solvent and then added to a solution of biomolecule in appropriate aqueous buffer.
In human glioblastoma U87MG cells, to assess the capability of the Cu(I)/M-dots for cell labeling Cy5.5-azide was in combination with Cu(I)/M-dots for imaging of the integrin αⅤβ3 receptor [1].
Reference:
[1] Sun, Y. ; Hong, S.; Ma, X.; Cheng, K.; Wang, J.; Zhang, Z.; Yang, M.; Jiang, Y.; Hong, X.; Cheng, Z. Recyclable Cu(I)/Melanin Dots for Cycloadditions, Bioconjugation and Cell Labeling. Chemical Science.
Chemical Properties
| | |
| --- | --- |
| Physical Appearance | A solid |
| Storage | 24 months after receival at -20°C in the dark. Transportation: at room temperature for up to 3 weeks. Avoid prolonged exposure to light. Desiccate. |
| M.Wt | 701.34 |
| Formula | C43H49ClN6O |
| Solubility | ≥70.1 mg/mL in DMSO; insoluble in H2O; ≥46.2 mg/mL in EtOH with ultrasonic |
| Chemical Name | 3-(6-((3-azidopropyl)amino)-6-oxohexyl)-1,1-dimethyl-2-((1E,3E,5E)-5-(1,1,3-trimethyl-1H-benzo[e]indol-2(3H)-ylidene)penta-1,3-dien-1-yl)-1H-benzo[e]indol-3-ium chloride |
| SDF | Download SDF |
| Canonical SMILES | CC1(C)C2=C3C(C=CC=C3)=CC=C2[N+](CCCCCC(NCCCN=[N+]=[N-])=O)=C1/C=C/C=C/C=C4C(C)(C)C5=C(C=CC=C6)C6=CC=C5N\4C.[Cl-] |
| Shipping Condition | Ship with blue ice, or upon other requests. |
| General tips | For obtaining a higher solubility, please warm the tube at 37°C and shake it in the ultrasonic bath for a while. |
Spectral properties
| | | | |
| --- | --- | --- | --- |
| Excitation max (nm) | 684 | Emission max (nm) | 710 |
| Extinction Coefficient (M-1cm-1) | 209000 | Quantum Yield | 0.2 |
| CF260 | 0.07 | CF280 | 0.03 |
Quality Control
Quality Control & MSDS
View current batch:
Chemical structure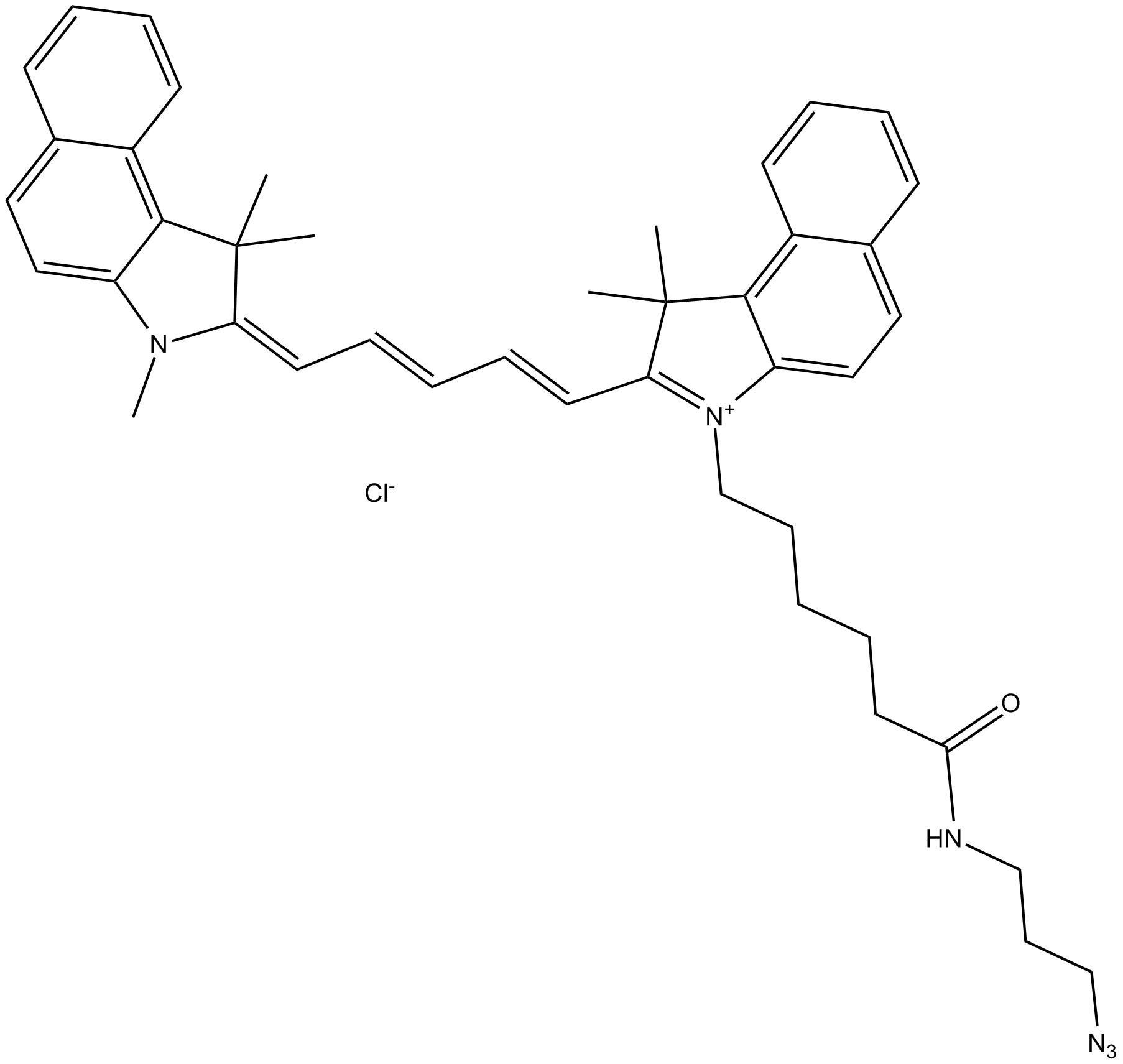 Related Biological Data