Background
Cy3 alkyne is a water-insoluble dye ready for the use in Click Chemistry reaction. With this bright and photostable reagent, molecules bearing azide group can be attached by it. The reagent can be efficiently attached to water-soluble molecules such as proteins when used with organic co-solvent (DMSO or DMF). For biomolecule labeling, using of organic co-solvent to dissolve this molecular is necessary for efficient reaction. First, Cyanine dye should be dissolved in organic solvent and then added to a solution of biomolecule in appropriate aqueous buffer. Most derivatives of non-sulfonated cyanines have low aqueous solubility except for hydrochlorides of hydrazides and amines.
In dendritic cells, the research confirming that the conjugates of Cy3-alkyne and Cy5-BSA-pDMDOMA particles are internalized by the cells rather than sticking to the cell surface. Additionally, confocal microscopy imaging shows a strong co-localization of the Cy3 and Cy5 channel [1].
Reference:
[1] Vanparijs, N. ; De Coen, R.; Laplace, D.R.; Louage, B.; Maji, S.; Lybaert, L.; Hoogenboom, R.; De Geest, B. Transiently responsive protein-polymer conjugates via a grafting-from RAFT approach: for intracellular co-delivery of proteins and immune-modulators.Chemical Communications, 2015, 51, 13972–13975.
Chemical Properties
| | |
| --- | --- |
| Physical Appearance | A solid |
| Storage | Storage: 24 months after receival at -20°C in the dark. Transportation: at room temperature for up to 3 weeks. Avoid prolonged exposure to light. Desiccate. |
| M.Wt | 530.14 |
| Formula | C33H40ClN3O |
| Solubility | soluble in organic solvents (DMF, DMSO, dichloromethane), insoluble in water |
| Chemical Name | 6-[(2E)-3,3-dimethyl-2-[(E)-3-(1,3,3-trimethylindol-1-ium-2-yl)prop-2-enylidene]indol-1-yl]-N-prop-2-ynylhexanamide |
| SDF | Download SDF |
| Canonical SMILES | CC1(C2=CC=CC=C2[N+](=C1C=CC=C3C(C4=CC=CC=C4N3CCCCCC(=O)NCC#C)(C)C)C)C |
| Shipping Condition | Ship with blue ice, or upon other requests. |
| General tips | For obtaining a higher solubility, please warm the tube at 37°C and shake it in the ultrasonic bath for a while. |
Spectral properties
| | | | |
| --- | --- | --- | --- |
| Excitation max (nm) | 555 | Emission max (nm) | 570 |
| Extinction Coefficient (M-1cm-1) | 150000 | Quantum Yield | 0.31 |
| CF260 | 0.04 | CF280 | 0.09 |
Quality Control
Quality Control & MSDS
View current batch:
Chemical structure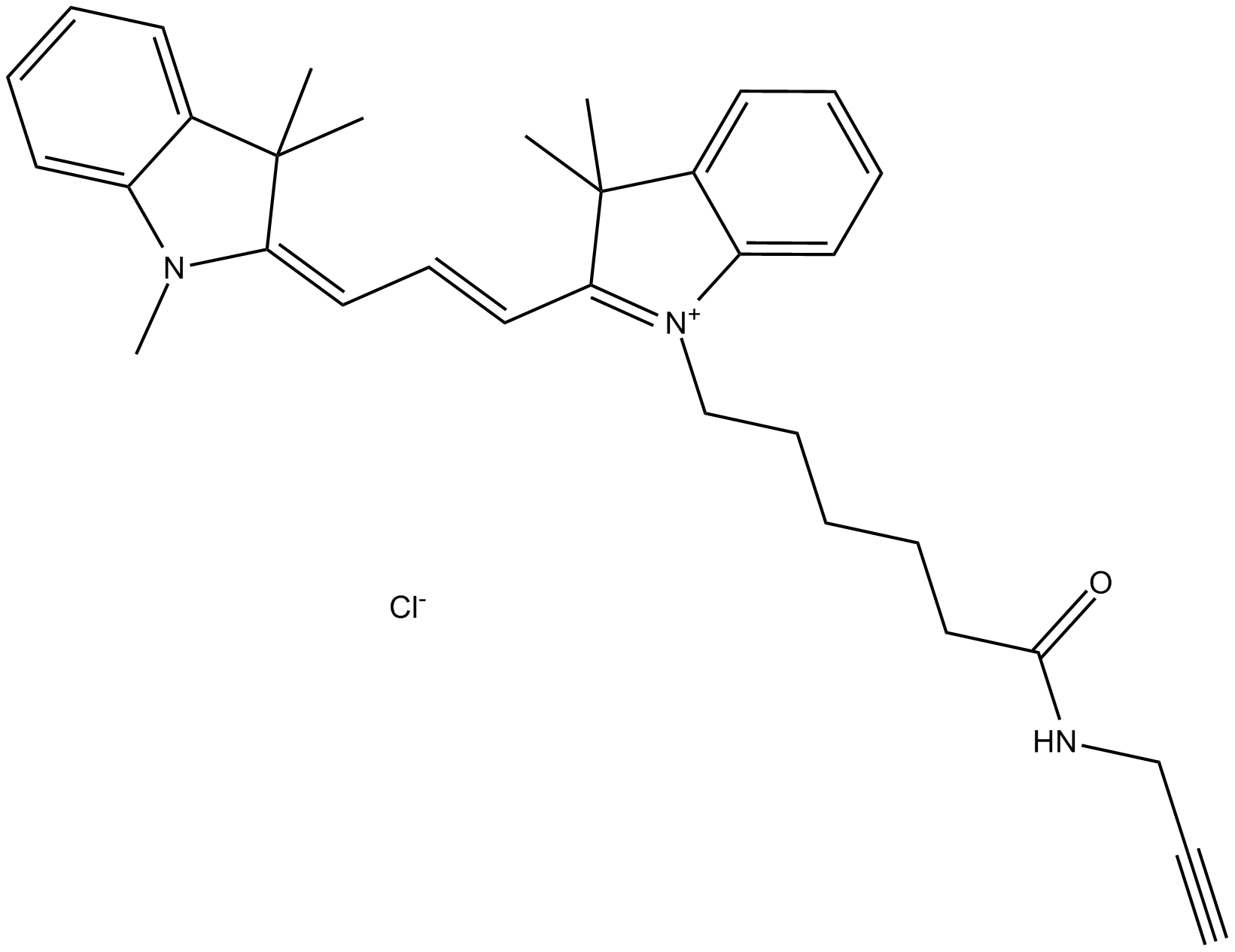 Related Biological Data