Background
Dasatinib is a small-molecule inhibitor of both the Src and Bcr-Abl tyrosine kinases with IC50 values of 0.5 nM and 1 nM.  The oncogenic tyrosine kinase Bcr-Abl, plays a critical role in the pathogenesis of CML (chronic myelogenous leukemia). In most CML patients, the kinase domain of Bcr-Abl have mutations that interfere with binding to the first Abl kinase inhibitor, but Dasatinib bind more efficiently to these Abl kinase mutations and thus more effective than imatinib in inhibiting the proliferation cells with wild-type Bcr-Abl or Bcr-Abl mutants.
References
1. Action of the Src family kinase inhibitor, dasatinib (BMS-354825), on human prostate cancer cells. S Nam, D Kim, JQ Cheng, S Zhang, JH Lee, R Buettner. Cancer Research. 2005
2. Dasatinib (BMS-354825) selectively induces apoptosis in lung cancer cells dependent on epidermal growth factor receptor signaling for survival. L Song, M Morris, T Bagui, FY Lee, R Jove, EB Haura . Cancer Research. 2006
Product Citation
Chemical Properties
| | |
| --- | --- |
| Physical Appearance | A solid |
| Storage | Store at -20°C |
| M.Wt | 488.01 |
| Cas No. | 302962-49-8 |
| Formula | C22H26ClN7O2S |
| Synonyms | Sprycel,dasatinibum,Dasatinib,BMS-354825, BMS354825, BMS 354825 |
| Solubility | ≥24.4 mg/mL in DMSO; insoluble in EtOH; insoluble in H2O |
| Chemical Name | N-(2-chloro-6-methylphenyl)-2-[[6-[4-(2-hydroxyethyl)piperazin-1-yl]-2-methylpyrimidin-4-yl]amino]-1,3-thiazole-5-carboxamide |
| SDF | Download SDF |
| Canonical SMILES | CC1=C(C(=CC=C1)Cl)NC(=O)C2=CN=C(S2)NC3=NC(=NC(=C3)N4CCN(CC4)CCO)C |
| Shipping Condition | Evaluation sample solution: ship with blue ice. All other available sizes: ship with RT, or blue ice upon request. |
| General tips | For obtaining a higher solubility, please warm the tube at 37°C and shake it in the ultrasonic bath for a while. Stock solution can be stored below -20°C for several months. |
Protocol
Cell experiment: [1]

Cell lines

DU-145 and LNCaP cells

Preparation method

The solubility of this compound in DMSO is >10 mM. General tips for obtaining a higher concentration: Please warm the tube at 37 °C for 10 minutes and/or shake it in the ultrasonic bath for a while.Stock solution can be stored below -20°C for several months.

Reaction Conditions

100 nM, 6 hours for inhibiting FAK phosphorylation 24 hours for decreasing cell-to-cell contact

Applications

Dasatinib almost totally abolished the levels of p-FAK at Tyr576/577 in DU-145 cells, whereas p-FAK was not detected in LNCaP cells even though both cell lines expressed similar levels of total FAK protein. Treatment with 100 nmol/L dasatinib for 24 hours had no effect on cell viability and total cell numbers, although partial inhibition of cell proliferation due to G1 arrest was observed at 48 and 72 hours. Besides, there was a substantial loss of cell-to-cell contact in DU-145 cells. This effect may be related to the decrease in levels of p-FAK and p-p130CAS.

Animal experiment: [2]

Animal models

Pdx1-Cre, Z/EGFP, LSL-Kras G12D/+, LSL-Trp53R172H/+ mice

Dosage form

Oral administration, 10 mg/kg, daily

Applications

There was no significant difference in survival between the different treatment groups. The median survival of vehicle-treated animals was 131 days compared with 127 days and 130 days for animals treated with dasatinib from 6 weeks and 10 weeks of age, respectively. Analysis of tumor burden in the mice showed that all mice had invasive PDAC; however, the number of mice with metastases was reduced significantly in dasatinib-treated animals. The incidence of metastases was 61.1% in vehicle-treated animals compared with 26.7% in mice treated with dasatinib from 6 weeks and 23.1% in mice treated with dasatinib from 10 weeks.

Other notes

Please test the solubility of all compounds indoor, and the actual solubility may slightly differ with the theoretical value. This is caused by an experimental system error and it is normal.

References:

[1] Nam S, Kim D, Cheng J Q, et al. Action of the Src family kinase inhibitor, dasatinib (BMS-354825), on human prostate cancer cells. Cancer research, 2005, 65(20): 9185-9189.

[2] Morton J P, Karim S A, Graham K, et al. Dasatinib inhibits the development of metastases in a mouse model of pancreatic ductal adenocarcinoma. Gastroenterology, 2010, 139(1): 292-303.
Biological Activity
| | | | | | | |
| --- | --- | --- | --- | --- | --- | --- |
| Targets | Abl | Src | c-Kit (WT)/c-Kit (D816V) | | | |
| IC50 | 0.6 nM | 0.8 nM | 79 nM/37 nM | | | |
Quality Control
Quality Control & MSDS
View current batch:
Chemical structure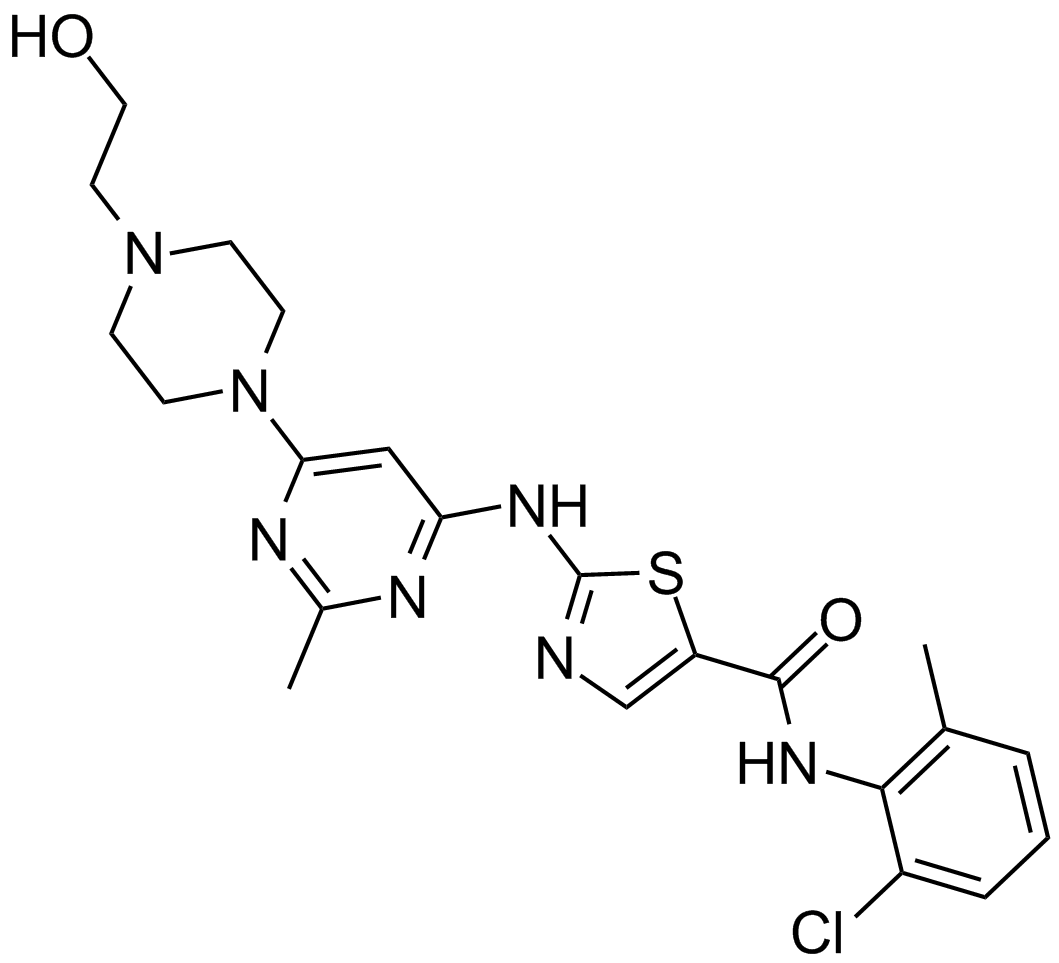 Related Biological Data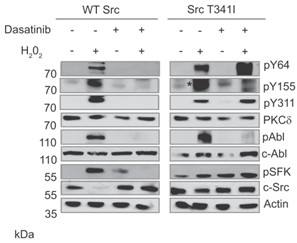 293T cells were transfected with wild type c-Abl, or the gatekeeper mutation for c-Abl T315I. Transfected cells were untreated or treated with 5mM H2O2 for 10 min with or without pretreatment with 20 nM dasatinib for 30min. Whole cell lysates were resolved using SDS-PAGE and analyzed for PKCδpY64, pY155, and pY311. An asterisk denotes the band representing PKCδpY155. Blots were stripped and probed for total PKCδ, total c-Src, total c-Abl, andactin.
Related Biological Data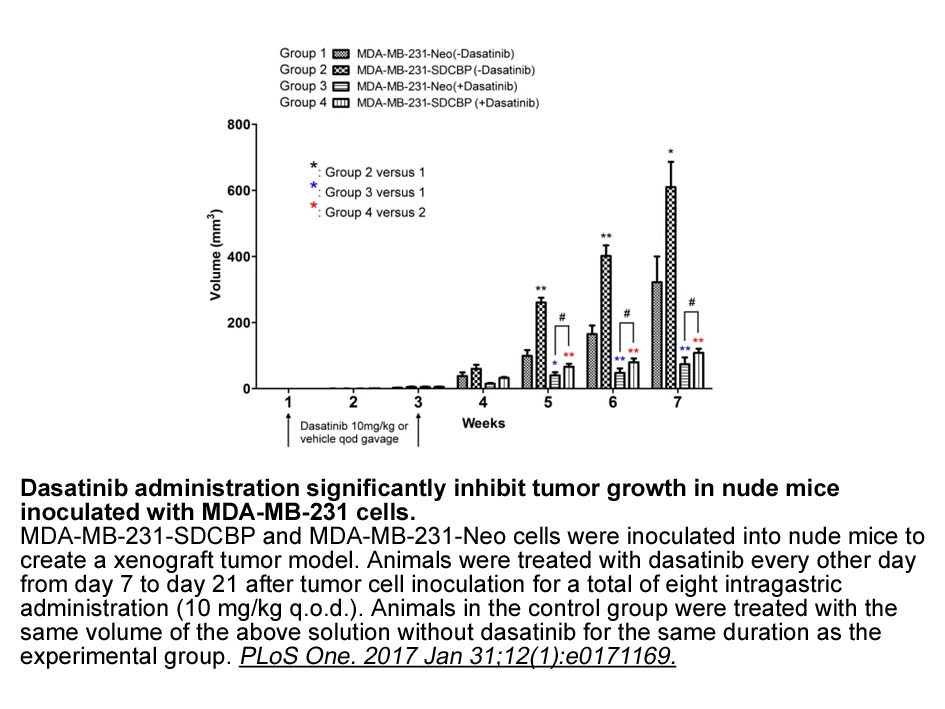 Related Biological Data
Related Biological Data
Related Biological Data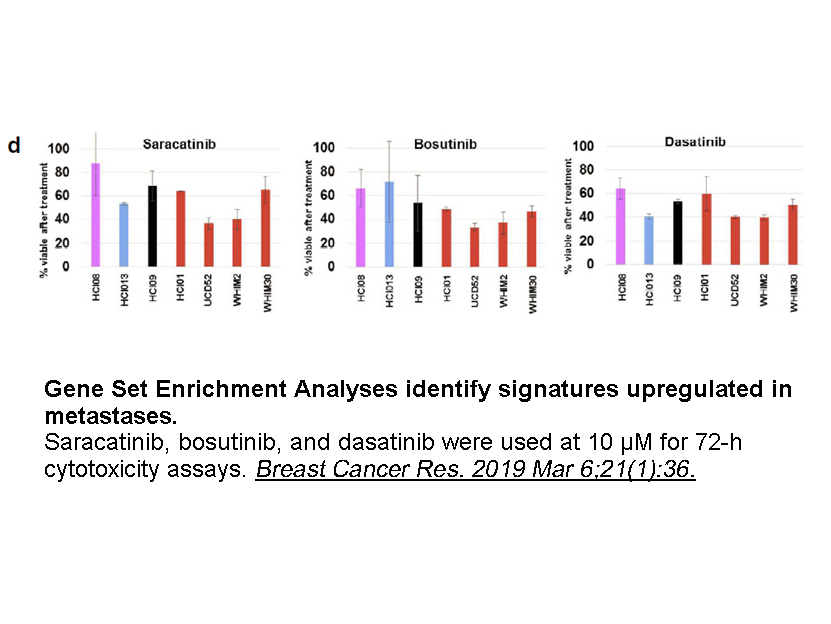 Related Biological Data