Background
BMS-345541 is a highly selective inhibitor of IKK-1 and IKK-2 with IC50 values of 4μM and 0.3μM, respectively [1].
BMS-345541 is a highly selective inhibitor of IKK that inhibits NF-κB-dependent transcription of pro-inflammatory cytokines both in vitro and in vivo. This specificity is proved in the assay measuring the IKK-2-catalyzed phosphorylation of GST-IκB. In this assay, BMS-345541 fails to inhibit other serine/threonine and tyrosine kinases. This selectivity is also evident in cells, only the stimulus-induced phosphorylation of IκB was inhibited by BMS-345541 whereas other signal transduction cascades were unaffected [1].
Since the IKK/ NFκB pathway is important for viability of leukemic cells and is a predictor of relapse in T-ALL, BMS-345541 is tested in some T-ALL cell lines. It is found that BMS-345541 can induce apoptosis and an accumulation of cells in the G2/M phase of the cell cycle. BMS-345541 can be used in combination with traditional therapies to overcome resistance to chemotherapeutic agents [2].
References:
[1] James R. Burke, Mark A. Pattoli, Kurt R. Gregor, Patrick J. Brassil, John F. MacMaster, Kim W. McIntyre, Xiaoxia Yang, Violetta S. Iotzova, Wendy Clarke, Joann Strnad, Yuping Qiu and F. Christopher Zusi. BMS-345541 Is a Highly Selective Inhibitor of IκB Kinase That Binds at an Allosteric Site of the Enzyme and Blocks NF-κB-dependent Transcription in Mice. J. Biol. Chem. 2003, 278:1450-1456.
[2] Francesca Buontempo, Francesca Chiarini, Daniela Bressanin, Giovanna tabellini, Fraia Melchionda, Andrea pession, Milena Fini, Luca M. Neri, James A. McCubrey and Alberto M. Martelli. Activity of the selective IκB kinase inhibitor BMS-345541 against T-cell acute lymphoblastic leukemia. Cell Cycle. 2012, 11 (13): 2467-2475.

Product Citation
Chemical Properties
| | |
| --- | --- |
| Storage | Store at -20°C |
| M.Wt | 291.78 |
| Cas No. | 547757-23-3 |
| Formula | C14H18ClN5 |
| Synonyms | BMS-345541 hydrochloride;BMS 345541 hydrochloride |
| Solubility | insoluble in EtOH; insoluble in DMSO; ≥60 mg/mL in H2O |
| Chemical Name | N'-(1,8-dimethylimidazo[1,2-a]quinoxalin-4-yl)ethane-1,2-diamine;hydrochloride |
| SDF | Download SDF |
| Canonical SMILES | CC1=CC2=C(C=C1)N=C(C3=NC=C(N23)C)NCCN.Cl |
| Shipping Condition | Evaluation sample solution: ship with blue ice. All other available sizes: ship with RT, or blue ice upon request. |
| General tips | For obtaining a higher solubility, please warm the tube at 37°C and shake it in the ultrasonic bath for a while. Stock solution can be stored below -20°C for several months. |
Protocol
Kinase experiment [1]:

Enzyme Assays

Assays measuring the enzyme-catalyzed phosphorylation of GST-IκBα were performed by adding enzyme (IKK-2, IKK-1 or IKK-ε, typically to a final concentration of 0.5 μg/mL) at 30℃ to solutions of 100 μg/mL GST- IκBα and 5 μM [33P]ATP in 40 mM Tris HCl, pH 7.5, containing 4 mM MgCl2, 34 mM sodium phosphate, 3 mM NaCl, 0.6 mM potassium phosphate, 1 mM KCl, 1 mM dithiothreitol, 3% (w/v) glycerol, and 250 μg/mL bovine serum albumin. The specific activity of [33P]ATP used in the assay was 100 Ci/mmol. After 5 mins, the kinase reactions were stopped by the addition of 2× Laemmli sample buffer and heat-treated at 90℃ for 1 min. The samples were then loaded on to NuPAGE 10% BisTris gels. After completion of SDS-PAGE, gels were dried on a slab gel dryer. The bands were then detected using a 445Si PhosphorImager, and the radioactivity was quantified using ImageQuant software. Under these conditions, the degree of phosphorylation of GST-IκBα was linear with time and concentration of enzyme.

Cell experiment [1]:

Cell lines

THP-1 monocytic cells

Preparation method

Soluble in DMSO. General tips for obtaining a higher concentration: Please warm the tube at 37℃ for 10 minutes and/or shake it in the ultrasonic bath for a while. Stock solution can be stored below -20℃ for several months.

Reaction Conditions

1 ~ 100 μM or 0.04 ~ 25 μM; 60 mins

Applications

BMS-345541 inhibited the TNFα-stimulated phosphorylation of Iκ-Bα in a dose-dependent manner (IC50 = 4 μM), and reduced the stimulated production of TNFα, IL-1β, IL-8 and IL-6 (IC50 = 1 ~ 5 μM).

Animal experiment [1]:

Animal models

Female BALB/c mice

Dosage form

2 mg/kg (1 mL/kg), i.v.; 10 mg/kg (5 mL/kg), p.o.

Applications

Oral administration of BMS-345541 to mice resulted in prolonged serum drug levels, with concentrations sustained at or above 1 μM for many hrs. BMS-345541 exhibited 100% oral bioavailability. At the dose of 10 mg/kg, BMS-345541 inhibited the production of TNFα induced by LPS and exhibited 50% inhibition. At the dose of 100 mg/kg, BMS-345541 completely inhibited TNFα production.

Other notes

Please test the solubility of all compounds indoor, and the actual solubility may slightly differ with the theoretical value. This is caused by an experimental system error and it is normal.

References:

[1]. Burke JR, Pattoli MA, Gregor KR, et al. BMS-345541 is a highly selective inhibitor of I kappa B kinase that binds at an allosteric site of the enzyme and blocks NF-kappa B-dependent transcription in mice. J Biol Chem, 2003, 278(3): 1450-1456.
Biological Activity
Description
BMS-345541 is a highly selective inhibitor of IKK-1 and IKK-2 with IC50 values of 4 μM and 0.3 μM, respectively.
Targets
IKK-1
IKK-2
IC50
4 μM
0.3 μM
Quality Control
Quality Control & MSDS
View current batch:
Chemical structure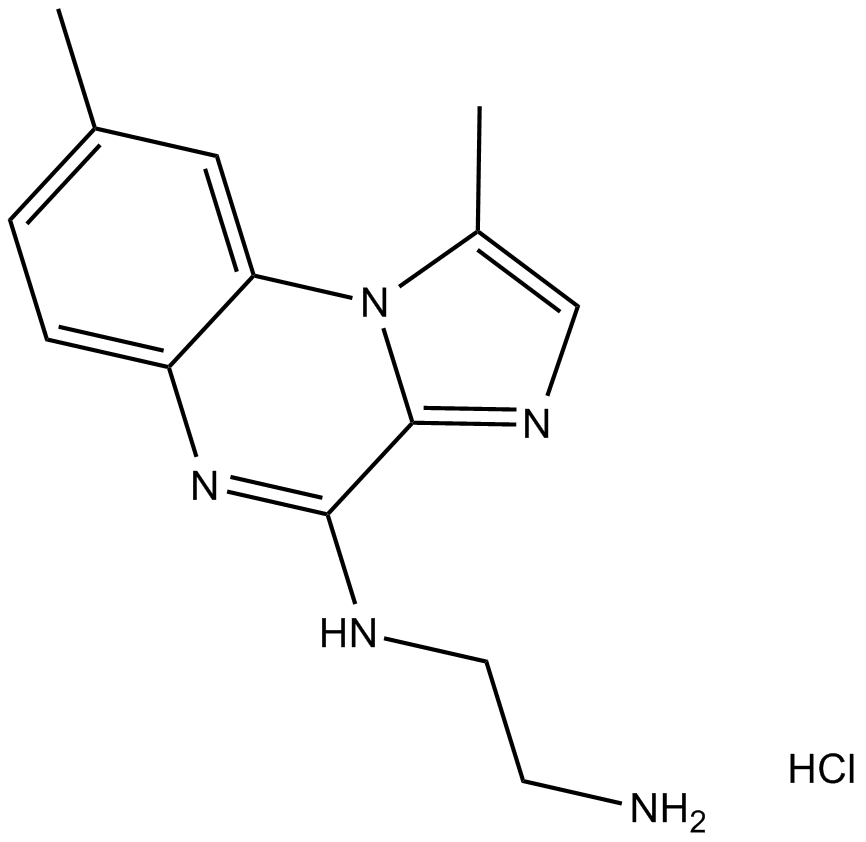 Related Biological Data
Related Biological Data