Background
WEHI-539 is a small-molecule inhibitor of BCLXLwith an IC50 value of 1.1 nM [1].
WEHI-539 was designed as a BCL-XLinhibitor with high affinity. It interacted the with the binding groove of BCL-XLwith a Kd value of 0.6 nM. In MEF cells lacking MCL-1, WEHI-539 induced apoptosis which was evidenced by the release of mitochondrial cytochrome cand caspase-3 processing. In BCL-XLoverexpressed MEF cells, WEHI-539 showed EC50 value of 0.48 μM. WEHI-539 also significantly induced apoptosis of the platelets purified from mice. Besides that, WEHI-539can not kill MEF cells lacking BAK because the cell death mediator BAK is regulated by BCL-XLand MCL-1. [1].
References:
[1] Lessene G, Czabotar P E, Sleebs B E, et al. Structure-guided design of a selective BCL-XL inhibitor. Nature chemical biology, 2013, 9(6): 390-397.
Product Citation
Chemical Properties
| | |
| --- | --- |
| Physical Appearance | A solid |
| Storage | Store at -20°C |
| M.Wt | 583.72 |
| Cas No. | 1431866-33-9 |
| Formula | C31H29N5O3S2 |
| Synonyms | WEHI539,WEHI 539 |
| Solubility | insoluble in DMSO,insoluble in EtOH,insoluble in H2O |
| Chemical Name | 5-[3-[4-(aminomethyl)phenoxy]propyl]-2-[(8E)-8-(1,3-benzothiazol-2-ylhydrazinylidene)-6,7-dihydro-5H-naphthalen-2-yl]-1,3-thiazole-4-carboxylic acid |
| SDF | Download SDF |
| Canonical SMILES | C1CC2=C(C=C(C=C2)C3=NC(=C(S3)CCCOC4=CC=C(C=C4)CN)C(=O)O)C(=NNC5=NC6=CC=CC=C6S5)C1 |
| Shipping Condition | Evaluation sample solution: ship with blue ice. All other available sizes: ship with RT, or blue ice upon request. |
| General tips | For obtaining a higher solubility, please warm the tube at 37°C and shake it in the ultrasonic bath for a while. Stock solution can be stored below -20°C for several months. |
Protocol
Cell experiment[1]:

Cell lines

Human colon cancer cell

Preparation method

The solubility of this compound in DMSO is >10 mM. General tips for obtaining a higher concentration: Please warm the tube at 37 °C for 10 minutes and/or shake it in the ultrasonic bath for a while.Stock solution can be stored below -20°C for several months.

Reaction Conditions

1 μM, 24h

Applications

Limiting dilution analysis with CSCs that were pre-treated with ABT-737, ABT-199 or WEHI-539 revealed that ABT-737 and WEHI-539 both were sufficient to decrease clonogenic capacity, whereas ABT-199 did not affect clonogenic growth. As WEHI-539 is selective for BCLXL, this points to a dependency of CSCs on BCLXL for survival. Importantly, ABT-737- or WEHI-539-induced loss of clonogenicity could be restored when BCLXL was ectopically overexpressed. When spheroid cultures were treated with ABT-737 or WEHI-539 compounds, CSCs were effectively sensitized toward oxaliplatin and other chemotherapeutic agents.

References:

1. Colak S, Zimberlin CD, Fessler E et al. Decreased mitochondrial priming determines chemoresistance of colon cancer stem cells. Cell Death Differ. 2014 Jul;21(7):1170-7.
Biological Activity
WEHI-539, has high affinity (subnanomolar) and selectivity for BCL-XL and potently kills cells by selectively antagonizing its prosurvival activity. WEHI-539 has a high affinity for BCL-XL (IC50 = 1.1 nM).
Targets
BCL-XL
IC50
1.1 nM
Quality Control
Quality Control & MSDS
View current batch:
Chemical structure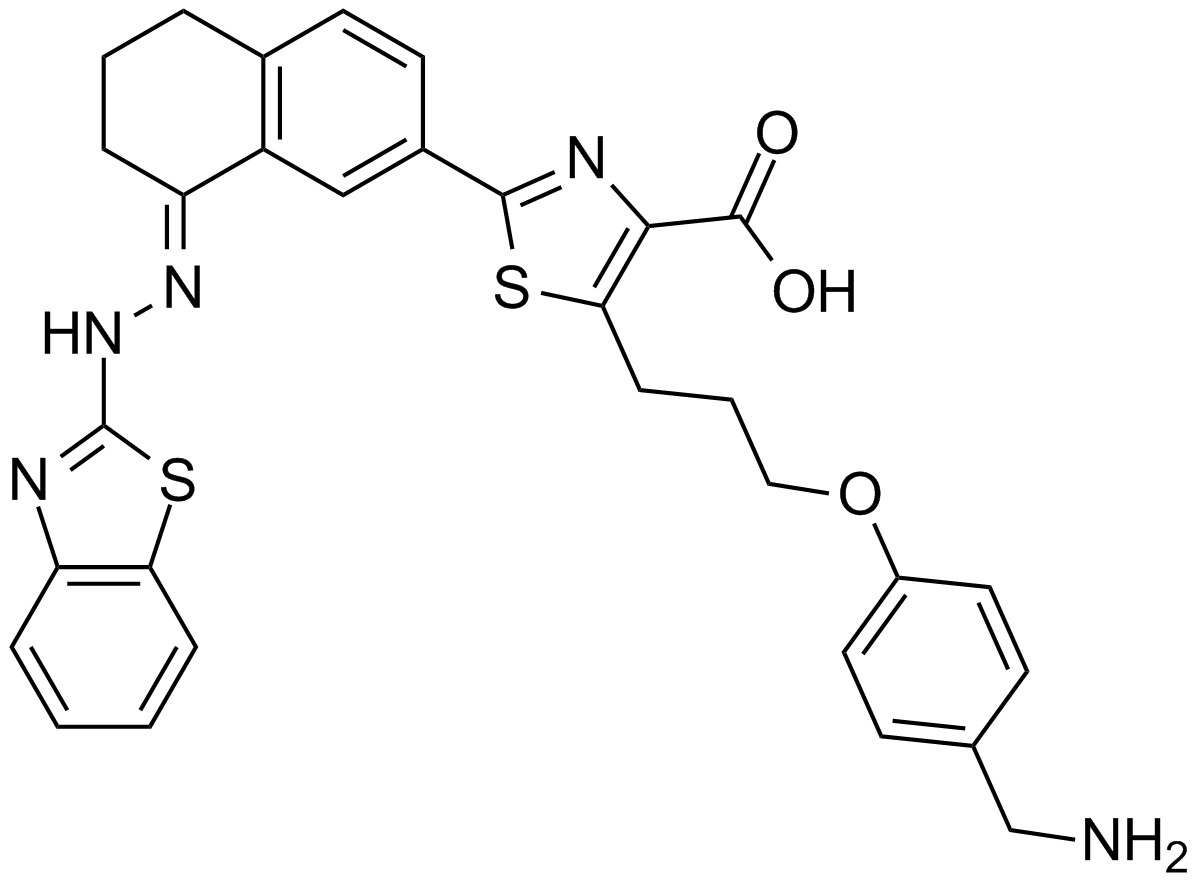 Related Biological Data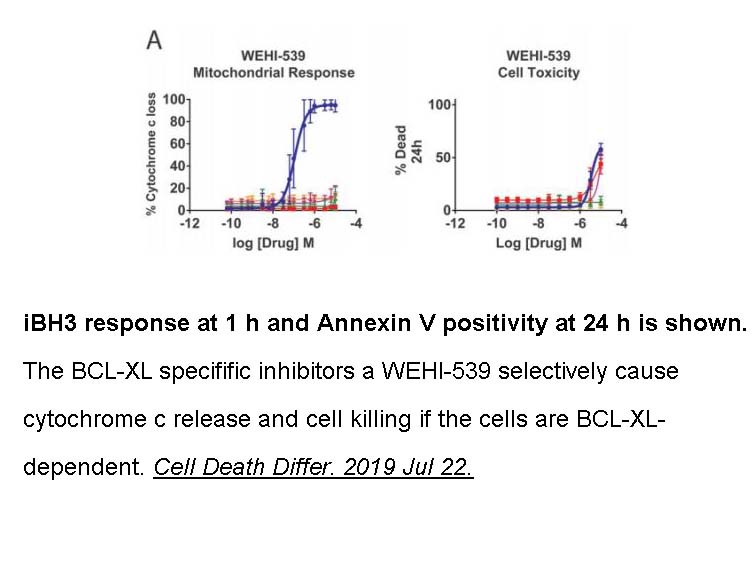 Related Biological Data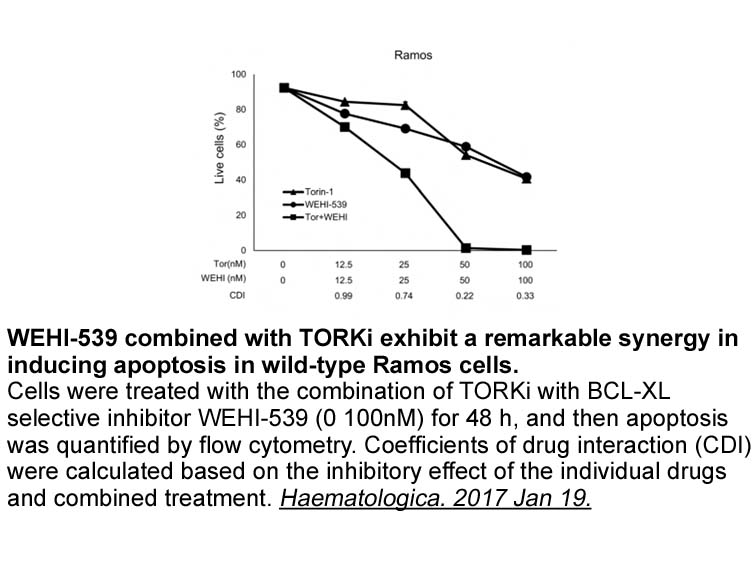 Related Biological Data
Related Biological Data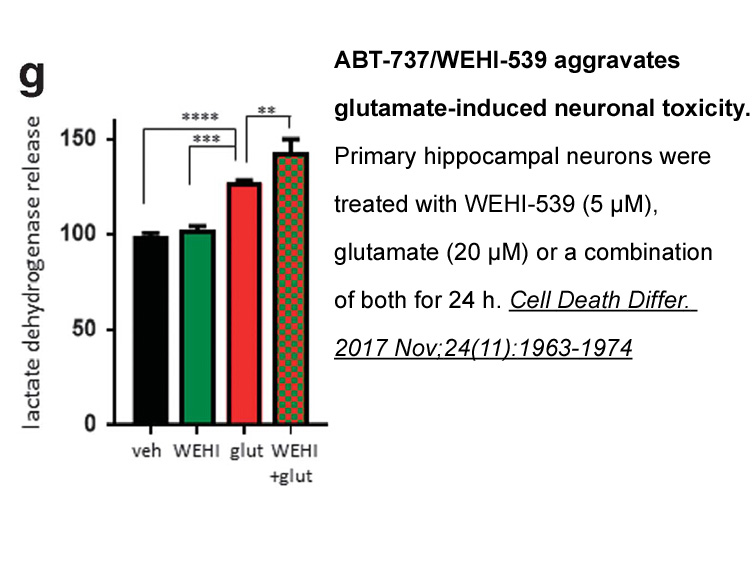 Related Biological Data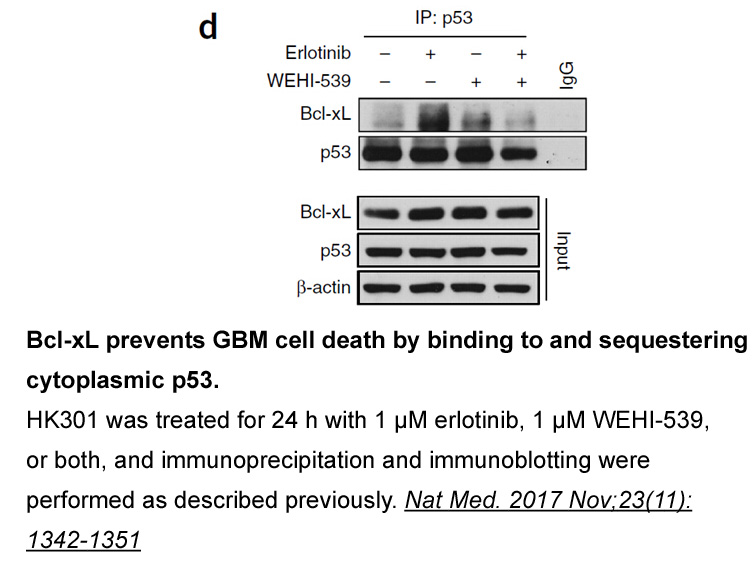 Related Biological Data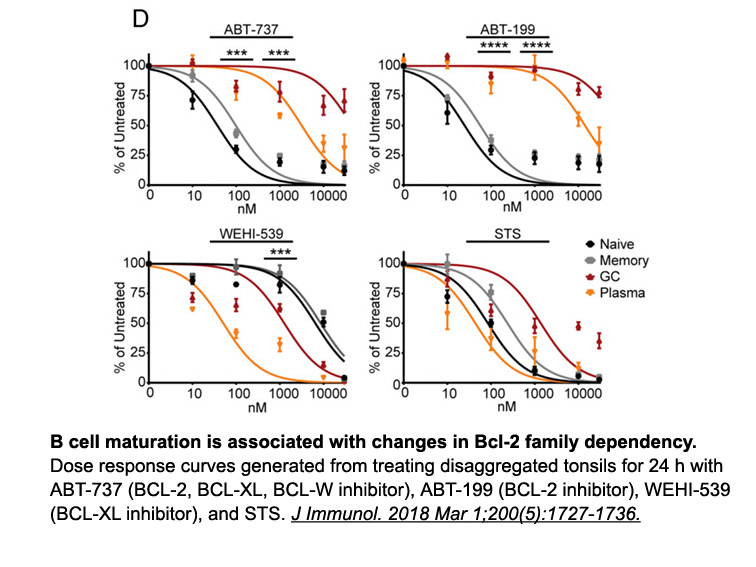 Related Biological Data