Background
IC50: 100 nM
RSL3 (1S,3R-) is the inhibitor of the glutathione peroxidase 4.
Maintaining cellular redox balance is critical for cell survival and tissue homoeostasis since imbalanced production of reactive oxygen species results in oxidative stress and cell death. The antioxidant enzyme glutathione peroxidase 4 is a important regulator of oxidative stress–induced cell death.
In vitro: RSL3, which was a glutathione peroxidase (GPX) 4 inhibitor, had been cooperated with the Smac mimetic BV6 to induce reactive oxygen species (ROS)-dependent cell death in acute lymphoblastic leukemia cells. It was found that addition of the caspase inhibitor failed to rescue ROS-induced cell death, suggesting that RSL3-induced cell death occured in a caspase-independent manner. Moreover, the iron chelator Deferoxamine inhibited RSL3/BV6-induced cell death significantly, however, it could not rescue cell death by Erastin/BV6, indicating that RSL3/BV6-, but not Erastin/BV6-mediated cell death depended on iron. In addition, it was shown that ROS production was required for both RSL3/BV6- and Erastin/BV6-induced cell death. In contrast, genetic or pharmacological inhibition of lipid peroxidation by GPX4 overexpression significantly decreased RSL3/BV6-induced cell death. Of importance, inhibition of lipid peroxidation could protect from RSL3/BV6-stimulated ROS production [1].
In vivo: Currently, there is no animal in vivo data reported.
Clinical trial: Up to now, RSL3 is still in the preclinical development stage.
Reference:
[1] Dchert J,Schoeneberger H,Rohde K,Fulda S.  RSL3 and Erastin differentially regulate redox signaling to promote Smac mimetic-induced cell death. Oncotarget.2016 Aug 29. doi: 10.18632/oncotarget.11687.
Product Citation
Chemical Properties
| | |
| --- | --- |
| Physical Appearance | A solid |
| Storage | Store at -20°C |
| M.Wt | 440.88 |
| Cas No. | 1219810-16-8 |
| Formula | C23H21ClN2O5 |
| Solubility | insoluble in H2O; insoluble in EtOH; ≥125.4 mg/mL in DMSO |
| Chemical Name | (1S,3R)-methyl 2-(2-chloroacetyl)-1-(4-(methoxycarbonyl)phenyl)-2,3,4,9-tetrahydro-1H-pyrido[3,4-b]indole-3-carboxylate |
| SDF | Download SDF |
| Canonical SMILES | COC(C1=CC=C([[email protected]@]2([H])C3=C(C4=CC=CC=C4N3)C[[email protected]](N2C(CCl)=O)([H])C(OC)=O)C=C1)=O |
| Shipping Condition | Ship with blue ice, or upon other requests. |
| General tips | For obtaining a higher solubility, please warm the tube at 37°C and shake it in the ultrasonic bath for a while. We do not recommend long-term storage for the solution, please use it up soon. |
Protocol
Cell experiment [1]:

Cell lines

BJ-TERT/LT/ST/RASV12 and DRD cells

Preparation method

Soluble in DMSO. General tips for obtaining a higher concentration: Please warm the tube at 37°C for 10 minutes and/or shake it in the ultrasonic bath for a while. Stock solution can be stored below -20°C for several months.

Reacting condition

5 μg/mL, 2 days

Applications

RSL3 displayed synthetic lethality with oncogenic RAS in both BJ-TERT/LT/ST/RASV12 and DRD cells. RSL3 inhibited the growth of BJ-TERT/LT/ST/RASV12 and DRD cells as low as 10 ng/mL and started to kill sensitive cells as early as 8 hr after treatment. Longer treatment with RSL3 had little effect on the viability of cells lacking oncogenic RAS. RSL3 induced rapid and nonapoptotic cell death in oncogenic ras containing tumorigenic cells.

Animal experiment [2]:

Animal models

Athymic nude mice xenografted with BJeLR cells

Dosage form

Subcutaneous injection (s.c.), 100 mg/kg, twice each week for 2 weeks.

Application

RSL3 prevented tumor growth in a xenograft model. (1S, 3R)-RSL3 significantly prevented tumor growth. (1S, 3R)-RSL3 significantly reduced tumor volume via the induction of ferroptosis. Intraperitoneal injection of (1S, 3R)-RSL3 showed no toxicity up to 400 mg/kg dose, which suggested that (1S, 3R)-RSL3 was well tolerated.

Other notes

Please test the solubility of all compounds indoor, and the actual solubility may slightly differ with the theoretical value. This is caused by an experimental system error and it is normal.

References:

[1]. Yang W S, Stockwell B R. Synthetic lethal screening identifies compounds activating iron-dependent, nonapoptotic cell death in oncogenic-RAS-harboring cancer cells[J]. Chemistry & biology, 2008, 15(3): 234-245.

[2]. Yang W S, SriRamaratnam R, Welsch M E, et al. Regulation of ferroptotic cancer cell death by GPX4[J]. Cell, 2014, 156(1): 317-331.
Quality Control
Quality Control & MSDS
View current batch:
Chemical structure
Related Biological Data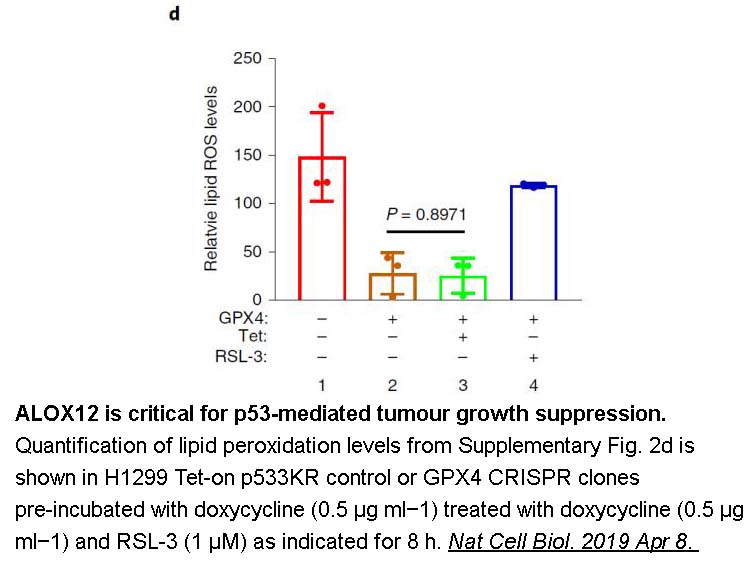 Related Biological Data