Background
ZIE(OtBu)AL-CHO (PSI)1 have been shown to inhibit the proteasome activities in a variety of cell types.
Peptide aldehyde, PSI (Z-Ile-Glu(OtBu)-Ala-Leu-al), inhibits the proteasome 10-fold better than calpain but is less potent than MG1322. Since MG132, PSI, MG115 (Z-Leu-Leu-nVal-al) and ALLN can all inhibit calpains and various lysosomal cathepsins in addition to the proteasome, when using these inhibitors in cell culture it is important to perform control experiments to con¢rm that the observed e¡ects are due to the inhibition of the proteasome. First, one can use agents, which block intracellular cysteine proteases, but do not inhibit proteasomes3. Such inhibitors are Z-Leu-Leu- al, and E-64 for calpains4, and weak bases such as chloroquine and E-64 for lysosomal proteolysis . In yeast, where digestive vacuoles contain mainly serine, not cysteine, proteases, phenylmethylsulfonyl £uoride can be used to inhibit these enzymes without affecting proteasomes5.
Despite the availability of these inhibitors, MG132, due to its low cost and the rapid reversibility of its action, still remains, in our opinion, the first choice to study proteasome involvement in a process in cell cultures or tissues, if appropriate controls are used. As the most potent and selective of commercially available aldehydes, MG132 is preferable to ALLN, MG115 (Z-Leu-Leu-nVal-al), or even PSI. On the other hand, the least selective inhibitor, ALLN, because of its ability to inhibit most major pro teases in mammalian cells, is probably the best tool for prevention of unwanted proteolysis, for example during isolation of proteins from mammalian cells.
Reference:
1. Takada K  (1995) Mol. Biol. Rep. 21: 21–26
2. A. F. Kisselev, A. L. Goldberg. Proteasome inhibitors: from research tools to drug candidates. Chemistry & Biology 8 (2001) 739-758.
3. W. Matthews, J. Driscoll, K. Tanaka, A. Ichihara, A.L. Goldberg, Involvement of the proteasome in various degradative processes in mammalian cells, Proc. Natl. Acad. Sci. USA 86 (1989) 2597-2601.
4. S. Tsubuki, Y. Saito, M. Tomioka, H. Ito, S. Kawashima, Differential inhibition of calpain and proteasome activities by peptidyl aldehydes of di-leucine and tri-leucine, J. Biochem. 119 (1996) 572-576.
5. D.H. Lee, A.L. Goldberg, Selective inhibitors of the proteasome-dependent and vacuolar pathways of protein degradation in Saccharomyces cerevisiae, J. Biol. Chem. 271 (1996) 27280-27284.
Chemical Properties
| | |
| --- | --- |
| Physical Appearance | A solid |
| Storage | Store at -20°C |
| M.Wt | 618.76 |
| Cas No. | 158442-41-2 |
| Formula | C32H50N4O8 |
| Synonyms | Z-Ile-Glu(OtBu)-Ala-Leu-CHO |
| Solubility | ≥30.6mg/mL in DMSO |
| Chemical Name | tert-butyl (4S)-5-[[(2S)-1-[[(2S)-4-methyl-1-oxopentan-2-yl]amino]-1-oxopropan-2-yl]amino]-4-[[(2S,3R)-3-methyl-2-(phenylmethoxycarbonylamino)pentanoyl]amino]-5-oxopentanoate |
| SDF | Download SDF |
| Canonical SMILES | CCC(C)C(C(=O)NC(CCC(=O)OC(C)(C)C)C(=O)NC(C)C(=O)NC(CC(C)C)C=O)NC(=O)OCC1=CC=CC=C1 |
| Shipping Condition | Evaluation sample solution : ship with blue ice.All other available size: ship with RT , or blue ice upon request |
| General tips | For obtaining a higher solubility , please warm the tube at 37 ℃ and shake it in the ultrasonic bath for a while.Stock solution can be stored below -20℃ for several months. |
Protocol
Cell experiment: [1]

Cell lines

STAV-AB and STAV-FCS cells

Preparation method

The solubility of this compound in DMSO is >10 mM. General tips for obtaining a higher concentration: Please warm the tube at 37 °C for 10 minutes and/or shake it in the ultrasonic bath for a while.Stock solution can be stored below -20°C for several months.

Reaction Conditions

IC50: 4.01μM for STAV-AB, 24 hours 16.31μM for STAV-FCS, 24 hours

Applications

Treatment with PSI reduced the viability of the two MM cell sub-lines to different extents in a time and concentration-dependent manner. Thus exposure to PSI for 24 h resulted in an IC50of 4.01μM on STAV-AB cells, but 16.31μM of the same drug was needed for a similar reduction in cell numbers on STAV-FCS cells.

Animal experiment: [2]

Animal models

Male Sprague-Dawley adult rats

Dosage form

Subcutaneous injection, 6.0 mg/kg

Applications

The effects of PSI treatment on the amount of dopamine and the dopamine metabolite DOPAC in the striata, were evaluated by HPLC analysis. Decreased levels of DA in the striatum were found at 6 weeks after the end of PSI treatment as compared to controls; a decrement was also observed in the level of DOPAC in the PSI-treated rats, but did not reach statistical significance. DOPAC/DA ratio was unchanged in the PSI-treated rats as compared to controls, highlighting that reduction of DA level in the striatum of PSI treated rats was not attributable to increased DA metabolism.

Other notes

Please test the solubility of all compounds indoor, and the actual solubility may slightly differ with the theoretical value. This is caused by an experimental system error and it is normal.

References:

[1] Sun X, Gulyás M, Hjerpe A, et al. Proteasome inhibitor PSI induces apoptosis in human mesothelioma cells. Cancer letters, 2006, 232(2): 161-169.

[2] Pizzi S D, Rossi C, Di Matteo V, et al. Morphological and metabolic changes in the nigro-striatal pathway of synthetic proteasome inhibitor (PSI)-treated rats: a MRI and MRS study. PloS one, 2013, 8(2): e56501.
Biological Activity
Description
PSI is an inhibitor of Proteasome.
Targets
Proteasome
IC50
Quality Control
Quality Control & MSDS
View current batch:
Chemical structure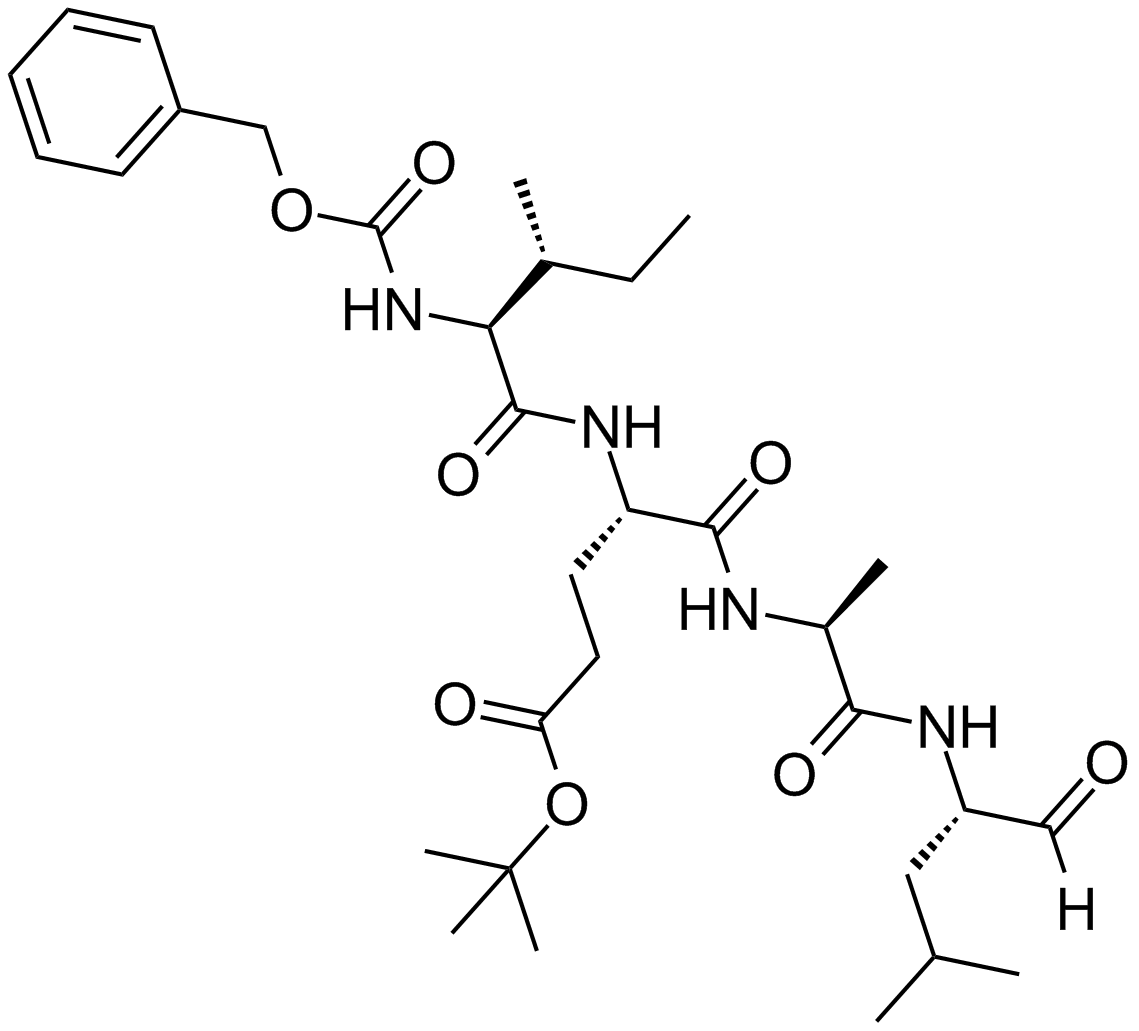 Related Biological Data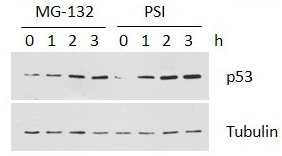 U2O2 cells were treated with MG-132 or PSI for 0, 1, 2, and 3 hours.