Background
PHA-665752 is a potent, ATP-competitive and specific c-Met receptor tyrosine kinase inhibitor with K(i) value of 4 nM and IC50 value of 9nM. PHA-665752 shows more than 50-fold selectivity for c-Met versus other serine-threonine and tyrosine kinases [1].
PHA-665752 has been demonstrated to inhibit hepatocyte growth factor (HGF) and c-Met-mediated cell proliferation, motility, invasion and morphology of pancreatic carcinoma cells BxPC-3, gastric carcinoma cells GTL-16 and lung cancer cells NCI-H441. Additionally, PHA-665752 inhibits the c-MET downstream mediators phosphorylation induced by HGF [1].
In vivo, PHA-665752 inhibits c-Met phosphorylation as well as tumor growth in both S114 and GTL-16 implanted xenograft athymic mice [1].
References:
[1] Christensen JG1, Schreck R, Burrows J, Kuruganti P, Chan E, Le P, Chen J, Wang X, Ruslim L, Blake R, Lipson KE, Ramphal J, Do S, Cui JJ,Cherrington JM, Mendel DB. A selective small molecule inhibitor of c-Met kinase inhibits c-Met-dependent phenotypes in vitro and exhibits cytoreductive antitumor activity in vivo. Cancer Res. 2003 Nov 1;63(21):7345-55.

Product Citation
Chemical Properties
| | |
| --- | --- |
| Physical Appearance | A solid |
| Storage | Store at -20°C |
| M.Wt | 641.61 |
| Cas No. | 477575-56-7 |
| Formula | C32H34Cl2N4O4S |
| Solubility | ≥32.1mg/mL in DMSO |
| Chemical Name | (3Z)-5-[(2,6-dichlorophenyl)methylsulfonyl]-3-[[3,5-dimethyl-4-[(2R)-2-(pyrrolidin-1-ylmethyl)pyrrolidine-1-carbonyl]-1H-pyrrol-2-yl]methylidene]-1H-indol-2-one |
| SDF | Download SDF |
| Canonical SMILES | CC1=C(NC(=C1C(=O)N2CCCC2CN3CCCC3)C)C=C4C5=C(C=CC(=C5)S(=O)(=O)CC6=C(C=CC=C6Cl)Cl)NC4=O |
| Shipping Condition | Evaluation sample solution: ship with blue ice. All other available sizes: ship with RT, or blue ice upon request. |
| General tips | For obtaining a higher solubility, please warm the tube at 37°C and shake it in the ultrasonic bath for a while. Stock solution can be stored below -20°C for several months. |
Biological Activity
Description
PHA-665752 is a potent, selective and ATP-competitive inhibitor of c-Met with IC50 of 9 nM, >50-fold selectivity for c-Met than RTKs or STKs.
Targets
c-Met
IC50
9 nM
Quality Control
Quality Control & MSDS
View current batch:
Chemical structure
Related Biological Data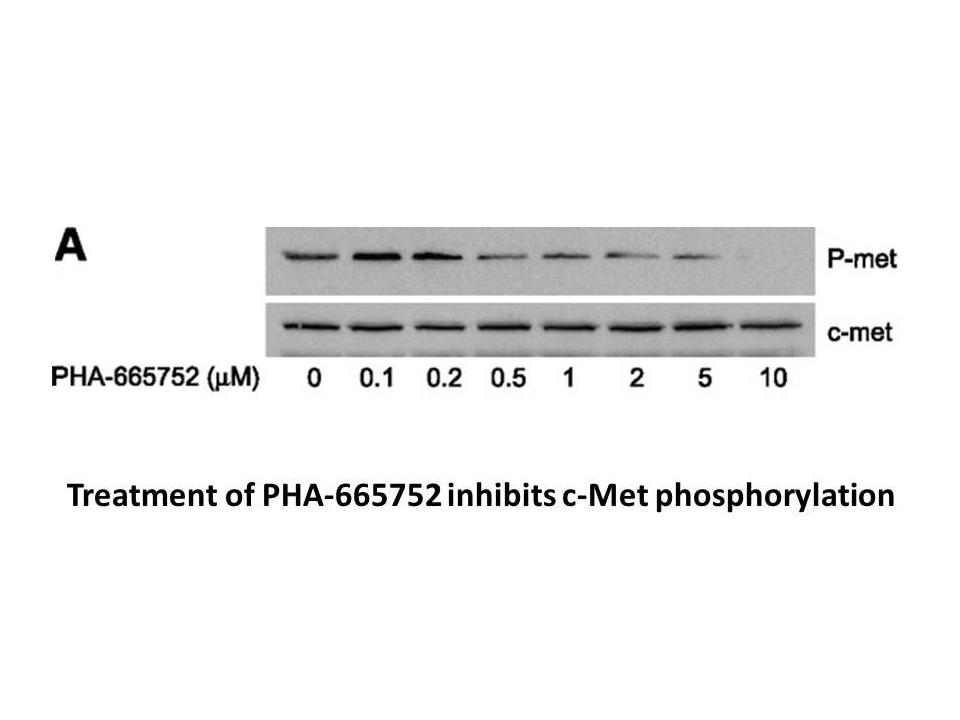 Related Biological Data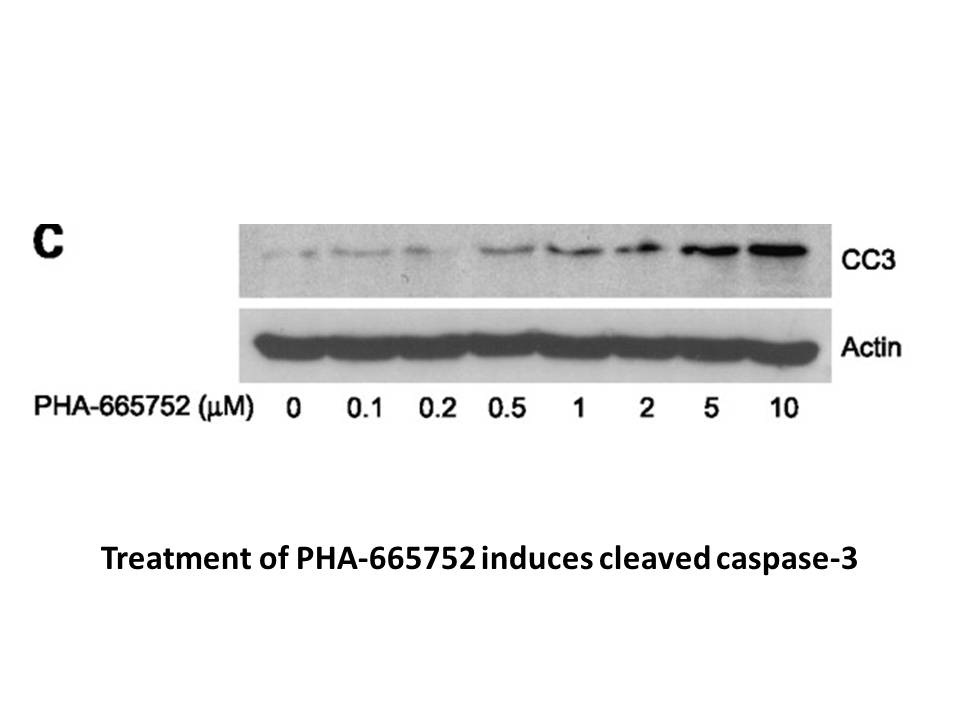 Related Biological Data