Background
PFI-1 (PF-6405761) is a selective inhibitor of BET for Brd4 and Brd2 with IC50 value of 220 nM and 98 nM, respectively [1].
BET family are transcriptional regulators which consist of Brd2, Brd3, Brd4 and BRDT and play a pivotal role in cell proliferation, cell cycle progression, and apoptosis. It has been shown that Brd4 involves in the survival of many diverse tumors via promoting growth transcription and anti-apoptosis genes. It is well known that BET are epigenetic readers which selectively bind to acetylated lysine residues on histone tails and recently BET inhibitor emerged as important therapy in NUT midline carcinoma and several types of hematopoietic cancers [2, 3].
PFI-1 is a potent BET inhibitor and has a similar selectivity with the reported BET inhibitor JQ1. When tested with BEAS-2Bs cells, PFI-1 treatment markedly suppressed the release of IL-6 and CXCL8 induced by IL-1β/H2O2 by inhibiting Brd4 [4]. In leukaemic cell line MV4 which were sensitive to BET inhibitors, PFI-1 treatment induced cell cycle and apoptosis through function on Brd4 [1]. When tested with NET cell lines, administration of PFI-1 reduced cell proliferation by inhibiting BET activity at low concentrations of 100 nM–1 μM [5].
References:
[1]. Picaud, S., et al., PFI-1, a highly selective protein interaction inhibitor, targeting BET Bromodomains. Cancer Res, 2013. 73(11): p. 3336-46.
[2]. Perry, M.M., et al., BET bromodomains regulate TGF-beta-induced proliferation and cytokine release in asthmatic airway smooth muscle. J Biol Chem, 2015.
[3]. Yu, L., et al., Small-Molecule BET Inhibitors in Clinical and Preclinical Development and Their Therapeutic Potential. Curr Top Med Chem, 2015.
[4]. Khan, Y.M., et al., Brd4 is essential for IL-1beta-induced inflammation in human airway epithelial cells. PLoS One, 2014. 9(4): p. e95051.
[5]. Kate E Lines, et al., Epigenetic modifiers reduce proliferation of human neuroendocrine tumour cell lines. Endocrine Abstracts, 2013. 31: p149.
Product Citation
Chemical Properties
| | |
| --- | --- |
| Storage | Store at -20°C |
| M.Wt | 347.39 |
| Cas No. | 1403764-72-6 |
| Formula | C16H17N3O4S |
| Solubility | ≥128.4 mg/mL in DMSO,insoluble in EtOH,insoluble in H2O |
| Chemical Name | 2-methoxy-N-(3-methyl-2-oxo-1,4-dihydroquinazolin-6-yl)benzenesulfonamide |
| SDF | Download SDF |
| Canonical SMILES | CN1CC2=C(C=CC(=C2)NS(=O)(=O)C3=CC=CC=C3OC)NC1=O |
| Shipping Condition | Evaluation sample solution: ship with blue ice. All other available sizes: ship with RT, or blue ice upon request. |
| General tips | For obtaining a higher solubility, please warm the tube at 37°C and shake it in the ultrasonic bath for a while. Stock solution can be stored below -20°C for several months. |
Biological Activity
Description
PFI-1 is a selective inhibitor of BET (bromodomain-containing protein) with an IC50 value of 0.22 μM for BRD4 .
Targets
BRD4
IC50
0.22 μM
Quality Control
Quality Control & MSDS
View current batch:
Chemical structure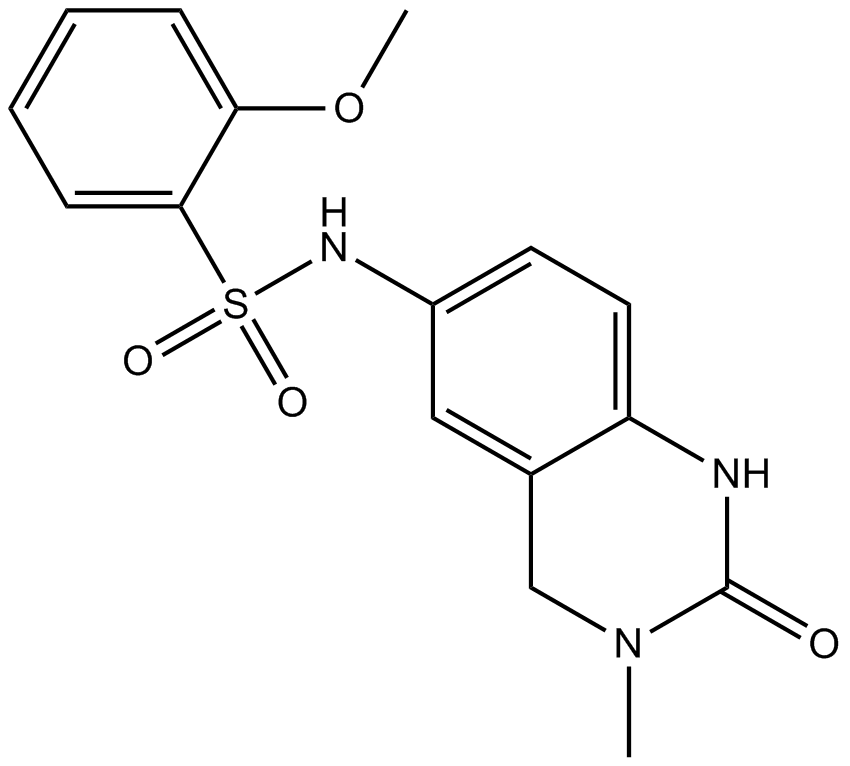 Related Biological Data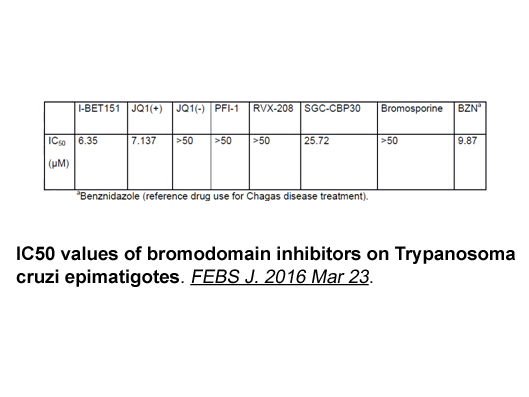 Related Biological Data