PF-00562271
FAK/Pyk2 inhibitor,potent and ATP-competitive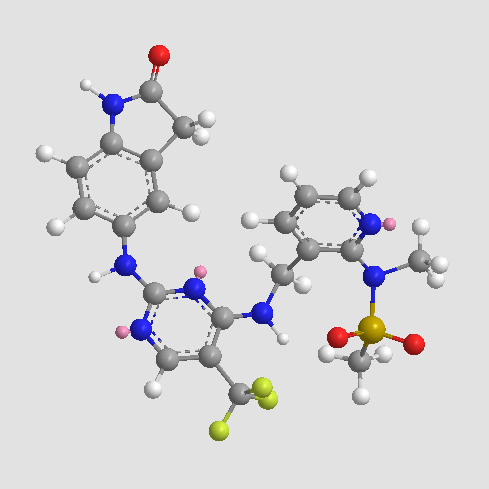 Sample solution is provided at 25 µL, 10mM.
Publications citing ApexBio Products
Related Compound Libraries
Quality Control
Quality Control & MSDS
View current batch:
Chemical structure
Related Biological Data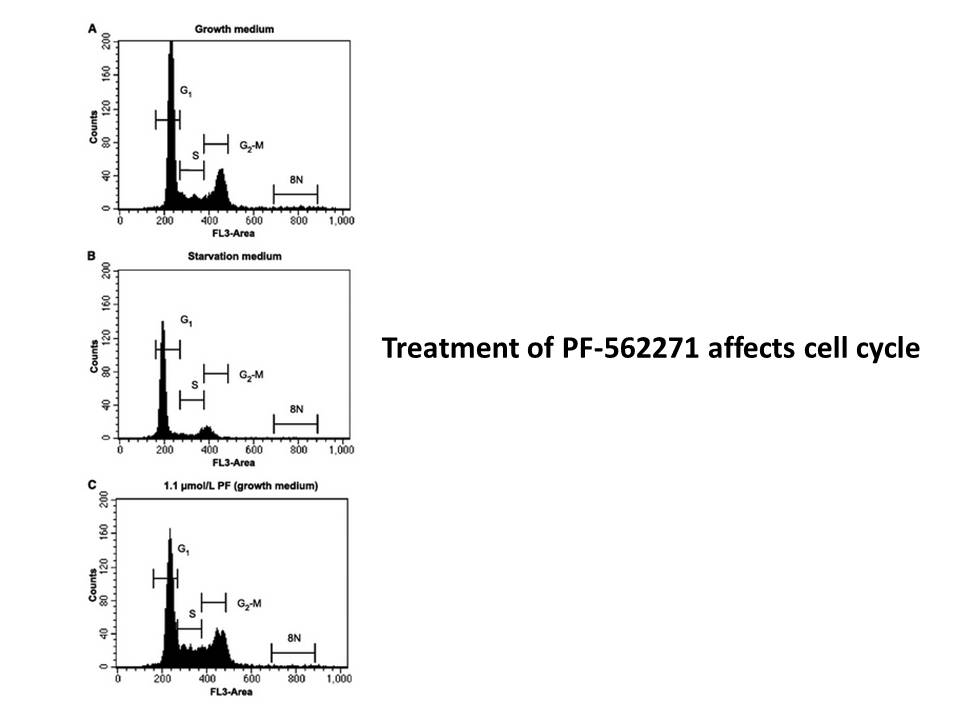 Related Biological Data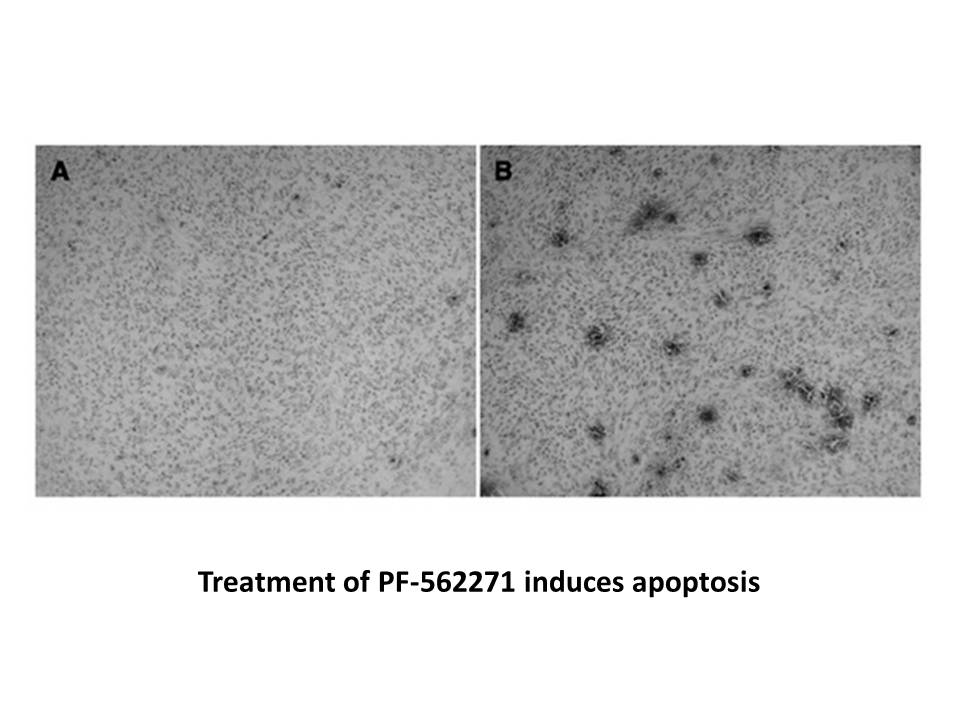 Biological Activity
Description
PF-00562271, the benzenesulfonate salt of PF-562271, is a potent, ATP-competitive, reversible inhibitor of FAK with IC50 of 1.5 nM, ~10-fold less potent for Pyk2 than FAK and >100-fold selectivity against other protein kinases, except for some CDKs.
Targets
FAK
Pyk2
IC50
1.5 nM
14 nM
Chemical Properties
Cas No.
939791-38-5
SDF
Download SDF
Synonyms
PF-562271;PF00562271;PF62271
Chemical Name
benzenesulfonic acid;N-methyl-N-[3-[[[2-[(2-oxo-1,3-dihydroindol-5-yl)amino]-5-(trifluoromethyl)pyrimidin-4-yl]amino]methyl]pyridin-2-yl]methanesulfonamide
Canonical SMILES
CN(C1=C(C=CC=N1)CNC2=NC(=NC=C2C(F)(F)F)NC3=CC4=C(C=C3)NC(=O)C4)S(=O)(=O)C.C1=CC=C(C=C1)S(=O)(=O)O
Formula
C21H20F3N7O3S.C6H6O3S
M.Wt

665.66

Solubility
Soluble in DMSO > 10 mM
Storage
Store at -20°C
General tips
N/A
Shipping Condition
N/A
Background
PF-562271 is a potent, ATP-competitive and reversible inhibitor of both focal adhesion kinase (FAK), a non-receptor tyrosine kinase involved in a variety of cellular events, and proline-rich tyrosine kinase 2 (Pyk2), an FAK homolog containing 48% amino acid identity, with half maximal inhibitory concentration (IC50) of 1.5 nmol/L and 14 nmol/L respectively. As a potential therapeutic agent either alone or in combination with other agents for the treatment of cancer, PF-562271 has been reported to effectively inhibit the proliferation of tumors in both xenograft and transgenic mouse models, in which it dose-dependently inhibits FAK phosphorylation in tumor-bearing mice with half maximal effective concentration (EC50) of 93 ng/mL.
References:
[1]Stokes JB, Adair SJ, Slack-Davis JK, Walters DM, Tilghman RW, Hershey ED, Lowrey B, Thomas KS, Bouton AH, Hwang RF, Stelow EB, Parsons JT, Bauer TW. Inhibition of focal adhesion kinase by PF-562,271 inhibits the growth and metastasis of pancreatic cancer concomitant with altering the tumor microenvironment. Mol Cancer Ther. 2011 Nov;10(11):2135-45. doi: 10.1158/1535-7163.MCT-11-0261. Epub 2011 Sep 8.
[2]Roberts WG, Ung E, Whalen P, Cooper B, Hulford C, Autry C, Richter D, Emerson E, Lin J, Kath J, Coleman K, Yao L, Martinez-Alsina L, Lorenzen M, Berliner M, Luzzio M, Patel N, Schmitt E, LaGreca S, Jani J, Wessel M, Marr E, Griffor M, Vajdos F. Antitumor activity and pharmacology of a selective focal adhesion kinase inhibitor, PF-562,271. Cancer Res. 2008 Mar 15;68(6):1935-44. doi: 10.1158/0008-5472.CAN-07-5155.