PD153035 hydrochloride
Potent EGFR inhibitor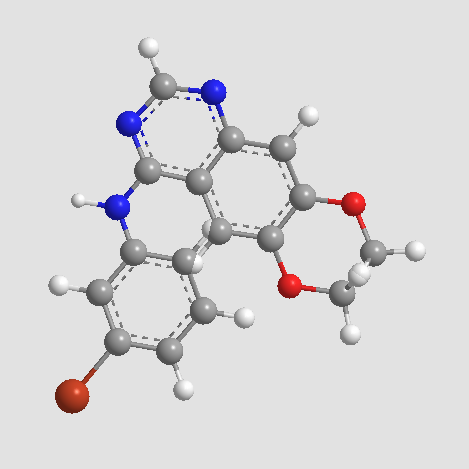 Sample solution is provided at 25 µL, 10mM.
Publications citing ApexBio Products
Related Compound Libraries
Quality Control
Quality Control & MSDS
View current batch:
Chemical structure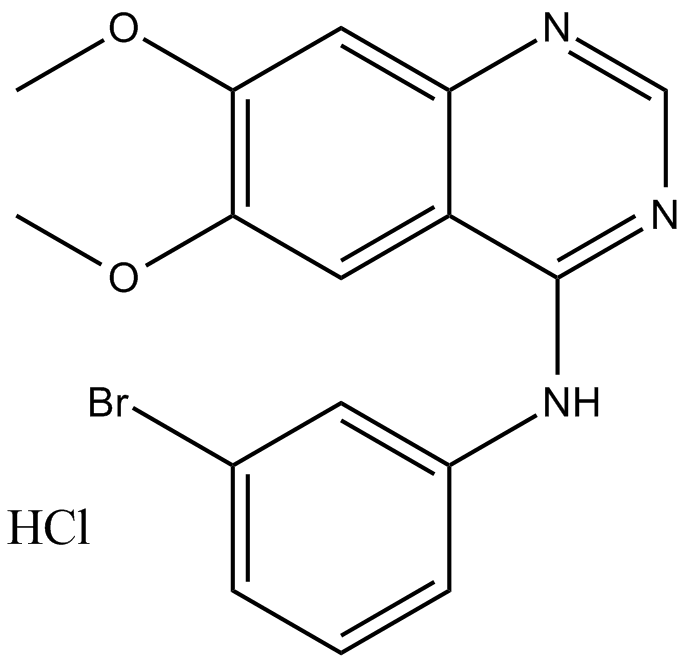 Related Biological Data
Treatment of EGFR inhibitor PD153035
Related Biological Data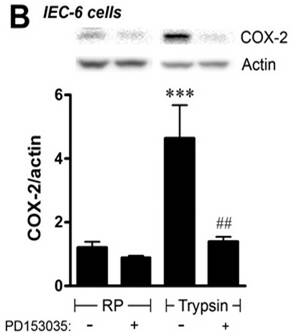 Treatment of EGFR inhibitor PD153035
Biological Activity
Description
PD153035 is a potent and specific inhibitor of EGFR with Ki and IC50 of 5.2 pM and 29 pM.
Targets
EGFR
EGFR
IC50
5.2 pM (Ki)
29 pM
Chemical Properties
Cas No.
153436-54-5
SDF
Download SDF
Synonyms
ZM252868,PD153035 HCL
Chemical Name
N-(3-bromophenyl)-6,7-dimethoxyquinazolin-4-amine
Canonical SMILES
COC1=C(C=C2C(=C1)C(=NC=N2)NC3=CC(=CC=C3)Br)OC
Formula
C16H14BrN3O2.HCl
M.Wt

396.67

Solubility
Limited solubility
Storage
Store at RT
General tips
N/A
Shipping Condition
N/A
Background
PD153035 (4-(3-Bromoanilino)-6,7-dimethoxyquinazoline) is an extremely potent epidermal growth factor receptor (EGFR) inhibitor that competitively binds at the ATP site with the half maximal inhibition concentration IC50 of 0.025 nM resulting in the inhibition of the tyrosine kinase activity of the EGFR [1].
PD153035 has been found to inhibit EGF-dependent EGFR phosphorylation in a variety of human cancer cell lines over-expressing EGFRs, which include A431, Difi, DU145, MDA-MB-468, ME180 and C4i, with IC50 of 0.22 μM, 0.3 μM, 0.4 μM, 0.68 μM, 0.95 μM and 2.5 μM respectively leading to suppression of proliferation and clonogenicity in those cell lines [2].
Besides exerting potent inhibition against EGFRs, PD153035 also inhibits the closely related HER2/neu receptor but to a lesser degree [2].
References:
[1] Bridges AJ, Zhou H, Cody DR, Rewcastle GW, McMichael A, Showalter HD, Fry DW, Kraker AJ, Denny WA. Tyrosine kinase inhibitors. 8. An unusually steep structure-activity relationship for analogues of 4-(3-bromoanilino)-6,7-dimethoxyquinazoline (PD 153035), a potent inhibitor of the epidermal growth factor receptor. J Med Chem. 1996 Jan 5;39(1):267-76.
[2] Bos M, Mendelsohn J, Kim YM, Albanell J, Fry DW, Baselga J. PD153035, a tyrosine kinase inhibitor, prevents epidermal growth factor receptor activation and inhibits growth of cancer cells in a receptor number-dependent manner. Clin Cancer Res. 1997 Nov;3(11):2099-106.