PCI-34051
HDAC8 inhibitor,potent and selective
Sample solution is provided at 25 µL, 10mM.
Publications citing ApexBio Products
Related Compound Libraries
Quality Control
Quality Control & MSDS
View current batch:
Chemical structure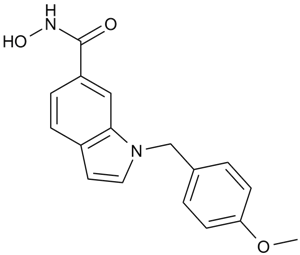 Biological Activity
Description
PCI-34051 is a potent and specific inhibitor of HDAC8 with an IC50 value of 10 nM.
Targets
HDAC8
HDAC6
HDAC1
HDAC10
HDAC2
HDAC3
IC50
10 nM
2.9 μM
4 μM
13 μM
>50 μM
>50 μM
Protocol
Kinase experiment [1]:

Histone deacetylase activity

For PCI-34051 characterization, measurements were perfomed in a reaction volume of 100 μL using 96-well assay plates in a fluorescence plate reader. For each isozyme, the HDAC protein in reaction buffer (50 mM HEPES, 100 mM KCl, 0.001% Tween-20, 5% dimethyl sulfoxide, pH 7.4, supplemented with bovine serum albumin at concentrations of 0 ~ 0.05%) was mixed with PCI-34051 at various concentrations and allowed to incubate for 15 mins. Trypsin was added to a final concentration of 50 nM, and acetyl-Gly-Ala-(N-acetyl-Lys)-amino-4-methylcoumarin was added to a final concentration of 25 ~ 100 μM to initiate the reaction. After a 30 min lag time, the fluorescence was measured over a 30 min time frame using an excitation wavelength of 335 nm and a detection wavelength of 460 nm. The increase in fluorescence with time was used as the measure of the reaction rate.

Cell experiment [1]:

Cell lines

T-cell derived lines (Jurkat, HuT78, HSB-2 and Molt-4 cells)

Preparation method

The solubility of this compound in DMSO is >10 mM. General tips for obtaining a higher concentration: Please warm the tube at 37℃ for 10 minutes and/or shake it in the ultrasonic bath for a while. Stock solution can be stored below -20℃ for several months.

Reaction Conditions

5 μM; 2 days

Applications

The HDAC8-selective inhibitor PCI-34051 was cytotoxic to T-cell derived lines.

References:

[1]. Balasubramanian S, Ramos J, Luo W, Sirisawad M, Verner E, Buggy JJ. A novel histone deacetylase 8 (HDAC8)-specific inhibitor PCI-34051 induces apoptosis in T-cell lymphomas. Leukemia. 2008 May;22(5):1026-34.
Chemical Properties
Cas No.
950762-95-5
SDF
Download SDF
Synonyms
PCI34051, PCI 34051
Chemical Name
N-hydroxy-1-[(4-methoxyphenyl)methyl]indole-6-carboxamide
Canonical SMILES
COC1=CC=C(C=C1)CN2C=CC3=C2C=C(C=C3)C(=O)NO
Formula
C17H16N2O3
M.Wt

296.32

Solubility
Soluble in DMSO > 10 mM
Storage
Store at -20°C
General tips
No
Shipping Condition
No
Background
PCI-34051 is a potent, specific inhibitor of histone deacetylase 8 (HDAC8) with greater than 200-fold selectivity over the other HDAC isoforms, such as 1, 2, 3, 6 and 10. It induces caspase dependent apoptosis in cell lines derived from T-cell lymphomas or leukemias, but not in other hematopoietic or solid tumor lines. PCI-34051 does not cause detectable histone or tubulin acetylation and also does not inhibit growth or induce apoptosis in normal cells such as PBMCs or fibroblasts. Although a phospholipase C-gamma1 (PLCgamma1) defective line is resistant, cells defective in T-cell receptor signaling are still sensitive to PCI-34051 induced apoptosis.
References:
[1]. S Balasubramanian, J Ramos, W Luo, M Sirisawad, E Verner, J J Buggy. A novel histone deacetylase 8 (HDAC8)-specific inhibitor PCI-34051 induces apoptosis in T-cell lymphomas. Leukemia (2008) 22, 1026–1034.
[2]. Sriram Balasubramanian, Erik Verner, Joseph J. Buggy. Isoform-specific histone deacetylase inhibitors: The next step? Cancer Letters. Volume 280, Issue 2, 8 August 2009, Pages 211–221.