Neratinib (HKI-272)
HER2/EGFR inhibitor,potent and irreversible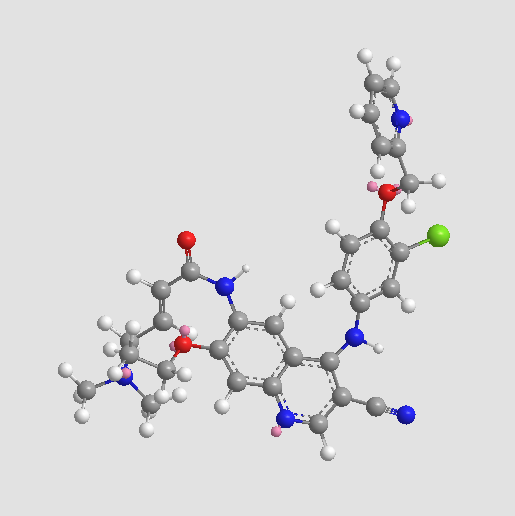 Sample solution is provided at 25 µL, 10mM.
Publications citing ApexBio Products
Related Compound Libraries
Quality Control
Quality Control & MSDS
View current batch:
Chemical structure
Biological Activity
Description
Neratinib (HKI-272) is a highly selective inhibitor of HER2 and EGFR with IC50 of 59 nM and 92 nM, respectively.
Targets
HER2
EGFR
IC50
59 nM
92 nM
Chemical Properties
Cas No.
698387-09-6
SDF
Download SDF
Synonyms
HKI-272;HKI272;HKI 272
Chemical Name
(E)-N-[4-[3-chloro-4-(pyridin-2-ylmethoxy)anilino]-3-cyano-7-ethoxyquinolin-6-yl]-4-(dimethylamino)but-2-enamide
Canonical SMILES
CCOC1=C(C=C2C(=C1)N=CC(=C2NC3=CC(=C(C=C3)OCC4=CC=CC=N4)Cl)C#N)NC(=O)C=CCN(C)C
Formula
C30H29ClN6O3
M.Wt

557.04

Solubility
Limited solubility
Storage
Store at -20°C
General tips
N/A
Shipping Condition
N/A
Background
IC50: 59 nM (Her-2); 92 nM (EGFR)
HER-2 belongs to the ErbB family of receptor tyrosine kinases, which has been implicated in a variety of cancers. Overexpression of HER-2 is seen in 25–30% of breast cancer patients and predicts a poor outcome in patients with primary disease. Neratinib (HKI-272) is a tyrosine kinase inhibitor under investigation for the treatment breast cancer and other solid tumours.
In vitro: Neratinib (HKI-272) is a potent inhibitor of HER-2 and is highly active against HER-2-overexpressing human breast cancer cell lines in vitro. It also inhibits the epidermal growth factor receptor (EGFR) kinase and the proliferation of EGFR-dependent cells. Neratinib reduces HER-2 receptor autophosphorylation in cells at doses consistent with inhibition of cell proliferation and functions as an irreversible binding inhibitor, most likely by targeting a cysteine residue in the ATP-binding pocket of the receptor. In agreement with the predicted effects of HER-2 inactivation, Neratinib treatment of cells results in inhibition of downstream signal transduction events and cell cycle regulatory pathways. This leads to arrest at the G1-S (Gap 1/DNA synthesis)-phase transition of the cell division cycle, ultimately resulting in decreased cell proliferation [1].
In vivo: In vivo, Neratinib is active in HER-2- and EGFR-dependent tumor xenograft models when dosed orally on a once daily schedule. On the basis of its favorable preclinical pharmacological profile, Neratinib has been selected as a candidate for additional development as an antitumor agent in breast and other HER-2-dependent cancers [1].
Clinical trial: Neratinib is in development for the treatment of early- and late-stage HER2-positive breast cancer. Neratanib is being developed by Puma Biotechnology. It will be included in the forthcoming I-SPY2 breast cancer trial (http://en.wikipedia.org/wiki/Neratinib).
Reference:
[1] Rabindran SK, Discafani CM, Rosfjord EC, Baxter M, Floyd MB, Golas J, Hallett WA, Johnson BD, Nilakantan R, Overbeek E, Reich MF, Shen R, Shi X, Tsou HR, Wang YF, Wissner A. Antitumor activity of HKI-272, an orally active, irreversible inhibitor of the HER-2 tyrosine kinase. Cancer Res. 2004;64(11):3958-65.