Background
MDV3100, known as Enzalutamide, is a second-generation androgen receptor (AR) signaling inhibitor. It has been demonstrated impressive affinity to the AR compared to the first-generation AR inhibitors. It is able to inhibit binding of androgens to the AR, AR nuclear translocation, and the association of the AR with DNA. The AR is a 919-amino acid member of the steroid receptor transcription factor superfamily with different domains including an N-terminal regulation domain, a central DNA binding domain, and a C-terminal domain, which includes the ligand-binding domain incorporated within its protein structure. MDV3100 was identified by the Sawyers/Jung laboratories by using the nonsteroidal agonist. Testing was showing that it induced apoptosis in VCaP cells, an AR gene amplified human prostate cancer line, while bicalutamide was ineffective.
Reference
Howard I. Scher, Karim Fizazi, Fred Saad, Mary-Ellen Taplin, Cora N. Sternberg, Kurt Miller, Ronald De Wit, Peter Mulders, Mohammad Hirmand, Bryan Selby, Johann Sebastian. Effect of MDV3100, an androgen receptor signaling inhibitor (ARSI), on overall survival in patients with prostate cancer postdocetaxel: Results from the phase III AFFIRM study. Journal of Clinical Oncology. 2012; 30(5):
Manoj P. Menon, Celestia S. Higano. Enzalutamide, a Second Generation Androgen Receptor Antagonist: Development and Clinical Applications in Prostate Cancer. Current Oncology Reports. 2013; 15(2): 69 – 75.
Joelle El-Amm, Nihar Patel, Ashley Freeman, Jeanny B. Aragon-Ching. Metastatic Castration-Resistant Prostate Cancer: Critical Review of Enzalutamide. Clinical Medicine Insights: Oncology. 2013; 7: 235 – 245.
Product Citation
Chemical Properties
| | |
| --- | --- |
| Physical Appearance | A solid |
| Storage | Store at -20°C |
| M.Wt | 464.4 |
| Cas No. | 915087-33-1 |
| Formula | C21H16F4N4O2S |
| Synonyms | Enzalutamide, MDV3100, MDV-3100, MDV 3100 |
| Solubility | ≥23.22mg/mL in DMSO |
| Chemical Name | 4-[3-[4-cyano-3-(trifluoromethyl)phenyl]-5,5-dimethyl-4-oxo-2-sulfanylideneimidazolidin-1-yl]-2-fluoro-N-methylbenzamide |
| SDF | Download SDF |
| Canonical SMILES | CC1(C(=O)N(C(=S)N1C2=CC(=C(C=C2)C(=O)NC)F)C3=CC(=C(C=C3)C#N)C(F)(F)F)C |
| Shipping Condition | Evaluation sample solution: ship with blue ice. All other available sizes: ship with RT, or blue ice upon request. |
| General tips | For obtaining a higher solubility, please warm the tube at 37°C and shake it in the ultrasonic bath for a while. Stock solution can be stored below -20°C for several months. |
Protocol
Cell experiment:[1]

Cell lines

VCaP, LNCaP, 22RV1, DU145 and PC3 prostate cancer cell lines

Preparation method

The solubility of this compound in DMSO is >10 mM. General tips for obtaining a higher concentration: Please warm the tube at 37 °C for 10 minutes and/or shake it in the ultrasonic bath for a while.Stock solution can be stored below -20°C for several months.

Reaction Conditions

10 μM,12h

Applications

Recruitment of AR to target loci was markedly attenuated by MDV3100 and less so by bicalutamide. Interestingly, JQ1 blocked AR recruitment almost as effectively as MDV3100. Limiting our evaluationto AR and BRD4 coincident peaks, we observed that DHT-mediated AR recruitment to these loci was inhibited by MDV3100 and to a lesser extent by JQ1. Corroborating the ChIP seq data, gene expression analysis in VCaP and LNCaP cells showed more efficient repression of DHT-induced AR-target genes by JQ1 than by MDV3100 or bicalutamide.

Animal experiment:[1]

Animal models

Four-week-old male SCIDC.B17 mice

Dosage form

10 mg/kg,oral gavage or intraperitonially,five days a week

Applications

Treatment of VCaP tumour-bearing mice with JQ1 led to a significant reduction in tumour volume/weight, whereas MDV3100 had a less pronounced effect. Recently, several studies described the pro-metastatic effects of MDV3100 in pre-clinical models. To test whether MDV3100 treatment leads to spontaneous metastasis in our VCaP xenograft model, we isolated femur,  liver and spleen from MDV3100-treated mice and found evidence of metastases in femur and liver. By contrast, JQ1-treated mice showed no evidence of metastasis. Taken together, these pre-clinical studies suggest that the use of MDV3100 in clinically localized prostate cancer may potentiate the formation of micro-metastases, unlike BET inhibitors.

Other notes

Please test the solubility of all compounds indoor, and the actual solubility may slightly differ with the theoretical value. This is caused by an experimental system error and it is normal.

Phase III experiment [2]:

Target

Men with castration-resistant prostate cancer

Dosage form

160 mg per day (800 patients) or placebo (399 patients)

Applications

The superiority of enzalutamide over placebo was shown with respect to all secondary end points: the proportion of patients with a reduction in the prostate-specific antigen (PSA) level by 50% or more (54% vs. 2%, P<0.001), the soft-tissue response rate (29% vs. 4%, P<0.001), the quality-of-life response rate (43% vs. 18%, P<0.001), the time to PSA progression (8.3 vs. 3.0 months; hazard ratio, 0.25; P<0.001),  radiographic  progression-free  survival  (8.3 vs. 2.9 months; hazard ratio, 0.40; P<0.001), and the time to the first skeletal-related event (16.7 vs. 13.3 months; hazard ratio, 0.69; P<0.001). Rates of fatigue, diarrhea, and hot flashes were higher in the enzalutamide group.

References:

1. Asangani IA, Dommeti VL, Wang X et al. Therapeutic targeting of BET bromodomain proteins in castration-resistant prostate cancer. Nature. 2014 Jun 12;510(7504):278-82.

2. Scher HI, Fizazi K, Saad F et al. Increased survival with enzalutamide in prostate cancer after chemotherapy. N Engl J Med. 2012 Sep 27;367(13):1187-97.
Biological Activity
Description
Enzalutamide (MDV3100) is an antagonist of androgen-receptor (AR) with IC50 of 36 nM.
Targets
Androgen-receptor
IC50
36 nM
Quality Control
Quality Control & MSDS
View current batch:
Chemical structure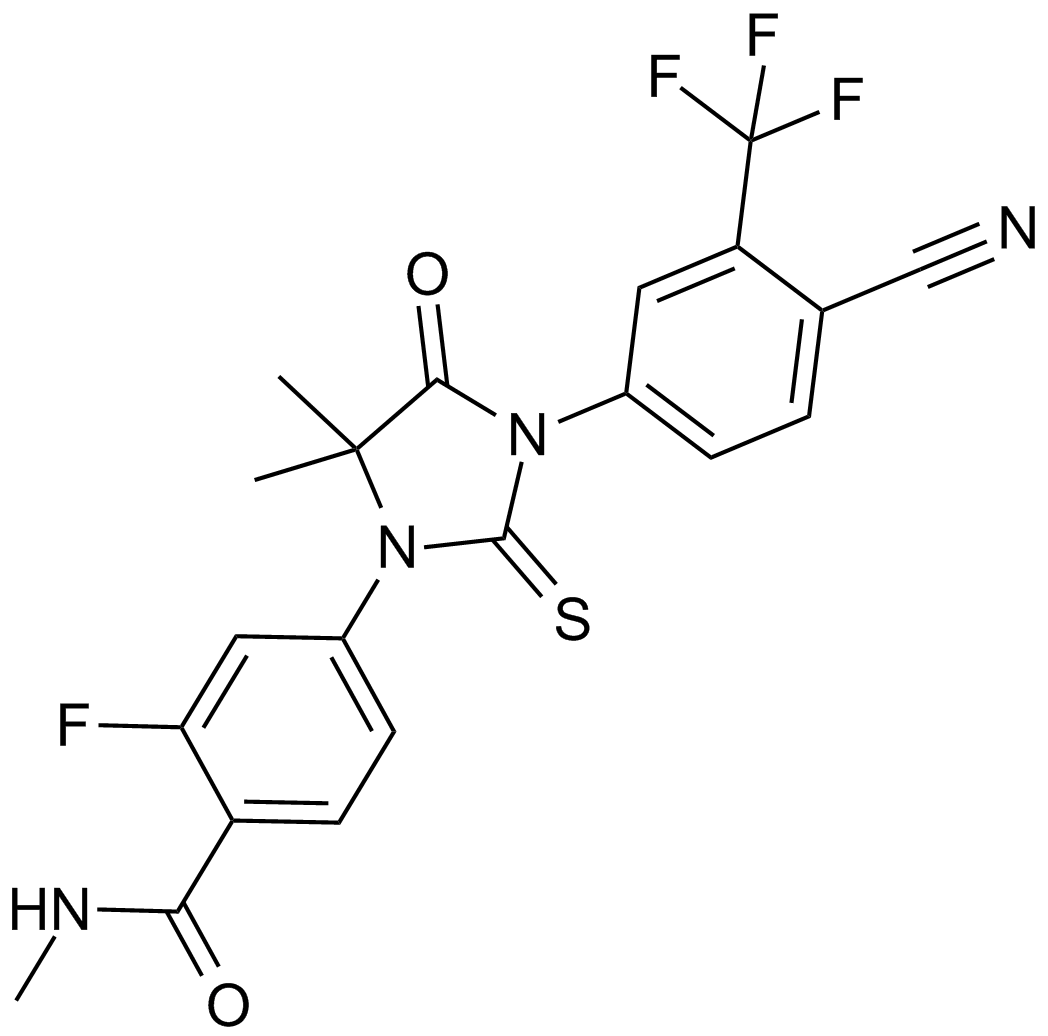 Related Biological Data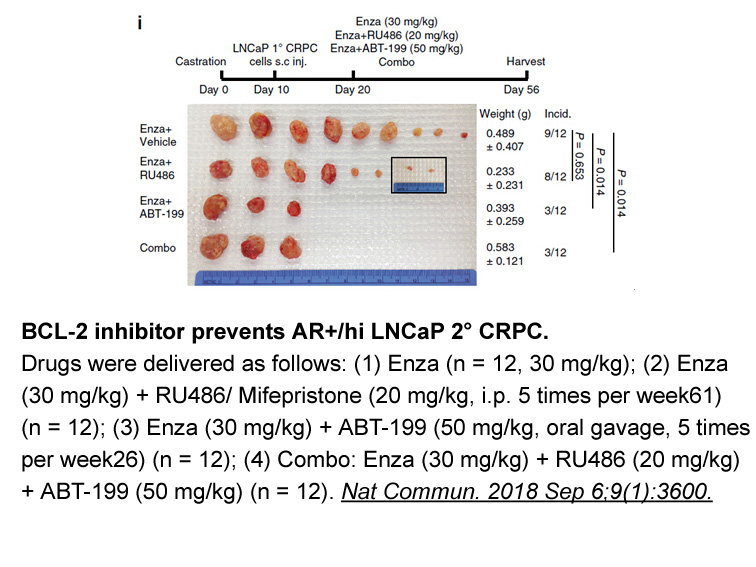 Related Biological Data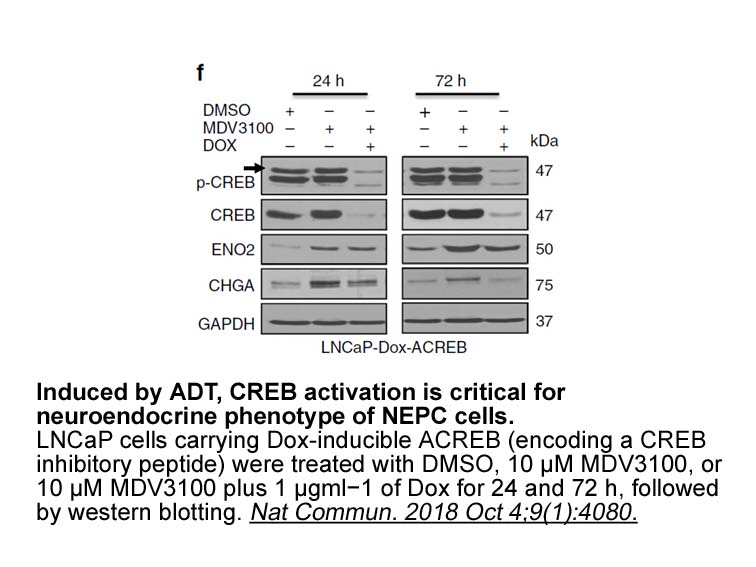 Related Biological Data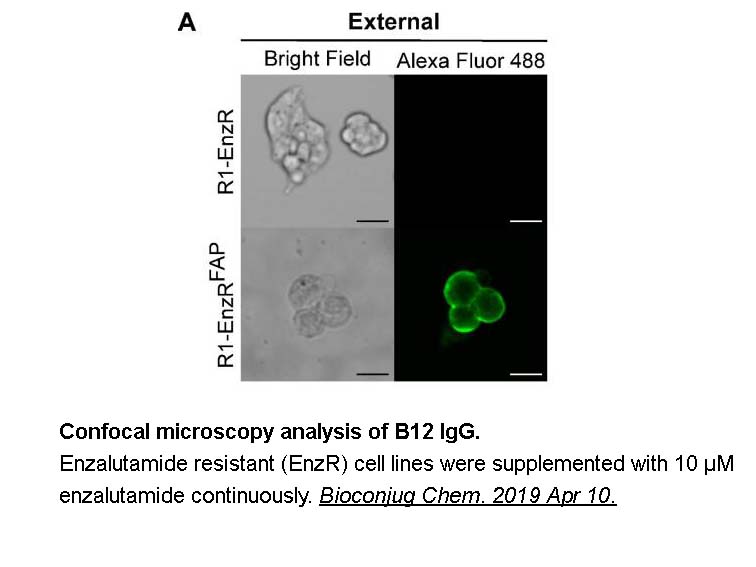 Related Biological Data
Related Biological Data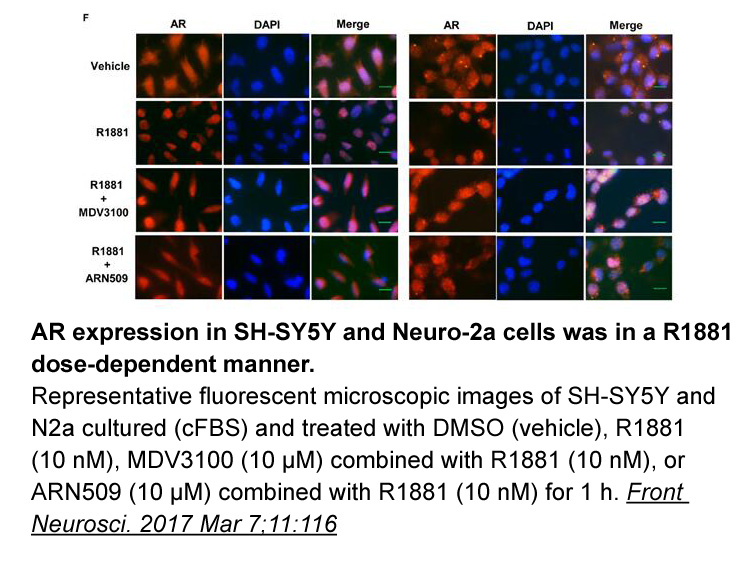 Related Biological Data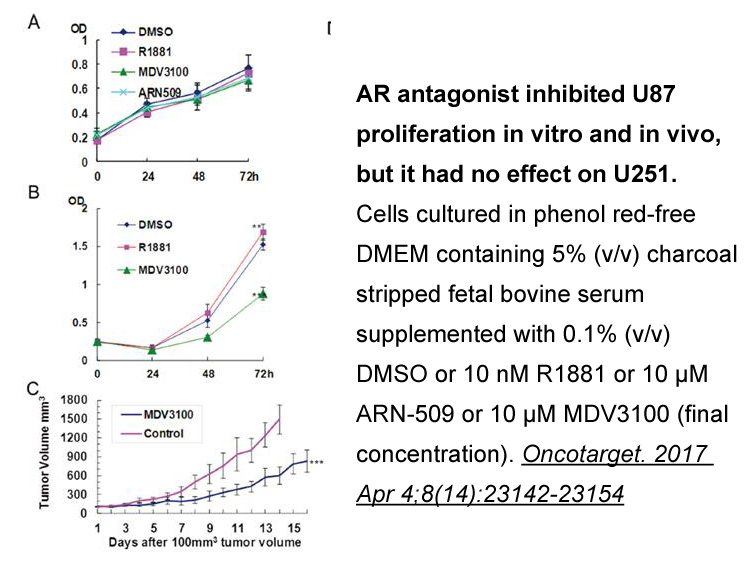 Related Biological Data