Background
Lapatinib Ditosylate is a selective dual inhibitor of ErbB-2 and EGFR with IC50 value against ErbB-2 and EGFR of 9.2 and 10.8 nM in vitro, respectively. [1]
The EGFR and ErbB-2 all are the type I receptor tyrosine kinase that exists on the cell surface and have been recognised as potential targets for cancers. A conformational change happens by binding of its specific ligands in the receptor then activates the kinase domain. Whereas, erbB2 is generally thought that it has no known direct activating ligand, and it may become active by heterodimerization with other ligand-bound family members. EGFR dimerization stimulates protein-tyrosine kinase activity and elicits downstream signaling by several other proteins. These proteins initiate several signal transduction pathway. EGFR and ErbB-2 are well known to stimulate cell division through the Ras pathway, and resulting in cell growth through the PI3K pathway. [1]
Lapatinib is a selective inhibitor of the ErbB-2 and EGFR. Lapatinib was>300 fold selective for ErbB-2 and EGFR over other kinases, such as MEK, ERK. Lapatinib likely competed intracellular ATP with Erb-2 and EGFR,then inhibit the activation of them. Lapatinib inhibited the growth of human tumor cells in a cell-based proliferation assay. The IC50 values was < 0.16nM in the ErbB-2- and EGFR -overexpressing cell lines: HN5, A-431. In the cell lines expressing low level ErbB-2- and EGFR. The IC50 values were about 25-fold higher than in the overexpressing cell lines. Lapatinib resulted in G1 arrest at 10nM in HN5 cells. Lapatinib inhibited phos phorylated Er k1/2 100% at 5 nM in an erbB2 overexpressing cell line. Lapatinib inhibited EGF stimulated p-Erk1/ 2 at 1 nM and complet ely inh ibited p-AKT.[1, 2]
In human breast cancer xenografts, tumor volumes in mice at the dose of 75 mg/kg of lapatinib twice daily were significantly smaller than the vehicle control, at day 21.[3] Lapatinib completely inhibited the growth of HN5 and BT474 human tumor xenografts at the 100 mg/kg dose, twice daily.[1]
References:
1.Rusnak DW, Lackey K, Affleck K, Wood ER, Alligood KJ, Rhodes N, Keith BR, Murray DM, Knight WB, Mullin RJ et al: The effects of the novel, reversible epidermal growth factor receptor/ErbB-2 tyrosine kinase inhibitor, GW2016, on the growth of human normal and tumor-derived cell lines in vitro and in vivo. Mol Cancer Ther 2001, 1(2):85-94.
2.Xia W, Mullin RJ, Keith BR, Liu LH, Ma H, Rusnak DW, Owens G, Alligood KJ, Spector NL: Anti-tumor activity of GW572016: a dual tyrosine kinase inhibitor blocks EGF activation of EGFR/erbB2 and downstream Erk1/2 and AKT pathways. Oncogene 2002, 21(41):6255-6263.
3.Konecny GE, Pegram MD, Venkatesan N, Finn R, Yang G, Rahmeh M, Untch M, Rusnak DW, Spehar G, Mullin RJ et al: Activity of the dual kinase inhibitor lapatinib (GW572016) against HER-2-overexpressing and trastuzumab-treated breast cancer cells. Cancer Res 2006, 66(3):1630-1639.
Chemical Properties
| | |
| --- | --- |
| Physical Appearance | A solid |
| Storage | Store at RT |
| M.Wt | 925.46 |
| Cas No. | 388082-77-7 |
| Formula | C29H26ClFN4O4S 2C7H8O3S |
| Synonyms | Tykerb Ditosylate |
| Solubility | ≥24.3 mg/mL in DMSO; insoluble in EtOH; insoluble in H2O |
| Chemical Name | N-(3-chloro-4-((3-fluorobenzyl)oxy)phenyl)-6-(5-(((2-(methylsulfonyl)ethyl)amino)methyl)furan-2-yl)quinazolin-4-amine bis(4-methylbenzenesulfonate) |
| SDF | Download SDF |
| Canonical SMILES | O=S(CCNCC1=CC=C(C2=CC3=C(NC4=CC=C(OCC5=CC=CC(F)=C5)C(Cl)=C4)N=CN=C3C=C2)O1)(C)=O.O=S(C6=CC=C(C)C=C6)(O)=O.O=S(C7=CC=C(C)C=C7)(O)=O |
| Shipping Condition | Evaluation sample solution: ship with blue ice. All other available sizes: ship with RT, or blue ice upon request. |
| General tips | For obtaining a higher solubility, please warm the tube at 37°C and shake it in the ultrasonic bath for a while. Stock solution can be stored below -20°C for several months. |
Biological Activity
Description
Lapatinib Ditosylate (GW572016, GW2016) is a potent inhibitor of EGFR and ErbB2 with IC50 of 10.8 and 9.2 nM, respectively.
Targets
EGFR
ErbB2
IC50
10.8 nM
9.2 nM
Quality Control
Quality Control & MSDS
View current batch:
Chemical structure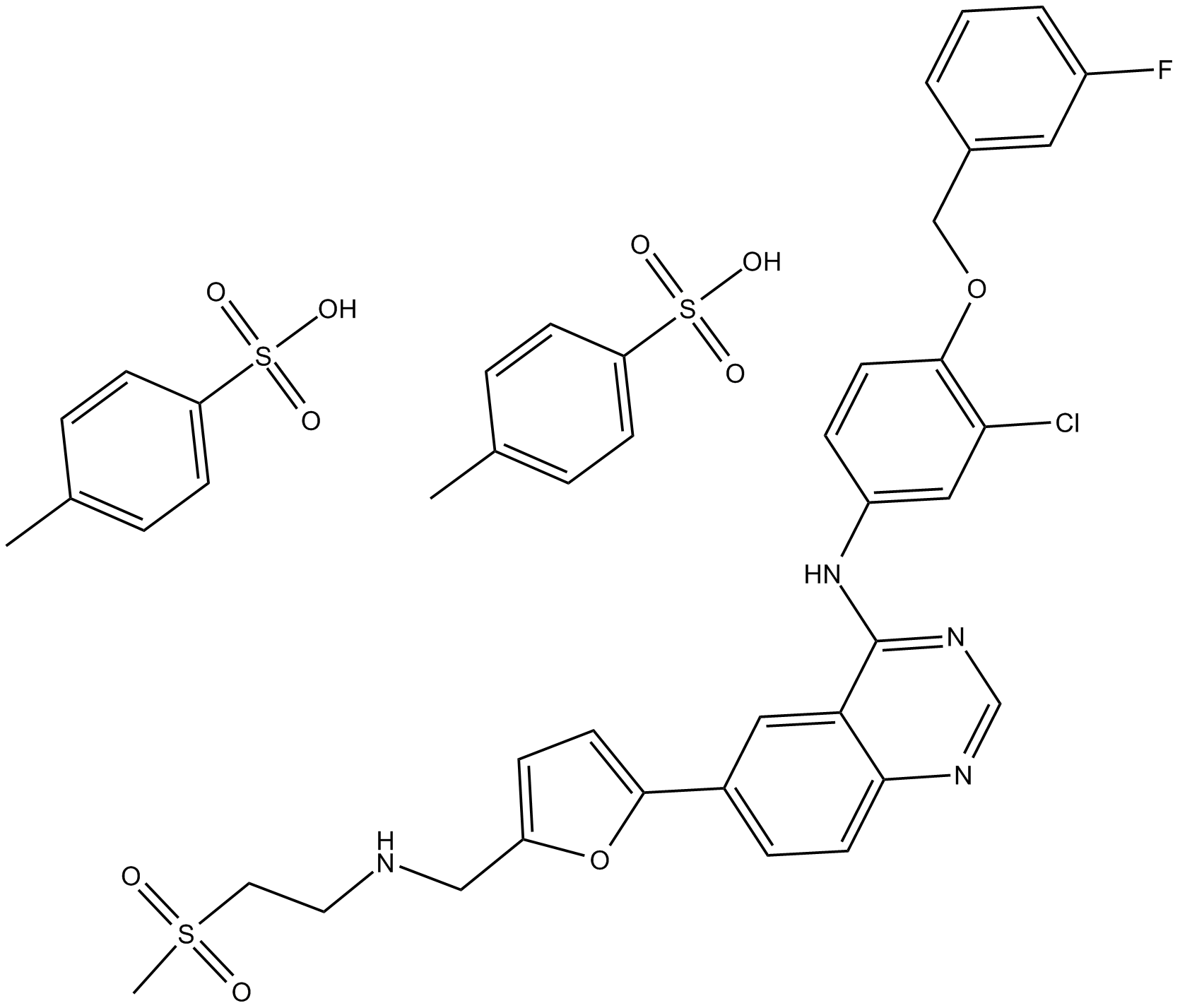 Related Biological Data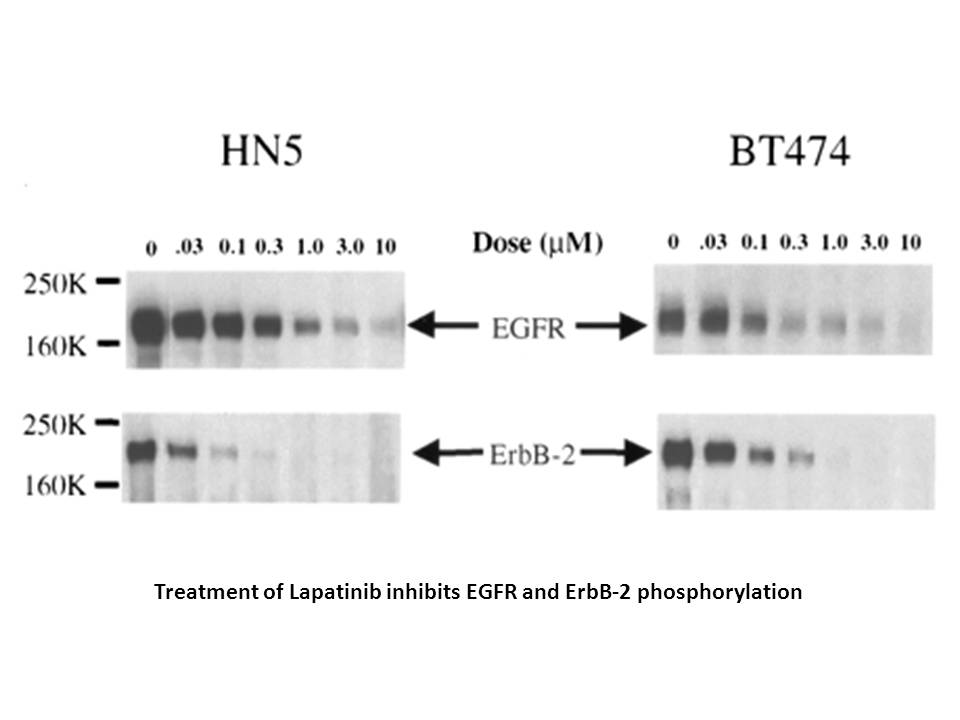 Related Biological Data