Background
Description:IC50: 170 nm (CREBBP/EP300)
A bromodomain is an approximately 110 amino acid protein domain that recognizes monoacetylated lysine residues such as those on the N-terminal tails of histones. Members of the BET family (Bromodomain and extraterminal domain family) have been implicated as targets in human cancer. Inhibitors of BET have shown therapeutic effects in multiple models of hematological malignancies as well as solid tumors. SGC have developed an inhibitor, I-CBP112, against the CREBBP and EP300 Bromodomains.
In vitro: A CREBBP/EP300-selective chemical probe from a completely different structural class which was also developed by the SGC is I-CBP112. I-CBP112 has an IC50 value of 170 nm in the CREBBP AlphaScreen assay, and is selective against the bromodomain proteins ATAD2, BAZ2B, BRD2(BD2), BRD4 (BD1), PB1(BD5), PCAF, PHIP(BD2), TRIM24/TIF-1a. In U2OS cells no significant cytotoxicity up to 50 mm was found. Similar to bromosporine 129, data related to SGCCBP30 and I-CBP112 are reported on the SGC homepage exclusively [1].
In vivo: Currently, I-CBP112 is still in the in-vitro investigation, and no animal in-vivo study is on-going.
Clinical trial: I-CBP112 is currently in the preclinical development and no clinical trial is ongoing.
References:
[1] Gallenkamp D, Gelato KA, Haendler B, Weinmann H. Bromodomains and their pharmacological inhibitors. ChemMedChem. 2014;9(3):438-64.
Chemical Properties
| | |
| --- | --- |
| Physical Appearance | White Brittle Foam |
| Storage | Store at 4°C |
| M.Wt | 468.59 |
| Formula | C27H36N2O5 |
| Solubility | Soluble to 100 mM in DMSO and to 100 mM in 1eq. HCl |
| Chemical Name | (S)-1-(7-(3,4-dimethoxyphenyl)-9-((1-methylpiperidin-3-yl)methoxy)-2,3-dihydrobenzo[f][1,4]oxazepin-4(5H)-yl)propan-1-one |
| SDF | Download SDF |
| Canonical SMILES | COC1=C(OC)C=C(C2=CC(OC[[email protected]]3CCCN(C)C3)=C(OCCN4C(CC)=O)C(C4)=C2)C=C1 |
| Shipping Condition | Evaluation sample solution : ship with blue ice.All other available size: ship with RT , or blue ice upon request |
| General tips | For obtaining a higher solubility , please warm the tube at 37°C and shake it in the ultrasonic bath for a while.Stock solution can be stored below -20°C for several months. |
Protocol
Cell experiment [1]:

Cell lines

Immortalized murine bone marrow cells, human leukemic cells

Preparation method

The solubility of this compound in DMSO is > 10 mM. General tips for obtaining a higher concentration: Please warm the tube at 37 ℃ for 10 minutes and/or shake it in the ultrasonic bath for a while. Stock solution can be stored below -20℃ for several months.

Reacting condition

0.1-10 μM, 48 h or 72 h

Applications

In immortalized murine bone marrow cells, I-CBP112 (0.1-10 μM, 48 h or 72 h) impaired clonogenic growth of immortalized murine bone marrow cells. In immortalized murine bone marrow cells, I-CBP112 (10 μM, 72 h) showed significant cytotoxicity. I-CBP112 significantly reduced clonogenic growth of MLL-CBP immortalized cells in MC cells. I-CBP112 (3 μM, 3 days) impaired the clonogenic growth of human leukemic cells and sensitized them to BET inhibition and doxorubicin.

Animal experiment [1]:

Animal models

Mice transplanted with bone marrow retrovirally expressing fusion oncogenes

Dosage form

5 μM, 3 days

Application

I-CBP112 pre-treatment of MLL-AF9+ murine AML blasts reduced the number of LICs and delayed induction of the disease upon transplantation into irradiated recipients.

Other notes

Please test the solubility of all compounds indoor, and the actual solubility may slightly differ with the theoretical value. This is caused by an experimental system error and it is normal.

References:

[1]. Picaud S, Fedorov O, Thanasopoulou A, et al. Generation of a selective small molecule inhibitor of the CBP/p300 bromodomain for leukemia therapy[J]. Cancer research, 2015, 75(23): 5106-5119.
Biological Activity
Description
I-CBP 112 is a selective inhibitor of CREBBP/EP300 with IC50 values of 170 nM, 170nM, 151nM and 625nM for CREBBP(Alphascreen), CREBBP(BLI), CREBBP(ITC) and EP300(ITC),respectively.
Targets
CREBBP
EP300
IC50
~170 nM
625 nM
Quality Control
Quality Control & MSDS
View current batch:
Chemical structure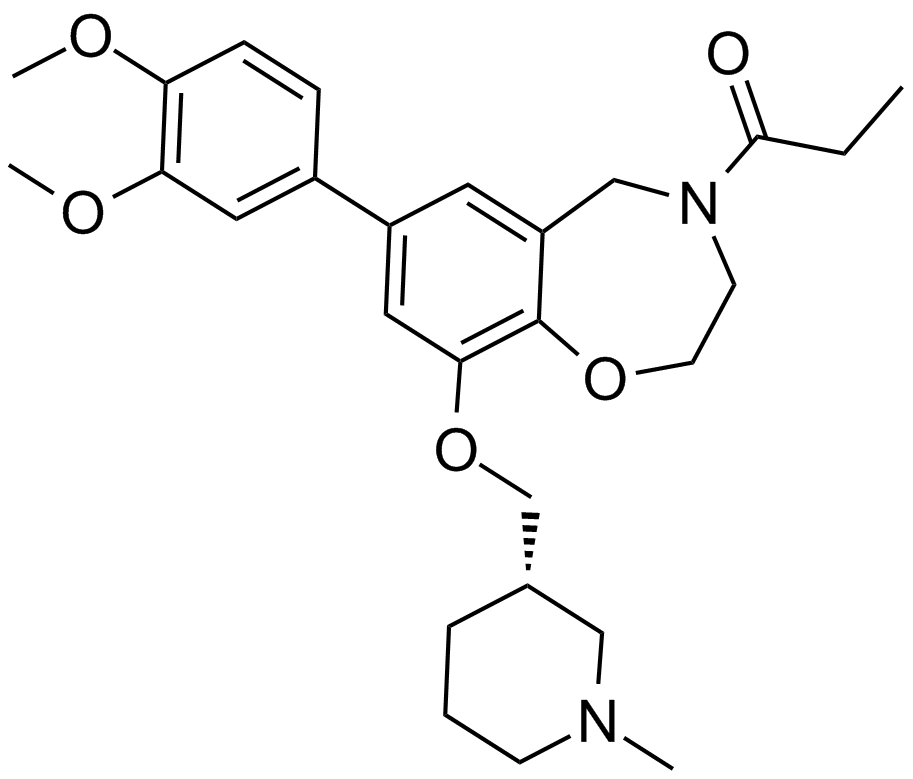 Related Biological Data